CRAIG MCINTYRE MACGOWAN 1941-2022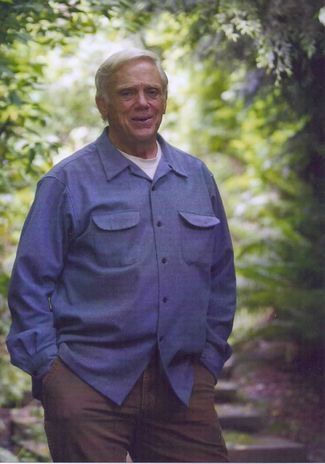 Craig MacGowan (80) – extraordinary teacher, creative artist, passionate husband, father,
grandfather and friend died at home in Seattle from brain cancer (glioblastoma) on June 7, 2022.  He was surrounded by his devoted wife, Patricia MacGowan, daughter,
Petra MacGowan, son Scott MacGowan, daughter-in-law Haripurkh Khalsa, and his grandchildren Halia Correia, Narayan, Sahej and Akasha MacGowan.
Craig was born August 16, 1941 to Jean and Howard MacGowan in Seattle, Washington.  He graduated from Franklin High School in 1959. He received a BA from Western Washington University in 1964 and a MA from City University in 1993. From 1965-67 he entered the Peace Corps and was part of the first group volunteers to be placed in Liberia, West Africa. While in Africa he taught science at village schools and developed a love for travel and art that he carried with him throughout his life.  
His teaching career in Seattle Public Schools began at Jane Addams Jr. High in 1967.  There he met his wife Patricia and they were married January 11th, 1973 in Port of Spain, Trinidad after having traveled and lived in South America for eight months.
Craig was a beloved teacher and Science Department Chair at Garfield High School from 1978-1995. There he worked with a team of teachers there to develop a Marine Biology program that included field opportunities for students in Washington, Florida, Hawaii, Mexico, Australia, Kenya, Tanzania, Ecuador and Papua New Guinea. Some of his many honors and awards include the 1991 Washington State Golden Apple Award, and the 1990, 1989, 1987 Presidential Award for Excellence in Science and Mathematics Teaching for Washington State, and 2019 Franklin Hall of Fame inductee. Craig was also an artist and he designed and illustrated 41 Mac's Field Guides, for plant and wildlife identification with detailed drawings, common and scientific names, sizes, and locations. Originally developed as a practical tool to help his students identify species on the beach, these guides are currently distributed by Mountaineers Books where over 1 million have been sold!
Craig valued meeting and knowing his neighbors and planned yearly block parties and trips to the coast for the families of 34th Ave. He loved his family and friends above all and created moments of connection, magic and awe in everyday life for all those he knew. The family is grateful for the amazing tributes shared with him by his students and friends- crediting him with providing life changing experiences, educational support and inspiring a love of science and nature.  Many still have the algae collections developed over 20 years ago while in his class and proudly know the scientific names.
Craig is predeceased by his grandchild, Tiaga MacGowan and nephew Colby Morris. He is survived by brothers Ian and Brenda MacGowan and sister Mary MacGowan.  His Idaho in-laws; Bud and Marie Beatty, Richard and Kathy Harvey, and Rob and Cyndi Gallas as well as many nieces, nephews, and extended family. A memorial gathering and celebration of his life is planned for October 8th, 2022 at the Seattle Mountaineers Program Center, 7700 Sand Point Way NE, Seattle, WA 98115. Additional details on the event will be posted on Craig's Caringbridge site (www.caringbridge.org/visit/craigmacgowan).
Memorial donations can be made to POST84.ORG  supporting outdoor education opportunities and leadership development for students.
---
Comments
Mr. MacGowan looms large in the memories I carry from my years at Garfield (1994-98). His marine biology class was far and away the best class I took there, and I still remember many of the scientific names for sea life that we all had to memorize (Anthopleura xanthogrammica, anyone?). He led a trip to Ecuador I joined the summer after my junior year and that trip still ranks as one of the greatest experiences of my life. He was an incredible teacher who inspired so many students to pursue science...and for those like me who didn't pursue careers in science, he inspired a lifelong appreciation for the sciences, especially marine sciences. Throughout my life, every time I watch a TV show on marine life or get to spend time at the beach, Mr. MacGowan always pops into my head. He lives on through the incredible legacy he created. My condolences to his family.
Nancy Peterson
---
Mr. MacGowan put me on a career path in marine science, starting as a teaching assistant in his class for 3 years. My life was changed by field trips to Florida, Hawaii, Australia, and Papua New Guinea. He got me a volunteer position at the National Marine Mammal Lab out at Sand Point that opened my eyes to marine conservation science. Today, I lead the largest Fisheries and Wildlife academic department in the country, at Oregon State University, largely because of Mr. MacGowan's passion for our oceans and for teaching. He will be missed, but his legacy will live on for generations through the students that he inspired. Thanks, Mac.

Selina Gleason (now Heppell), Corvallis
---
One of the greatest people I have ever been in the proximity of. Physically and mentally so powerful, along with an open, understanding and caring heart. A brilliant individual who positively affected those he touched.

James Hugh O'Brien
---