Gladys 'Bee' Hadley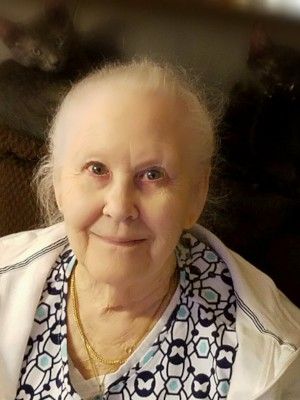 Gladys 'Bee' Hadley came into this world an unexpected twin, shortly after sister Spica. Born the sixth of eight children to Lee and Martha Morgan, she weighed in at a whopping 3 pounds when delivered at home on Camp Creek in eastern Kentucky, July 24, 1924. 
As a young woman, at the behest of her father, she left their home to move west. "Go west, young man," the immortal words by Horace Greeley, her father took literally.  She first moved from Kentucky to Cincinnati, Ohio, working in ordnance there to assist in the war effort. After the war she moved to Kinzua, Oregon with her sister, Dude, and worked in the confectionery for Claude England, where she met Stanton Hadley. After a brief courtship, they were married in February of 1948 and moved to Fossil, Oregon. Their first son, Glen, was born later that year. Jill, their only daughter, was born in 1951 and Reed was a later arrival in 1958. To her husband, Stan, she would for always be known as "The Mouse," an affectionate term that stuck. Her children will tell you that it was wonderful growing up in their home because of an abundance of love and understanding compassion.
Bee and Stan lived in Salem, Oregon and Seattle, Washington, after leaving their home in Condon, where they had raised their family. They left Salem for Seattle at the end of 1994 to live at "The Ranch," a lovely home with acreage in Mill Creek, just northeast of Seattle. After leaving Mill Creek, Bee and Stan moved to Lake Stevens until 2006 when they moved to Burien, 10 miles southwest of Seattle, to live with their youngest son, Reed.
At the age of 93, Momma Bee "The Mouse," passed away quietly and peacefully at home in the early morning of December 7, 2017. A celebration of her life is being planned for the first part of January 2018, at the United Church of Christ in Condon, Oregon.
---
Comments
---