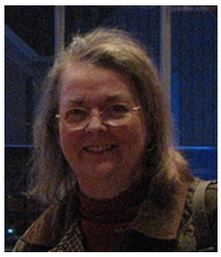 Caroline Cartmill passed away peacefully at home with her husband Tom and dog "Zach" by her side on September 1, 2014, after a long illness. She was 72.   Caroline was born June 26, 1942 in Los Angeles, CA, the youngest of three daughters of Rodney and Ted Barney. The family moved to Eugene, OR where Caroline graduated high school. After earning a BS in Nursing from Oregon Health & Sciences University, Caroline proudly served as a US Navy nurse at the Portsmouth Naval Hospital, Virginia. This was the start of a 40 year lifework dedicated to nursing that included nursing at the Klinik Hirslanden in Zurich, Switzerland; ICU and emergency room nursing in Portland; then a long career at Harborview Medical Center in Seattle. At Harborview she worked as an emergency room nurse, head clinic nurse in orthopedics, head clinic nurse in oral surgery, primary nurse in gastroenterology, and finally in outpatient surgery recovery. Caroline loved being a nurse and found great satisfaction in caring for and supporting patients.  It was at Harborview that she met her husband Tom.  They shared 33 wonderful years together. In retirement Caroline enjoyed gardening, scrapbooking and journaling, reading, and traveling. She especially enjoyed trips to the beach with Tom and ever present terrier dogs. Caroline was always a positive, kind and caring person, upbeat and graceful even as she struggled with her prolonged illness.  Her passing is that state in which one exists  in the memory of others.  Which is why it is not an end.  No goodbyes, just very good memories.
Remembrances can be made to the Special Care Unit of the Northwest Kidney Centers
http://www.nwkidney.org/donate/contact/index.html
or to the Jane Goodall Institute
---
Comments
Tom,
It's Susie Rourke Smith in Alaska. I am so sorry to hear the news about Caroline! I'm also so sorry that I haven't been in touch with you for several years! I have two very fond memories of your family and they were both life changing event for me and still remain with me today! One is a photograph of my father and I dancing at your wedding. It has been blown up and hangs in my living room. I see it daily and miss that wonderful man but fondly remember that moment with my Dad and your beautiful bride!!!! The second was probably just a weekend to you but the trip I began with you kayaking in Union Lake changed me forever and is reason in part, for my life here in Alaska. I lost my heart to the mountains then and although my New England upbringing would pull, it is in the west where my heart is happiest. You had a hand in that when you so kindly spent that wonderful weekend with me before I headed to the mountains. I am so sorry to hear the news. Please know that you are in my prayers and I am just so very sorry for your loss. If ever a trip to Alaska might sound good, please know you always have a home.
Fondly,
Susie
---
Dear Tom - We just heard from Jan about Caroline, and we are so sorry. We did not know that she had been so ill and in the hospital. What a long year or more for the two of you. I wish there was something we could say or do to ease your pain. Our thoughts and prayers are with you.
Peggy and Rolf
Carmel, CA
---
Tom, Mary passed the word. My condolences. Caroline and you have been in my thoughts and prayers for some time. Thank you so much for being her strong shoulder to lean on. I hold fond memories close to my heart. Love, Heidi
---
Tom old friend, Words escape me. I simply cannot tell you how sorry I am for your loss. I am especially sorry for the difficult time you and Caroline had for these past few years. Between her illness and your caring for her and the demands of a job, I suspect much of your emotional strength was pretty well used up. It is good that you were able to take the time off from work to get back on your feet. Please know that you remain in our thoughts. Yours most sincerely, Bob
---
Saw Caroline's obit and wondered if you and I are related. My paternal grandfather was TJ for short, Thomas Jefferson Cartmill. His father was William Thomas Cartmill. Originally from Green/Hart County Kentucky

Carolyn Cartmill Myatt
---