Michael Hoff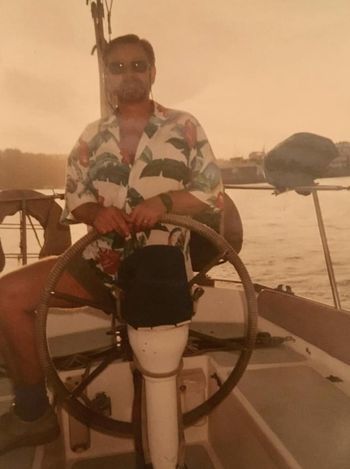 Michael Hoff was a loving husband, brother, father, papa, mentor and friend. He passed away peacefully at his home on Sunday, November 15th, 2020 after a short battle with lung cancer. He was surrounded by his loving wife of 40 years and family. 
He was preceded in death by his father, Irvin Hoff, mother Helen Hoff and stepmother Florence Hoff. 
Mike was born on May 16, 1937 in Seattle WA. He graduated the University of Washington Law School - JD in 1961. He was a member of Sigma Chi Fraternity.
Mike was a partner at Treece, Richdale & Hoff in Ballard for many years. He enjoyed working as a maritime lawyer in Alaska and Seattle. Over the years he worked in several different fields of law but finished his law career working passionately within the field of law related to addiction recovery. One of his proudest accomplishments was being one of the founding members of Residence Xll, an addiction recovery center for women started in Kirkland Washington. His last position before retirement was working for the WSBA as an Addiction Recovery Specialist in the Lawyers Assistance Program, helping other lawyers in recovery. Mike served on several boards including, Sound Bank, Northwest Hospital, Ballard Hospital & Swedish Hospital and was an active member of the Ballard Chamber of Commerce. 
After Mike retired, he relished his time with his wife Diane, family & grandchildren. He was affectionately known as Papa or Papa Mikey. He had a great love for sailing and loved exploring the waters around Vancouver Island, Canada. He made many new friends in the time spent at their second home in Sydney, BC. Mike & Diane also loved traveling throughout Europe and especially enjoyed visits with his beloved sister Gretchen and dear friends in France. 
In his spare time, he loved to write. He wrote several books, short stories, poetry, and articles. He was a great storyteller, both written and verbal. He will be fondly remembered by all his children and grandchildren as the voice of Winnie the Pooh and countless others – he was a wonderful animated and engaging storyteller. 
One of his most memorable writings was the piece he wrote for 48 Degrees North, "Heart Attack… Afloat It Can Ruin Your Whole Vacation"… the story of his loving wife Diane saving his life with CPR en route by seaplane to Campbell River Hospital. An emergency preparedness piece highlighted by his witty sense of humor. 
Mike was a forty-year member of Alcoholics Anonymous – it was in this setting, among other kindred spirits that Mike's humanity flourished. He was an honest and humble member who was an approachable and accepting spirit - a gift to all who knew him. He was truly a man interested in others and his capacity for kindness allowed for many connections throughout his life.
Be it Mike, Mikey, Dad or Papa… he was a gentle, loving, and kind man who's wisdom, generosity and love for life and family will be missed by so many. Some poetic wisdom from Mike; 
I was returned to the magic place where all our humanness is anchored...swept clean of the thickness of hesitation... and touching the reality that we're all  connected to this universe and all its contents..... that we deserve to be there/here. And that we're all worthy. Too bad we haven't the language to briefly state the condition: For me---- I use the word. ..AWE..!!
Mike is survived by his wife Diane Hoff, sister Gretchen Hoff, children; Margy Hoff, Christie Hoff, Michael Irvin Hoff, Erin (Egan) Yung, Maureen (Egan) Heffernan, Gina Soflti, Moya Soflti, Tilo Softli, Victor Softli and 13 grandchildren; Julie, Alex, Elijah, Lois, Dana, Tommy, Ay'sha, Megan, Mollie, Emmett, Steffun, Edmund, Isabella and countless friends. Sail on our sweet Papa.
In lieu of flowers, donations may be made in his name to Evergreen Health Hospice Care.
---
Comments
Rest in peace my dear American brother.
My memories of our times together here in Sidney BC are with me forever.
Always in our hearts.
With Love
Lorraine & Len
 
Lorraine Canning
---
I regret that I never got to know Mike, but I want to express that I am so sorry for your loss. May God comfort you all, may he rest in peace, and may his memory be a blessing.
 
Vicki Wells Hewett
---
Dear Mike, miss you. Always enjoyed being at meetings with you until I moved to Port Angeles in 2012- you were the inspiration of a humble man who always knew where Bill W's and Dr. Bob's North Star was - and followed it! Missed you in Sidney where we never missed Canada Day until this year. To Diane and that wonderful family, our prayers and good wishes. What a great giver Mike was - who has left you!
Dick Manning
---
Diane, Children, Friends and Family
I am over joyed by the love that has been expressed at the loss of Mike. Diane, I am truly sorrowful at your loss as a wife and mother. I am truly believing that that the Lord will keep you in peace because it is quite evident that your marriage to Mike and his family was a loving bond.
Please take the time to spent in solitary prayer to a God who does not sleep, slumber or close his ears to those that need him in such a time as this. I will be praying for you to have peace during this time of grieving. Hopefully, I will see you next year when I visit Seattle after the Pandemic.
Remember the Lord will never leave or forsake you. Blessed Christmas and New Year.
 
Rev. Linda E. Softli - 202 667-8210
---
Diane,

I am saddened to read of Mike's passing. I have missed you both while longing for the Ballard Pool reopening!
Will see you there eventually, I hope, to deliver a big hug.

Love, Judy Blake
---