Sylvia Nussbaum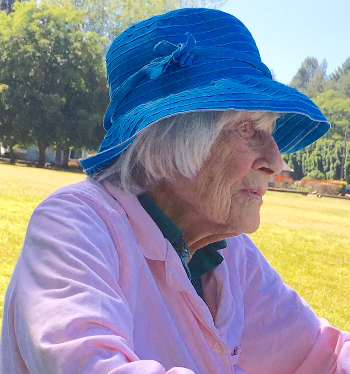 Sylvia Nussbaum, age 100, died on Friday January 25, 2019 in Seattle. 
Sylvia was born in New York City April 10, 1918, the second child of Sol and Sarah Robbins, who had emigrated from Eastern Europe at the turn of the twentieth century. She grew up in Brooklyn and the Bronx, with a large extended family in the boroughs' Jewish immigrant communities. 
Determined to be an independent woman, she graduated in 1936 from Hunter College in New York and ventured to New Orleans for graduate school, earning a master's degree in social work at Tulane University.  Returning to New York, she met Jacob Nussbaum at a social work conference and they married in 1943.   Their sons Berl and David were born in 1945 and 1948.
Sylvia was a social worker in the New York City school system for decades, retiring in the late 1970's.  Smart and organized, she focused on what she could do for each child,.  Her husband Jack was a private practice clinical psychologist.  After retirement she and Jack lived in Florida and New York until they moved to Seattle in 2002 to be near their son Berl. Jack died in 2011.
Though their working life was in the city, Sylvia and Jack shared a great love for the outdoors and for walking and hiking. In Manhattan they strolled daily in Central Park. In 1962 they purchased a former dairy farm in the Catskill Mountain hamlet of New Kingston, NY, where they spent weekends and summers for over three decades, hosting friends and family, walking and reforesting the mountainside.  
Later, they found a succession of unconventional beautiful places, close to nature, to sojourn and walk. During the winter months through the 1980s they lived in a trailer campground in Key Largo, Florida, surrounded by mangrove forest and just feet from the water. Sylvia did yoga in the mornings and walked miles with Jack on the flat backroads nearby. Back north, they spent spring and fall in their Central Park West apartment, and summered in the Berkshire Mountain hilltown of Ashfield MA and later in Shirley, NY, a stone's throw from Long Island's Great South Bay and the Fire Island National Seashore.
Sylvia's great devotion was the raising of her sons and the lifelong support of her husband, the great love of her life. Jack, a great story teller, kept her laughing for many, many years.  They traveled the nation and the world in adventurous ways throughout their lives. 
Sylvia was very close to her New York area family and her prodigious memory and affection made her a natural hub, too, of an internationally extended family.   She opened her Manhattan apartment, and her New Kingston home, to uncles, aunts and cousins from all over the US and abroad. She maintained contact with them for years and in their many travels across the United States and abroad, Sylvia and Jack found their way to visit friends and family in Argentina, Brazil, Israel, England and Russia. 
Sylvia was a literate, articulate woman, deeply interested in the world around her and widely read.  She loved to laugh and had a subtle, often ironic sense of humor.   Her love of Yiddish and Jack's prodigious talent and broad knowledge of it added a dimension to her life and laughter. Sylvia took great joy in preparing food for family and friends, and passed that joy on to her children and grandchildren. She knitted for her whole life, producing beautiful sweaters and as her vision declined, dozens of hats she gave to family, friends and helpers. 
Sylvia's deafness grew in her last decade, yet the online New York Times, email, Skype and Facetime were windows on the world till her final days. She was an intrepid user of her Mac computer, undaunted by technology, and would spend many hours if necessary to make an application work and to understand it.   
Sylvia is missed by many, foremost by her immediate family: son Berl and his wife Karen of Seattle; son David of Bernardston MA; granddaughter Laura Nussbaum-Barberena and her husband Carlos Barberena of Chicago; granddaughter Jane Nussbaum, her husband Micah Sommers, and their son, Syl's great-grandson, Harvey of Brooklyn NY.  

Sylvia spoke weekly on Skype with her younger brother Norman Robbins and his wife Miriam, now of Pompton Plains NJ. Remaining close to her are nephew Mark Silverstein (son of Sylvia's older sister Beatie) and wife Aline Kuntz of Portland OR; niece Susan Robbins and husband Sid Rothberg of NY City; nephew Jonathan Robbins and wife Maggie of Bristol UK;  her grandniece and grandnephews, and many cousins around the United States and abroad.
---
Comments
About 6 years ago I met Sylvia while she was my patient at the University of Washington. You could tell from the moment you walked in the room that she was so full of life and passion. It was a pleasure to see her name on my schedule because I knew I would be treated to the story of her great adventures over the past year, both highs and lows. And you knew she would tell it to you straight, and she certainly wouldn't sugar coat the lows. It always lifted my spirits to see how much she loved her son, and how much affection Berl had for her. I was glad to have known her.
    
Creighton Don
---
To Berl: This is such a lovely tribute to a wonderful person. Her life was filled to the brim. Knowing she had such a beautiful life must give you joy in this time of grief and sorrow. I loved reading her life story and the picture of her outdoors enjoying the day. Our parents are so dear to us. Take care of yourself.

Sue Maxon
---
Hello Berl and David,
Long lost friend and fellow Queensviewite Paul Wasserman here. I noticed the listing for your mom in the NY Times obit section and immediately went to this People's Memorial site. What a beautiful, deep and detailed portrait of your mom. It's especially poignant because my mom Della died last Thursday, age 94. She was in a nursing home in Oceanside, California, near my sister Vicki and her family (husband, two kids and partners, one grandson). I'm in Brooklyn, with my wife Peggy. We have two grown kids. My dad died in 2005. I'll pass this along to others who knew your mom. I'd love to hear how you're both doing, what you've been up to, etc. I'll repeat my email address here: pkwass@aol.com
Warm Regards,    
Paul Wasserman
---
What a wonderful 100 years! She obviously enjoyed life to its fullest….filled with adventure, love, and challenge. And what a beautiful tribute. Thank you for sharing. I feel I know you even better, Berl, knowing now what you've shared about her.
Bill
---
Berl and David,
What a loving remembrance of a woman way ahead of her time.
love,
ikie
---
Berl
Enjoyed learning about your mother. Clearly a very special person. I understand why you were so close to her.
Colin
---
It sounds like your mom had a never ending love affair with life.
What a life worth living!
Gloria Rennock and the Girls (Zoe and Emma)
---
Berl -
After all the stories you have shared with me about your life and family and in particular your parents, this was a real joy to read to have the whole picture of her magnificent life painted so beautifully. It's easy for me to see from where you get your wit and wisdom. What a blessing to have such a wonderful mother.
Dennis Willard
---
Berl -
After all the stories you have shared with me about your life and family and in particular your parents, this was a real joy to read to have the whole picture of her magnificent life painted so beautifully. It's easy for me to see from where you get your wit and wisdom. What a blessing to have such a wonderful mother.
Dennis Willard
---
Berl, it has been so long. I just wanted to acknowledge your mom's passing and celebrate her life. This brings back so many memories of you, me, Blossom Heath and all the raucous life and laughter of those times. Our families could be loud. I would love to hear from you.
Steve
    
Steve Waxler
---