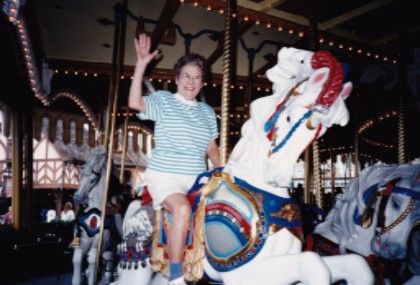 Marcella Chavis Gaar, 96, passed away on January 15, 2016 in Seattle, Washington.
Born Marcella Viola Chavis on January 23, 1919, Denver, Colorado, to Fred Chavis and Agnes Luna. Marcella was a resident of Seattle for 47 years.
Marcella graduated from San Diego High School in 1936, and attended colleges in California and Washington. She worked as a librarian at specialist libraries in California and Washington. Her last position was as Chief Information Officer at Washington Mutual Savings Bank's main branch in downtown Seattle.
Marcella enjoyed reading, movies, musicals, dining out, discussing politics, and travelling. A lifelong animal lover, she owned several cats during her lifetime. She moved to Seattle's Capitol Hill neighborhood in 2002, and enjoyed the vibrancy and energy of the area. She liked walking to the local library and visiting her plot in the neighborhood pea patch, where she grew vegetables and flowers. During her life she traveled around the U.S., and also visited Canada, Mexico, the Bahamas, the Cayman Islands, England, Europe, and Russia. She last visited one of her favorite destinations, Honolulu, in 2014, and enjoyed cocktails at her favorite beachfront lounge, House Without a Key at Halekulani hotel. Always curious and inquisitive, she enjoyed meeting new people and finding out about their lives.
Marcella was married twice, and had two daughters, Suzanne Goller (Ridgway, Colorado) and Gillian G. Gaar (Seattle, Washington). 
A celebration of her life will be held later in the year. Please feel free to share your memories of Marcella in the guest book.
---
Comments
I remember Marcella fondly from the Richmond Beach Library--she was funny, well-read, kind, and inquisitive. I send my best wishes to her family-.-Gillian, I remember you, also, from the library.
-Anina Coder Sill
---
Marcella was the first person to hire me fresh out of college. She was a wonderful mentor and friend, and it was a joy to work with her in our two room library in the Washington Mutual Main Office. I didn't keep in touch as well as I should , but it is good to know she had a wonderful life. My condolences to her daughters. Their loss is great, but I hope it will bring some comfort to know that your Mother was much loved and respected by all the hearts and lives she touched through her lifetime.
Linda C. Badger
---
I met Marcella only once when she and Gillian visited Hawaii in 2014 (15?). She was very spry for a woman in her 90's and had little trouble keeping up with Gillian and me. I enjoyed showing her "my" Hawaii and taking her to the last Tiki Bar - La Mariana. I know Gillian will miss her very much and I'm sorry for her loss. I'm sure her passing has left a huge hole in the lives of all her family. I'm happy I had the opportunity to meet her. --Mollye Kaiser
---
I so miss my mother and her vibrancy.
    
Suzanne Goller
---