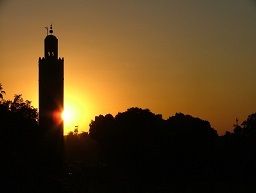 In loving memory of JOSEPH MICHAEL MCDONALD
Born in Tacoma, WA. December 11, 1941.  Died at home in Seattle, WA. October 20, 2014.
 
Joe graduated from Gonzaga Prep in Spokane.  He went into the Peace Cops in the summer of 1963 after attending Eastern Washington State College.  Much of the next decade he spent in Morocco:   two, two year stints as a Peace Corps Volunteer and several years on Peace Corps training staff.  He directed Peace Corps training in Longmont, Colorado and Tangier, Morocco.   He was Shore Director in Tunisia with the Hospital Ship Hope.  Joe met and married Ruth in Morocco.  They worked together in Morocco and in Tunisia and then returned to Seattle in 1972 for the birth of their daughter Deborah -- proudly his best accomplishment.
 
In the 70's and 80's Joe worked in the planning and administration of non-profit social service programs:  youth services, drug and alcohol treatment and did post graduate work at the University of Washington in Urban Planning  --   more graduate school and still more.  During that time he was an instructor in Urban Planning at UW.
 
Joe went to Japan, invited by the Ministry of Construction and Building Research Institute for a year in 1981 while he conducted research on Japanese Housing.  He was accompanied by Ruth and daughter Deborah who attended school in Tsekuba, Japan.  Joe was always able to converse with anyone in any language, primarily English, French and Arabic.  But he always maintained that Deborah learned to speak Japanese faster and better than he did.
 
In the mid 80's and 90's Joe developed and then directed permanent housing programs for the homeless in Seattle.  St. Martin's on Westlake:  housing for 53 chronically homeless men over 55 was a national model project.  The Wintonia, a 93 unit mixed use project was a regional model.
 
In the late 90's Joe developed a business selling, installing and servicing water treatment systems on Whidbey Island and in the San Juan Islands.  Joe retired from that pursuit in the mid-2000's and devoted his time to cultivating grapes and fruit trees in his little spot in North Beach, Seattle.  He was an avid collector of books and things.   Joe's love of travel took him extensively to Europe, North Africa, Southeast Asia and Japan.  Throughout his rich and varied pursuits Joe met many incredible people and continued to visit them whenever possible.  Joe loved meeting and conversing with people.  He loved studying new languages and learning other cultures.  Notable among his many attributes:  kindness, understanding, compassion, he was social and philosophical, with a great sense of humor  --  his nieces and nephews called him Uncle Joke.  Joe dedicated his life to the service of others, with no judgement and with dignity.
 
Joe requested no funeral service or memorial.  He would be most happy to have a party though.  A celebration of life will be held at a later time.
 
Love is forever dear husband, father, brother, uncle and friend.  We miss you.
 
His family welcomes and thanks you for your pictures, memories and Joe stories.
---
Comments

What a beautiful tribute you wrote. I didn't realize all that you and he had done. He will be missed, but you loved him right up to the end. Thanks for sharing. --Dana
---
Jerry, Pete, P John, Mike and Joe as our leader ..... great times in Morocco. Viva Corps de la Paix. -- Mike
---
A wonderful tribute. Joe was a special person and will be missed by all of us. It was aa joyful experience to serve with him in the Peace Corps and to be his friend and he lived a life that others can only dream about. --Jerry McFadden
---
Dear Ruth and Debbie, It is sad to think that our two Ouezzane hosts have now taken many memories with them. Joe was the tease and Dick---well, Dick was Dick. And they were both accused of "taking care" of about ten of us. Morocco V (and especially the Zoumi girls) couldn't have been as happy without them. So many, many sharings. Love to you both, Helaine Foppiano
---
Dear Joe, It was a pleasure to be able to care for you in Ruth and Deborah's absence in September. I know you had a great deal of pain, but we swore, then smiled and laughed thru them. I wish you great travels to the promise land, where there are no troubles or pain. Bon voyage, dear brother-in-law. You will be missed by us all.
Dear Ruth and Deborah, I wish you the peace and comfort of knowing that Joe had a wonderful life with you. He has gone to a better "place," where there is no pain or problems. You traveled the world with him, and have so many outstanding memories of life with him. Of course, we always forget the bad times and only capitalize on the good ones. He expressed nothing but love and gratitude for you both for the loving care you provided to him during the last years of his life, and wished you great happiness for the future. I know you will miss him. We all will. My love to you both. Susie
---
I will alway remember walking into your home and being greeted first by the warm smell of his pipe, then by him. He always made me feel valued and accepted. Always seemed to want to hear what I had to say, even when I was just the teenaged friend of his daughter who had yet to have any really life experiences to talk about. The smell of good pipe tobacco will always and forever make me think of him. -Shana Wood
---
A beautiful Memorial ! I always felt honored to be related to this fine man ! I loved him too right along with you. Ruth & Deb....I know you miss him terribley. You'll be united when the time is right. Loving thoughts and prayers continue to go out to you both. --Judy Donner
---
What a divine man. Such a wonderful life. Uncle Joe, your life's ripples, on this pond of exsistence was profound in how many have been so positively impacted and will continue to be impacted. A true inspiration for living a full life. --Sharla McDonald
---
Joe & Dick were the best hosts in Oezzane. I once painted a full-wall mural in their little house. Best, Jacques vdW
---
I had the honor of working with Joe at St. Martin's on Westlake where he knew each resident, their name and their stories. He nurtured a caring community and gave a part of his heart to The Westlake. He could be seen puffing on his pipe with a pensive look on his face solving the challenge before him. --Josephine Tamayo Murray
---
Joe hired me to work with him at The Westlake. He communicated to me and to every man who lived there that we were valued and appreciated. He actually liked our quirks. I hold the picture him pipe smoking, tea drinking, and visiting with Buster as I left for home each day. He left me in charge when he moved to a new project and after a month, I had to remind him that his paper staked desk had to be cleared. finally, I did it. "It is in the shelter of each other that the people live." Irish proverb. Joe, thanks for sheltering me. Pat Graham
---
Fifty years ago, at Ouezzane, Joe was a good friend, his friendship enlightened my life. His departure makes me very sad. Bye bye Joe. --Georges GIRON
---
What a fascinating man! We are sorry for your loss, but what awesome memories we all have and what fascinating details we have learned about Joe. He will be sorely missed but still vibrantly alive In our memories and hearts. He lived well, loved well, and made a huge contribution to the world and our lives! Take comfort: "Be still and know that I am God". --Dan and Sue Stapleton
---
My dearly beloved Uncle, I will always cherish my memories of you, and you will always hold a very special place in my heart. I was very privileged to be able to spend many summers with you, my Aunt and Cousin when I was a child. Your silly rules, bargains and jokes you bestowed on us and your very humorous ways drove us kids crazy, but as I look back on them, it definitely has made an impact on who I am today. You will be greatly missed. RIP my dear Uncle with loving memories, Carin.
---