Carrie Lou Vincent Black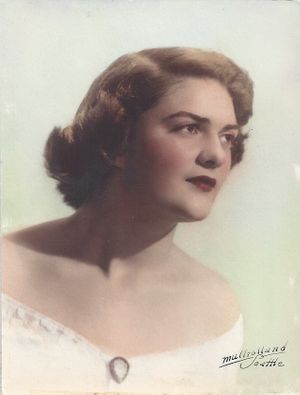 Carrie Lou Vincent Black, cherished mother and sister died peacefully on March 4, 2020, at Providence Marianwood in Issaquah, Washington. Carrie was born on June 27, 1934 in Ord, Nebraska. 
Carrie was the oldest daughter of Acel and Zelma Vincent and sister of Melvin, Daniel and Teri. The family moved from their home town of Arcadia, Nebraska to Seattle, Washington at the end of the Great Depression, settling in the Ballard neighborhood. Carrie attended Ballard High School, spent summers with friends swimming in Green Lake, picnicking at Golden Gardens and attending dances. She worked summers at R.D. Bodle Co., where she met her husband, David E. Black. 
David and Carrie married in January 1951 and together they had four children, David, Mark, Steven and Darcy. They lived in Seattle then Kenmore, Washington before moving to Lake Oswego, Oregon in 1964. They later divorced but always maintained a close friendship. 
Carrie was a talented artist and fashionista long before the term became popular. At a young age she worked in fashion retail, first at the original Frederick and Nelson in downtown Seattle then at the Bon Marché at Northgate. While living in Lake Oswego, Carrie and her best friend, Helen Wirtz, created a successful arts business, Plaques Unlimited, putting decoupage on the map in the 1960s. In the late seventies, Carrie was the Oregon sales representative for giftware lines for Anne and Rick O'Shea. Carrie moved back to the Seattle area in 1982 and opened a thriving antique business in the old fire station in downtown Kirkland, Washington. 
When the family was young, Carrie spent many summers camping at Wapato Point on Lake Chelan, teaching her children how to swim and waterski. Her love of water and water sports flourished when the family moved to their home on the West Bay of Lake Oswego. The natural meeting spot for friends and family, Carrie made sure everyone who visited showed her they could swim on their first visit. 
A devoted grandmother, Carrie loved spending time with her grandson, David M., Jr., granddaughters, Renée and Nicole. Living close to the girls, Carrie made sure to make every dance recital, grandparent tea and to pass on her sense of fashion and design. One of her favorite memories was taking her grandson, David M., Jr., to Disneyland when he was ten. 
Carrie was an incredibly social person who enjoyed music, dancing and chatting it up with everyone she met. Never at a loss for words, Carrie could bring life and joy to every gathering and was a true joy to everyone she met. She really did light up the room. As her son so aptly said, she is still loved by everyone who knew her. 
She is survived by her sister Teri (Dennis) Moen of Kenmore, WA, her four children, David M. (Sharon) Black of Boise, Idaho, Mark (Jeanne) Black of Oakland, California, Steve (Karol) Black of Rocklin, California, Darcy LaBelle of Seattle, Washington. Three grandchildren, David M. (Stephanie) BlackJr., Renée LaBelle and Nicole LaBelle and two great grandchildren David Kenneth Black and Ruby Rae Black. 
She was preceded in death by her parents Acel and Zelma (Austin) Vincent and brothers Melvin Vincent and Daniel Vincent. 
---
Comments
Dear Darcy, Renée & Nikki & ALL the Black & Vincent Family; What an incredible lady (Mother, Friend, Grandmother, Sister) & such a deserving Tribute. It was an absolute pleasure getting to know Carrie through the years. She was a lot of fun & she did have such a 'flare' in which was so passed on to Darcy (aka: Martha Stewart)!! Always so kind, positive & so interesting to talk with. She sure will be missed but what a 'legacy' she leaves. Heaven has a new Angel & may she RIP.
With all our Love, Support & Prayers... Anne & David Tivey. Xoxoxo
    
Anne LaBelle-Tivey
---