Gary Chamberlain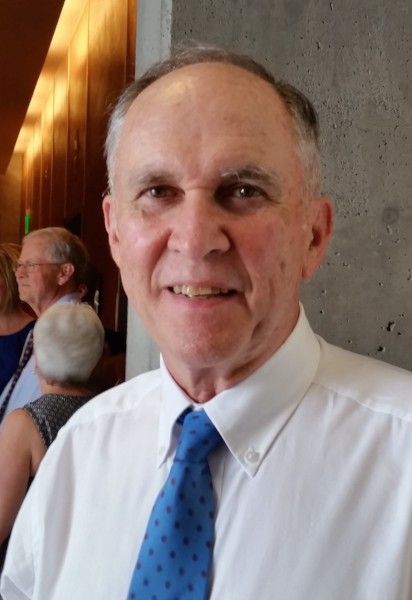 Professor Gary Chamberlain passed away on Monday, September 10, 2018, at age 80 after a long battle with lymphoma. He is the only son of John L. Chamberlain and Marie Thomson.  He grew up in Denver, CO, graduated from Regis High School, then entered the Jesuits to become a Jesuit priest. He earned a PhD in political science from the University of Chicago.  At age 28, Gary left the Jesuits while still a scholastic because he fell in love with Sharon.  They married and moved to Berkeley, CA where Gary studied theology and graduated from the Graduate Theological Union.  
Gary had a long teaching career and involvement in civil rights and social justice issues.  He last taught at Seattle University from 1979 - 2009.  He was a faculty member and Past Chair in the Theology and Religious Studies Department and was a critical figure in the development and growth of the Environmental Studies Program.  In 1980, he became the director of the Seattle University Master of Religious Education (SUMORE program), and held that position until 1988.  Dr. Chamberlain also played a substantial role in the creation of the Institute for Theological Studies (ITS), which eventually gave birth to the School of Theology and Ministry. He went to Japan several times to do research on birth control in Japanese culture, because he taught courses in Marriage and the Family, and Human Sexuality.  More recently, Dr. Chamberlain published two books on ethics and water use, including one that came out just last month.  He was deeply involved in the life of the university in many ways within and beyond the classroom, including work on the original Faith and Justice Committee.
Gary had a passion for working with students and spent his Seattle University career educating them to deepen their faith in the service of justice.  Gary founded the "Belize Outreach" program, an immersion experience in Belize for students, and led that student immersion program to Belize with Campus Ministry for nearly 15 years.  He also accompanied students to the Ignatian Family Teach-In and 'School of the Americas" protest at Ft. Benning, GA, from its inception in 1999 until 2008.  Gary retired at age 71, but returned to teach one class per quarter as a Professor Emeritus until 2011.
Gary was an amateur photographer, and he enjoyed hiking and being in the mountains or at the ocean where he took many photographs.  He became very concerned about the global water crises, which led to writing his two books on ethics and water use.
Gary is survived by his wife Sharon, twin sons Mike and Ben, and grandson Nicholas.
Memorial services will be held at the Chapel of St. Ignatius on the Seattle University campus at 2pm on Friday, September 21. At Gary's request, his good friend Pat Howell SJ, will be presider and homilist. All are invited.  A reception will follow in the Pigott Atrium. 
Memorial gifts may be directed to the Southern Poverty Law Center, www.splcenter.org.
Quotes from students:
"Gary touched or directly influenced many of the pivotal events in my life: Belize, the Krista Foundation for Global Citizenship, JVC, and my passion for water/environmental justice. His genuine interest and delight to know how I was doing over the years has been a true gift in my life."
"Gary Chamberlain was by far the greatest influence on me during my time at Seattle U and remained a beloved mentor and friend all these years after.  I am so thankful to have had him in my life."
"Gary created so many wonderful memories with all of us."
"I am thinking about my friend, colleague, mentor and teacher Gary Chamberlain today. He introduced me to the beautiful country of Belize. What a gift you were to the world."
"Gary was truly a gentle-man, a man for whom justice was not a pious cliche but meant action. I admired his sensitivity and dedication."
"I learned so much from Gary through his wisdom and witness. Gary's approach of loving the world into a more just and humane place will be missed. I am filled with gratitude for the many ways Gary accompanied students, faculty, staff and myself in finding our connection to the faith that does justice."
"Gary was one of my all time favorite teachers, mentors and all around was just an amazing human. I'm so grateful for the things he taught me about ethics, justice and standing up for what's right. His warm smile, encouragement and attitude of gratitude went a very long way to inspire countless young people and others to be their best selves. You left a great legacy Gary, thank you! "
"Gary was the kind of college professor that students dream of having: a teacher, mentor, friend, and inspiration. As a colleague, he mentored me, too. Working with him every year on the School of the Americas trip and other programs was such an honor, and such a joy."
"Gary was the best.  I last saw him in February.  Had I known it was the last time I would have seen him, I would have said so much more, specifically how wonderful of a professor he was to me, and I would have thanked him. He was truly a good person, with a heart of gold and he hugged you like he meant it."
"Prof. Gary Chamberlain is somewhat responsible in helping to light our young hearts on fire for justice in those early college days. Injustice anywhere is injustice everywhere. He taught us the praxis of Christian ethics: from resisting American violence and militarism to fighting the patriarchy by empowering women leaders locally, Gary was a true Christian, and it is in his example that has allowed me the courage and vision to devote my life to the liberation of the poor. Thank you for sharing your heart Gary Chamberlain. Rest in Love."
"On a service trip to Belize, one of many he organized for students, he was the collector of used water bottles to bring home – knowing they wouldn't otherwise be recycled; ever an example of earth stewardship.  He came with my parents to the airport to see me off to Ghana, and drank up my tales when I returned.  Coffee we drank, too, loads of it, catching each other up on research for his books and articles on religion, ethics, and the global water crisis. Gary taught me about the School of the Americas and took me to Georgia, twice, to protest the School of the Americas and its graduates' trail of civilian killings, and arranged for me to share my original protest song with thousands there (on the same stage as The Indigo Girls, funny enough). He gave us bleeding hearts a home in the Coalition for Global Concern at Seattle U.  I can only hope that my daughter and her peers get a Gary in their lives. Someone who sees intellect and curiosity and idealism and pain in young people and treats them with respect from the start, who stops to find out more, who is as open to learning as he is to teaching. I hope he knew how much he meant to me."
"Gary was a huge influence on me in college and is still a great inspiration to me to this day."
"For so many of us at Seattle University, he was a social justice and environment advocate.... When I moved to Seattle, he helped me broaden my social justice work.  He helped me grow the Amnesty International presence.  We protested the School of America's at Ft. Benning, GA.  When the US invaded Iraq, Gary helped me organize my first anti-war rally.  He introduced me to Belize, and I was able to volunteer there five separate times: all because of his knowledge and commitment to that country.  Gary was a lifelong friend and social justice mentor.  I miss him dearly."
"Each of us has been gifted by Gary's presence in our lives."
"Gary was a natural born leader, social justice advocate and a uniquely kind and genuine person."
"Gary was such a treasure and lived life so deeply committed to justice and fostering a thirst for it in others."
"Gary always gave me encouragement! I really appreciate his enthusiastic spirit about everything."
"Gary was truly a rockstar and a treasure for so many of us."
"Always with a supportive listening moment and such kindness."
"My heart breaks with all who knew him. Gary exemplified what lay leadership in the church should look like."
"I am so grateful for having been able to know and learn from Gary"
"What a gift you were to the world."
"It's very heartbreaking to think about Gary being gone. He created so many wonderful memories with all of us."
---
Comments
---
Our heart felt sympathies for your loss, Sharon, Mike and Ben. I will sincerely miss Gary's annual phone calls on Christmas when we'd catch up on family and social issues. He was a sweet man and I know he's dearly missed by everyone who knew him.
Georgia, Christy & Ben Thomson
---