Norman Swenson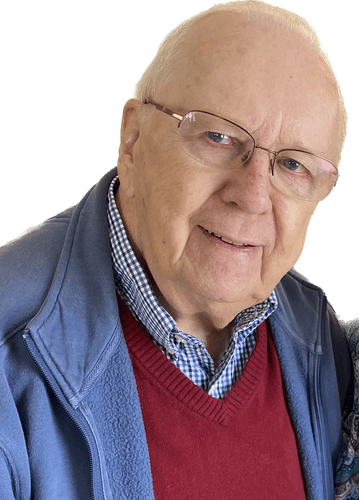 Norman Eric Swenson, 91, died on June 4, 2023 in Seattle.  He is survived by his wife, Phyllis; children Douglas Swenson (Vicki), Ruth Brotherston (Stuart), Kathryn Swenson, Lois Swenon-Grudt (Dan), Beth Romeo (Sal); grandchildren Jeff, Scott, Kyle, Kim, Ellen, Alex, Janel, Joseph, Rachael, Andrew, & Angela; 15 great-grandchildren; brothers Norris, Gordon, & Larry Swenson; and numerous cousins, nephews, and nieces. 
Norman was born in Bemidji, MN in 1932 to Swen & Mildred Swenson.  With his parents and siblings, he moved to Aberdeen, WA in 1942, and then to Seattle WA in 1947, where he attended Lincoln High School.  He graduated from Luther Academy & College in 1951 located in Wahoo, NE. There he met his future wife, Phyllis Carlson.
He was drafted into the U. S. Army in 1953, serving as a High Speed Radio Operator in the 1st Signal Company, 1st Infantry Division (the Big Red One) in Germany.  Shortly after completing his military service he married Phyllis in January 1955 in Holdrege NE.  The couple moved to Seattle, where Norman finished his studies at the University of Washington, graduating in 1957 with a degree in accounting, and soon after became a Certified Public Accountant.  He spent 10 years in the auditing & tax departments of Touche, Ross, Bailey & Smart.  In 1967 he joined Benson McLaughlin PS, becoming Director of the Tax Department in 1969, and Managing Shareholder in 1990.
Norman served on the committees and boards of many professional, civic, religious, and charitable organizations including WA Society of CPAs, Columbia Lutheran Home, Pacific NW Synod ELCA, Luther Memorial Church, Delta Society, and Seattle Rotary Club #4.  He was a charter member of Luther Memorial Church, serving as Financial Secretary for nearly two decades, as well as serving on the church council.
After retiring in 1992, Norman and Phyllis made several trips around the country to visit their many relatives, as well as trips to Sweden, Norway, Great Britain, Western Europe, Eastern Europe (before fall of Berlin Wall), Greece, Turkey, and a host of others.  They were always home for Christmas to welcome their ever-growing family to their house for the traditional lutefisk Christmas Eve supper.  They also spent many weekends with friends and family at their cabin on Camano Island.  In 2010 they moved to The Hearthstone Retirement Community.
Norman set the bar high for himself, his children, and anyone who associated with him.  He was well known for his integrity, accuracy, intelligence, logical thinking, calm demeanor, superior planning abilities, and wry sense of humor.  He enjoyed math and accounting, stating once that "after you learn the debit & credit rules, you'll find that accounting is fun". He could read upside down, a skill he perfected as a CPA to aid in information gathering when talking with clients.
Norman was proud of his Swedish heritage and spent many of his vacations visiting his many aunts, uncles, cousins, in all parts of the U. S. and Sweden, as well as the North Dakota farm where his father grew up.  Before the internet made it easy, he researched his family history back 12 generations.  He was proud to be the mastermind keeping these relatives connected via the official Swenson Family Reunions that continue to this day.
Norman loved ice cream, popcorn, caramel, history, photography, tradition, his family, his wife, and Jesus.  He was a mentor to many, and an advisor to anyone who asked, and probably a few who didn't.  He will be remembered with love as a friend, coach, brother, uncle, cousin, grandpa, father, and husband.
A Celebration of Life Service is planned for July 1, 2023 at 10:00 am at Luther Memorial Church in Seattle.  In lieu of flowers, memorial gifts can be made to Luther Memorial Church or to the LMC Community Pantry.
---
Comments
Sending sympathy and condolences to the Sweson family. We are so sorry for your loss and pray for peace and comfort during this difficult time.

Danielle & Dirk Glessner
---