Brian Hugh Ernest Cleworth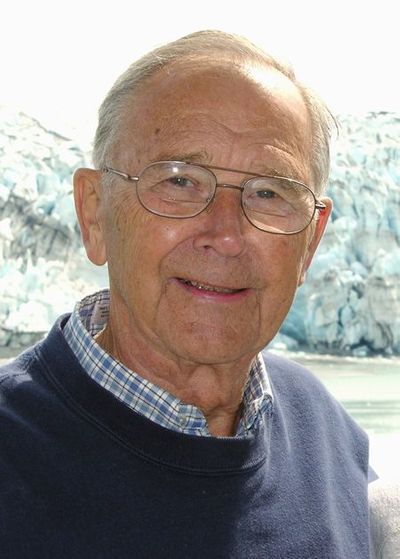 Brian Hugh Ernest Cleworth passed away at his home in Seattle, Washington on April 8, 2020. He was 95 years old. 
Brian was born May 14, 1924 in Minneapolis, Minnesota. After graduating from high school, he enlisted in the Army Air Force at the start of World War II and was a ball turret gunner on a B-24 bomber until the plane was shot down over Austria. He spent the rest of the war in prisoner of war camps in eastern Europe before liberation by the advancing Russian troops. While in the camps, he led Bible study groups and preached at a Christmas Eve service which included the prison guards. He decided that upon his return to the United States, he would answer the call he strongly felt and entered the ministry. 
Brian met and married Irene Ulmer while attending Macalester College, and went on to graduate from the Princeton Theological Seminary. Immediately after graduation in 1952, he moved his young family to Palmer, Alaska where he pastored at the United Protestant Church until 1956, when he moved the family to Juneau and worked for the Presbyterian Board of National Missions. The family moved to Fairbanks in 1959 when Brian accepted a call from the First Presbyterian Church where he pastored from 1959 to 1966. During that time, he became concerned about the living conditions of Alaskan natives who had moved to Fairbanks to work on the railroad. He, along with others, was successful in having new housing constructed, greatly improving the residential situation. 
Brian was also a bush pilot and flew commercially for several years when he could find the time in the summer months. He loved flying and usually had an airplane during his time in Alaska. Like so many bush pilots, he had incredible stories to tell! 
Immediately after the flood in 1967, Brian successfully ran for the Fairbanks City Council and also served on the Fairbanks North Star Borough Assembly. During that time be became interested in accounting, eventually owning his own accounting firm. After selling the practice, he moved to Renton, Washington where once again he started a new firm. Upon retirement, Brian moved to Seattle with his spouse, Nicholas Mar, who supported and cared for him during his final years of declining health. 
Brian was active in several churches in the Seattle area and always had a deep love for the Lord. He greatly enjoyed ministering and truly lived his faith every day. 
Brian is survived by his spouse, Nicholas Mar, and his two sons Christopher "Kit" Cleworth, and Jerry Cleworth (Janice). He is also survived by his grandchildren Kyla Fague (David) and Sarah Albert (Brian) along with great grandchildren Claire, Jacob, Cade, Evan, and Chloe. Services are pending.
---
Comments
---
I have known Brian and Brian's sons Jerry and Kit for more than fifty years. I've known Jerry's wife, Janice, and granddaughter , Kyla, for more than forty years. Brian was a devoted family man and was a true Christian . He always saw the good in people and tried to help those in need. I met Nicholas Mar soon after he and Brian met. They were perfect hosts for many friends at the family's. lakefront cabin or their beautiful home in Seattle. Brian and Nick loved to travel and often invited people to accompany them to worldwide destinations . My partner and I have regretted that we were never able to accompany them.
. The world has lost a true gentleman , scholar and all around wonderful person.
. Rest in peace, Brian . It was a privilege having you as my friend .
Bob Willams
---