Marilyn Kavanaugh
1933-12/22/2022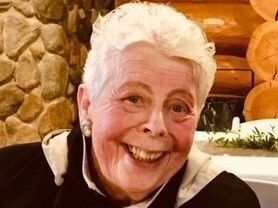 Marilyn Kavanaugh was a helper and a doer.  She was born to Esther Williams Manerud and Harold "Cotton" Manerud at Seattle General Hospital.   Her sister Barbara (Petie) was born two years later.  She attended Lincoln High School (entertaining her children and grandchildren well into her 80's with the school cheer, including high kicks!), graduating at 17.   
She is survived by her loving husband, Jim, daughters Susan Kavanaugh (Glenn Blackmon), Katie Kavanaugh Pauly (Doug Pauly), Elizabeth Kavanaugh (Jaime Vera Valenzuela), Barbara Kavanaugh, son Steve Kavanaugh (Erin Sullivan),  grandchildren Willie (Emily Hoppes), Jimmy and Grace Blackmon; Chelan Pauly Oldemeyer (Kyle Oldemeyer), Skye Pauly, Jace Pauly; Gabriela and Vivian Vera-Kavanaugh; and Caden Kavanaugh, two great-grandsons, numerous nieces, nephews, cousins, and a multitude of treasured friends, including beloved caregiver Ana Peralta.   
She graduated cum laude from Washington State College (now WSU) in 1955 with a major in Sociology and was inducted into Phi Beta Kappa.  She was a loyal Kappa Delta, regularly gathering with close KD friends 50+ years after graduation.  Displaying a huge banner bearing the words "Cougar Country" in the front yard of a Seattle home was a daring move, but Marilyn never backed down from a challenge.  She was editor of her college yearbook, the Chinook, her senior year, and her love of the written word and of creating order out of chaos stayed with her for the rest of her life.   
In 1958 she married James Vincent Kavanaugh in Seattle at St. James Cathedral.  Over the next years, moving for Jim's work with Boeing, they made their home in Seattle, Missouri, North Dakota, and then Seattle again, but this time with four daughters in tow.  In 1968 they added a son to their burgeoning family, and moved to a bigger house on Capitol Hill, where they lived thereafter and where Marilyn peacefully died, surrounded by family. 
Marilyn never met a person she didn't like or who didn't love her.  Her welcoming and warm ways, and ability to see the humor even in the hardest of things, and her beautiful smile all drew people to her.  She valued kindness, cheerfulness, helpfulness, and intelligence. 
She was a social worker by training, and at heart, working for the county and state after graduating college.  Marilyn championed social justice, and served on the Central Area School Council in the early 1970s as Seattle schools desegregated, calling out institutional racism and misogyny as she saw it.  When her youngest child entered kindergarten, she re-entered the workforce, this time at Community House, a local mental health agency, doing publicity and grant-writing and serving as interim Director.  Later she moved to Seattle Prep where she worked as the Director of Development, and for 10 years garnered philanthropic contributions, spear-headed capitol campaigns, and instituted the ever-popular alumni basketball tournament.   
Her family was her heart, and she championed them and their interests, always.  She was a helper of homework, a thrower of parties, and a family-vacation camper.  Jim and Marilyn traveled the world, sometimes alone, often with good friends, and commonly to see their far-flung children.  When she became a grandmother, she relished the role, helped out when their parents took vacations, took grandchildren to plays, loved being with them and celebrated their growth and accomplishments.  One of her favorite shirts said "Ask me about my grandchildren". 
She loved, served and challenged her communities.  Neighbors became friends and then family.  She was a member of the Roanoke Portage Bay Community Council, the Seward School PTA, and a parishioner of her beloved St. Patrick's Church for 54 years, where she was a long-time Women's Spirituality Group member.  She also was the alumni coordinator for Lincoln High School for many years.  She helped organize two Seward School reunions, wrote a history of St. Patrick's Church, tutored immigrants, and made regular visits to people in immigration detention, and in the 1970s, contributed a chapter to a book on part-time careers for women.   
Marilyn's ability to see the good in others and make the best of things stood her in good stead when she had two strokes at the age of 82.  She always smiled even when being poked, prodded and cajoled to do things, and did her best.  She never complained about losing her speech and mobility, and was quick to laugh at the absurdity of life. 
Her intellect was keen, her eyes savvy, and her ability to turn a phrase, edit a story, or find a garage sale around every corner was unsurpassed.  She taught us well, loved us unabashedly and we will never forget her. 
Marilyn's funeral will be held at St. Joseph Catholic Church, 732 18th Ave E, Seattle, WA 98112, on Friday, January 27th at 11am. All are welcome.
---
Comments
What a beautiful tribute to someone who clearly gave her best in so many ways. Jamie and I send our condolences from afar and wish all who mourn this passing grace and comfort.

Niki Fox Elenbaas, Grenada
---
I will never forget the warmth I experienced in the home of the Kavanaughs. Very fond memories of the mom I remember as an open and humorous person! I remember very well how she sympathized with the finds I brought back from the many garage sales I visited in the neighborhood.... Much strength to Barbara and the rest of the family.
Greetings from Belgium, Saskia

Saskia Verbeeren
---
I will never forget my loving Aunt Marilyn! She was always so cordial and welcoming to all who entered her home! A hostess of many festive parties at the Kavanaugh household. Even when health was declining, still had a warm smile on her face! I will miss my Aunt Marilyn, may she rest in peace, always in my heart!

Kent P Kavanaugh
---
We have been honoured to get to know Marilyn during her visit to Belgium and when we came to visit Barbara in Seattle. She opened her house to us and we felt immediately at home. Her warm welcoming gave us that special feeling that you enter someones house and feel part of the family. Receiving the yearly New Years letter kept us in touch and gave us updates about the family. She will stay in our memory as a kind, loving and very open and warm person. May she rest in peace. Our condolences to the whole Kavanaugh family.

Ingrid Danckaerts and family
---
I met Marilyn a few times, in Belgium, in Finland and in Seattle. I liked her kind personality, her positivity and her sense of humor.
I will never forget the warm welcome I received in the Kavanaugh house and my pleasant stay there. She took me for walks, where we chitchatted and she bought me ice cream. I immediately felt at ease.

To the whole family I send my warmest condolences.

Ilse Janssens
---
So sorry about Marilyn's passing. Prayers up for peace and comfort to all her friends and family.

That was a great tribute written for her, and she truly did try to live life to the fullest! Her many experiences would make for a great book, hey? We were always fascinated and proud of the contributions to humanity by all of the "The 7 Ks" as well. Marilyn was an awesome role model for many of these things.

Marilyn was always fun and had a way of bringing the family together, including her sharing of her genealogy work for the Pettyjohn Progeny. She also arranged the meeting between us and the twins that her Aunt Martha gave up for adoption—quite an emotional experience for all at that family reunion in Seattle.

We will miss forever our cousin's engaging wit, smile, and self deprecating humor. Like her story of the time she stepped outside to quickly retrieve a newspaper while clad in her baby doll pajamas—and the front door closed and locked behind her. Oops! She hid behind some bushes until a man jogged by and she waved him down from behind the bushes to get help. "Oh, Jogger Man!"

She was a truly unique and wonderful woman, and we will miss her.

—The cousins: Bill, Harriette (kids Dave and Darren), and Jenny
---
Marilyn was a lovely soul. She left a beautiful legacy in her children and grandchildren, who are carrying the lovely soul torch with them.
Every time I saw her, she welcomed me with a hug. I particularly remember an event at her home. I didn't know anyone and felt awkward. She held my hand and talked to me. It was so sweet. The was who she was. I'll always remember that.

Callie
---