Mary Louise Heath
5/4/1926-10/1/2023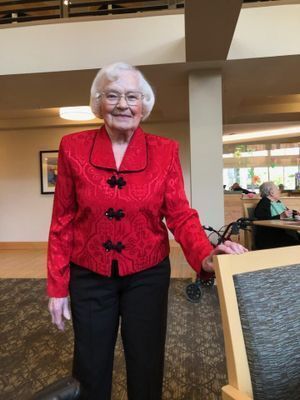 Mary Louise Heath passed away on Sunday, October 1, 2023. She was born on May 4, 1926, in Renovo,
Pennsylvania to John B. and Mary Louise (Mae) McNichol. Preceding her in death is an older brother,
John, younger sister Rosella Cowfer, nephew George Cowfer and niece Sharon McNichol.

Mary graduated from St. Joseph's High School in 1944 and was accepted into the Cadet Nurse's Corps at
the Philadelphia General Hospital. She received her RN degree in 1947 and worked at the hospital
thereafter. One night a friend invited her to join her at a USO dance, and there she met her first
husband James H. Holt, a United States Marine. They were married in Philadelphia in 1950. Their first
child, Jim, was born in 1952. While Mary was pregnant with her second child, Mick, her husband died
suddenly after becoming ill with polio in August of 1953.

In 1954 Mary moved her family to Tacoma, Washington, where her in-laws lived. She worked at St.
Joseph's hospital. In 1966 she married Don Heath and worked as an industrial nurse for the Tacoma
Department of Public Utilities from 1967 to 1991.

Mary enjoyed many cruises and trips with Don until his death in 2002. The Panama Canal and Honolulu
were favorite destinations. Mary and Don visited Scotland and England during 1983. In 2005 she
accompanied her son Mick and family members on a tour with high school students through Spain,
France, Italy, Greece, and Turkey. She joined a second trip in 2007 which she had to cut short due to
back problems. She continued her travels with cruises of the Mediterranean and her last cruise to Alaska
in 2022.

In 2013 she was invited to spend Christmas in Perth, Western Australia by her friends, Terry and Martine
Pitt, whom she met on vacation while vacationing in Honolulu in 2003. She stayed 7 weeks, and they
took her from one end of Australia to the other while she was there. Martine visited Mary several times
in Tacoma and Seattle and helped celebrate her 97 th birthday in Seattle in June 2023.
Mary moved to Seattle in 2019 and took an apartment at Merrill Gardens, Ballard. She made many
friends there, and her presence will be sorely missed. The family especially wishes to thank Dr. Fang
Fang Xing, Dr. Amber Farook, "Team Mary," and friends at Merrill Gardens. Additional thanks go to the
staff at Merrill Gardens, Ballard, caregivers at Evergreen Hospice in Kirkland, the staff at The Co-Op
Funeral Home at People's Memorial, and Tahoma National Cemetery.

She is survived by sons James P. (Hannah) Holt; Mick (Theresa) Holt; grandchildren Leslie-Ann (Erik)
Bergstrom, Stephanie (Dave) Lesser, and Louis Holt; great-grandchildren Stella and Isolde Bergstrom,
and Vivian and Jack Lesser; many nieces and nephews, and friends.

A Funeral Mass will be celebrated at St. Alphonsus Catholic Church, 5816 15th Avenue NW, in Seattle on
Friday, November 3, 2023, at 11 am. A reception will follow.

Remembrances may be made to the Hearing, Speech and Deaf Center, 1625 19th Avenue, Seattle, WA
98122 www.hsdc.org.
---
Comments
---