Keith Slawson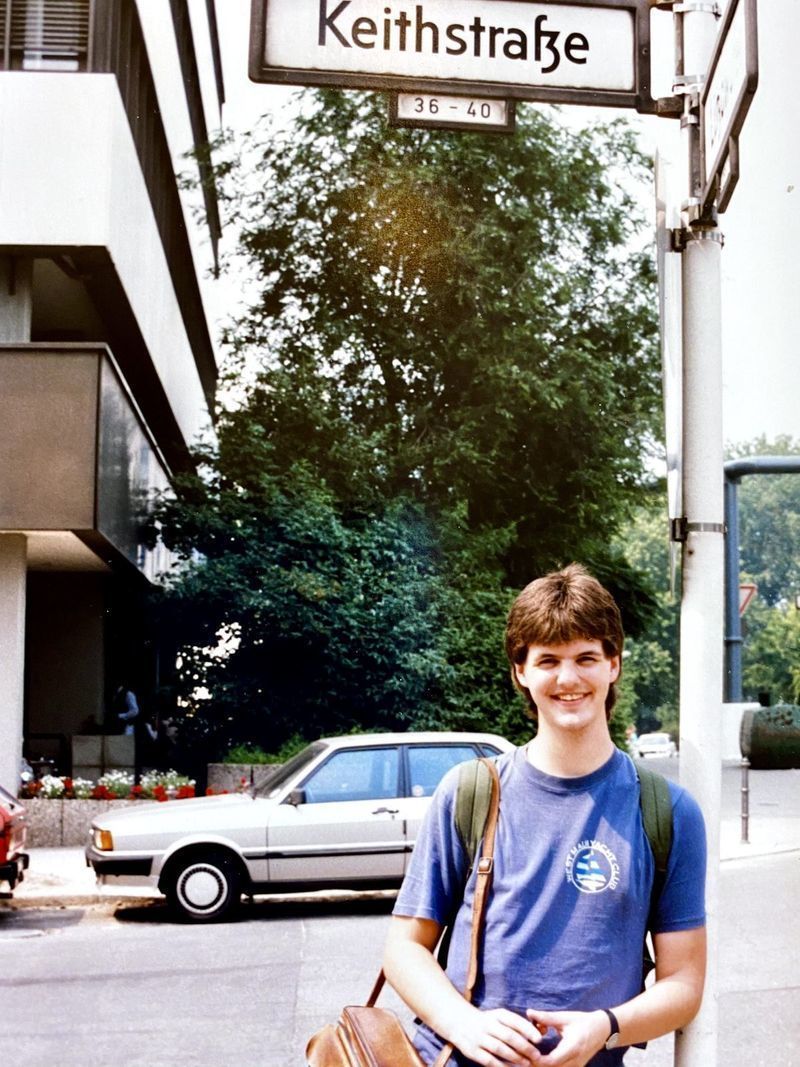 On October 25, 2020, Keith Slawson wrote the final chapter of his story. Over his 56 years, he was a consummate storyteller in a variety of ways. He loved stories and characters, whether they were found in fantasy and young-adult novels, games of Dungeons and Dragons, or in conversation over coffee or a beer. Though he dealt with cancer for the past six years, he viewed it as just a footnote in his life story.
[If you would like to leave a message, please do so here, rather than this People's Memorial page, so the family can have these all in one place.] https://www.inmemori.com/kslawson-u73do/tab-infos
The basics you may already know: Keith was born in Seattle on Feb 7, 1964 to Tom and Carol Slawson. He graduated from Interlake High School in Bellevue in 1982, and from the University of Washington in 1987 with a BA in graphic design. He is survived by his wife Hillary Miller and their daughter Soleil Slawson; he is also survived by his sister Julie Slawson.
But here are some chapters from his story you may or may not know:
Keith and Hillary first met when they were seniors in high school. They met at the Bellevue Public Library where they both worked as pages, shelving books and answering phones. They married in September of 1989 and became parents to Soleil in March of 1998.
Keith worked at several Seattle-area advertising agencies and design firms, including Sharp Hartwig, Turnstyle, DDB, KNCB Dave, Fitch, Methodology, and Tether. His favorite job title was Transmogrifier — defined as "one who transforms in a surprising or magical manner." This title certainly described what he loved to do, both professionally and personally.
Keith always put his family first. He quit full-time work for several years to help take care of his mom, Carol, when she was in an adult family home for dementia. He'd pick her up every Friday and take her to her favorite cafe for coffee and a cookie. At the same time, he volunteered at least once a week at Salmon Bay, Soleil's elementary school. He helped out in her classroom, where his favorite thing was helping 'reluctant readers' find books in the school library that would really match their specific interests. As one of the few dads who volunteered at school and on field trips (including serving as a much-needed chaperone for the boys' cabins during annual outdoor-learning camp adventures) he was greatly appreciated by both kids and staff.
He played his first Dungeons and Dragons game in 1978 and he was hooked for the rest of his life. He loved how the game evolved to become more diverse and inclusive, which matched his passion for social justice. He loved playing characters who challenged preconceived notions, and he enjoyed researching deep background stories. He also loved creating and recreating new rules structures (to the admiration and sometimes frustration of his players at times!). If Keith were a D&D character, he would most certainly be a Paladin: putting honor and ethics above all else.
Before he met Hillary, Keith had never been east of Idaho. He caught her love of travel — or at least went along willingly for the ride! Together, they ventured to Europe 15 times: as far north as the northernmost port of Norway (where they really could see Russia from the yard of their bed-and-breakfast) to the westernmost part of Portugal where they stayed at a former monastery. In Belgium, they spent four days at an historic race track, watching all the excitement of a Formula 1 race weekend. Wherever they traveled, they visited pretty much any castle that allowed them to put on armor or pick up a sword replica. Their last European trip was to Croatia, where Hillary got them lost in Plitvice National Park and ended up taking them on a 10-mile loop. One of Hillary's favorite travel memories with Keith was when he accompanied her to Beijing for a work conference. Hillary had to attend sessions day and night, so Keith happily adventured on his own every day, visiting to Zen gardens and temples and street markets where no one spoke English. He'd come back with amazing stories and photos every night. Keith used each trip as inspiration for his D&D games, whether it was in the form of castle layouts, swords and armor found in various museums, or memorable real-life characters who became NPCs (Non-Player Characters).
In recent years, another regular travel destination for Keith and Hillary was Washington, DC. They visited twice a year during the four years that Soleil attended The George Washington University. She graduated magna cum laude with a BA in Speech, Language and Hearing Sciences in May of 2020. Although her graduation ceremony was held virtually instead of on the National Mall in DC, it was a key milestone for Keith to attend.
Keith was one of the founding members of the 'Dogmen' — a group of guys who love to listen to music and have gathered religiously for 25+ years to share their latest music finds in a state-of-the-art home studio. Keith was known to be partial to the bands Yes and Rush, and he frequently discovered other unusual artists on local radio station KEXP. While his sartorial style was pretty standard PNW, Keith was renowned for his signature footwear choice of two differently colored shoes. Many who knew him will immediately picture his pair of Converse Chuck Taylor All-Stars, one red and one blue.
In addition to his bottomless love for his family (and D&D), he also found great joy in things like Formula 1 racing, Monty Python, children's books, the UW Huskies, the Seattle Sounders, Tottenham Hotspur FC, and almost any kind of microbrew. 
And even though Keith refused to be defined by his cancer, we are so thankful to the amazing teams at Seattle Cancer Care Alliance and Evergreen Healthcare Hospice, who made his six-year journey so much easier.
No memorial service (virtual or otherwise) will be held. 
---
---
[If you would like to leave a message, please do so here, rather than this People's Memorial page, so the family can have these all in one place.] https://www.inmemori.com/kslawson-u73do/tab-infos
Please, no flowers or plants. If you'd like to honor Keith, he requested that donations be made to the place where he and Hillary first met in 1982: the public library. Libraries always symbolized so much of what was important to Keith, including equal access to information, learning, creativity, enlightenment and progress. While a donation to any library is great, here are two local options:
Donate to The King County Library System Foundation
Donate to The Seattle Public Library Foundation
---