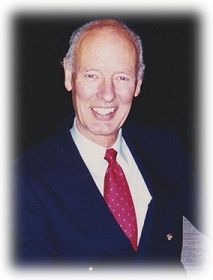 Lloyd "Charles" Brown, 89, passed away in his sleep September 7th, 2014 at Bayview Manor in Seattle.
Charles was born in Anacortes, WA, on August 13, 1925. His father, Lloyd Eyre Brown, co-owned (with his brother) Brown Brothers Clothing Company, and was a civic leader of Anacortes in the 20's. Tragically however, he died of pneumonia in 1926, and Charles never knew his father.
His mother raised Charlie alone before re-marrying in the 30's, and times were tough during the Depression. Even so, by all accounts his childhood was happy.  He spent barefoot summers at the family cabin on Guemes Island (the San Juan Island directly across from Anacortes) and made lifelong friends there, with boyhood adventures that could fit a Mark Twain novel. When he was 12 he drove the family car (a '36 Nash) to Spokane because "I was tall enough to reach the pedals and my mother trusted me."
 
At the age of 18 he joined the Navy, and was stationed aboard the USS Duxbury Bay (Seaplane/PBM Tender) in the Pacific during the final assaults on the Japanese in 1944 and 1945.  He was the pilot of the ship's tender and was also a gun captain.  Twice his ship received citations for battle action, including a devastating Kamikaze attack that narrowly missed the Duxbury Bay, but for which he found and brought home an inscribed part of the Japanese plane (which he later donated to the Boeing Air and Space Museum). Post-war, the "Dux-Bay" was part of the occupational force in the Far-East, Charlie spending many months stationed in ports along the eastern China shore.
Upon returning home he enrolled at the University of Washington on the GI Bill, working summers and falls in his uncle's Port Wakefield cannery in Kodiak, Alaska. With the money he earned he purchased a 1947 Buick Roadmaster (convertible of course!).  He joined the Delta Chi fraternity, and graduated from the UW in 1953 with a BA in Economics.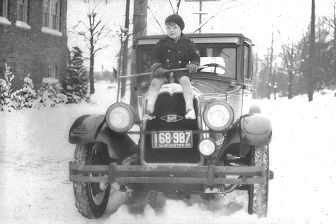 The time frame from 1953 to 1963 is a little hazy…these were Charles' bachelor years with new cars and social engagements, often with friends in Blue Ridge.  By day he worked at Mercer Motors and sold his own cars off the lot.  In May of 1964 he saw two attractive women walking near his home and pulled his maroon Chevrolet Impala (convertible of course!) over to greet them… and was quickly falling in love.  Three months later he married Rose Marie Merkel at St. Luke's cathedral in Ballard, and family life in Blue Ridge had begun.
Life was busy in the 60's and 70's, with Sundays at Guemes and daughters who kept the family busy at swim meets and school events. The Brown house became a social center of Blue Ridge, with winter dinner parties and friends enjoying the back patio on summer evenings. The 80's and 90's saw the girls graduating from college, and Charles and Rose Marie traveling to Germany, Hawaii and California with friends. Charles completed a full restoration of a 1957 Thunderbird in their garage, and also purchased a 1965 Mustang (both convertibles of course!)  He continued to work downtown at various car dealerships, officially retiring in 1997 at the age of 72 when he became a grandfather – "Papa".
In his retirement, Charles was a devoted husband and grandfather. He adored his grandchildren, telling stories, taking them to the beach, building forts and swing sets, driving the Mustang in the 4th of July Parade, and sharing his garden space for "construction areas".  He also enjoyed looking for bargains at garage sales, reading the morning paper, and good conversation.  Any discussions that led to a comparison to the Carol Burnett Show or Bugs Bunny would generally end in uncontrolled laughter.
Charles loved people, made friends easily, and had a smile for everyone. He was honored to serve his country, cherished his family and loved being with friends. He led a full life for which he was always, enduringly, grateful.
---
Comments
---