Richard Louis Kath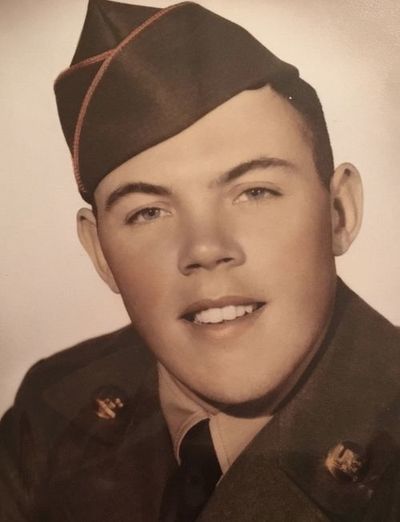 May 13, 1930 - July 29, 2021
Richard (Dick) Kath, a beloved husband, father, grandfather, uncle and friend passed away peacefully at the age of 91. He is survived by his wife Peggy, of 62 years, his daughter Susan (Tom) and two grandsons Conor Thomas and Charles (Charlie) Richard. He is proceeded in death by his parents Henry and Irene Kath, brother Harris Kath and daughter Laurie Ann Kath.
Dick was born in the North Beach area of Seattle. He went to Loyal Heights, James Monroe, Ballard High School, and then the University of Washington. He was drafted into the Korean War, and braved the front lines. He was a decorated vet with a purple heart, as well as several other medals. Dick fought several famous battles like the Battle of Triangle Hill, also known as Operation Showdown.
After the war, Dick came home and met his forever love, Peggy Laine. They married April 18th, 1959. They raised 2 girls, Laurie Ann (deceased 1984) and Susan Elizabeth. Dick loved his girls. He often couldn't even speak of them without forming tears. Dick was so thrilled to spend time with his daughter Susan, son in-law Tom Lamb, and grandsons Conor and Charlie. His greatest joy was to watch his grandson's play sports, especially baseball (since that was one of the sports he played growing up in high school). Dick also played as quarterback in football, and found his love in a good game of golf. He dedicated many, many hours to golf. Dick loved to play on different golf courses. He would often say, "You only get better if you challenge yourself by playing all kinds of golf courses. Anyone can get good playing the same course over and over all the time." He had a golf net in our backyard where his family and multiple surrounding neighbors will always remember the "ping" sound of him practicing his golf swing many hours of the day and night.
Dick had a long career in sporting goods selling to schools, communities, and some pro sports teams all over Washington. First he collaborated with Athletic Supply Co., and then later with his friends at 3Gi Athletics. He loved his work and was forced to retire at 81, due to his heart condition. Dick loved all who came before him. He enjoyed many old friends from his early years at Loyal Heights and Ballard High, his golf buddies and coach friends, and his Blue Ridge Community. Dick loved all sports, especially his Husky football.
To his family he was a sweet loving man who loved and adored his daughters, wife and grandsons. But if Dick was your friend, you knew it. You knew it by the way that he lit up when he saw you! He will be missed by so many. At the nursing facility, the wonderful Queen Anne Health Care, they would say he was the most lively one in the place. He would tease the staff, but he especially liked to brag about how many laps he could walk around the facility with his walker. He was often told to slow down because he would get to almost a jog! He was never much of a sitting-around-kind-of-guy. He was always a mover. Our special thanks goes out to Queen Anne Health Care for taking such good care of both my parents.
A celebration of life will be held at a later date when it's safe to do so.
In lieu of flowers, donations can be made to:
Juvenile Diabetes Research Foundation
Or
The EEU/Haring Center At the University of Washington
---
Comments
---
Peggy and Susan,
So sorry to hear about Dick. I have many great childhood memories of him (and your whole family) from our time living in Blue Ridge. I wish you peace and love. Take care - sending hugs. Dee Dee
- Diane (Dee Dee) Hageman di Furia
---
I met Dick in the 1960's where we worked at Athletic Supply together and had many good times together at work and play. We kept in touch after he left ASCO and went to work at 3-GI's. He was one of the kindest and friendliest persons you could ever meet. RIP Dick
- Gordy Groves
---
Dick was one of the BEST caring, kind personable co worker ever. He and Peggy would host pickle ball parties for all of us at Athletic Supply and they were such fun. Golf was his passion so when he wasn't working you'd find him on a golf course somewhere. A great guy who will be missed by many.
- Patti Woeck
---
A wonderful obituary for a wonderful man. Dick was a terrific uncle/friend. I will ever miss his humor and vivacity. Dick took me to my first college basketball game when I was a youngster. We went to see the Huskies play—and as I recall, they lost. No matter; I will never forget his kindness in inviting me to join him that day. I am better for having had the great privilege of knowing Richard Kath. His was a life well-lived.
- Robert (Rusty) Gardner
---
The card I sent to Peggy and Susan was returned by the post office as NSN so I will say here that I was so sad to see Dick's obituary in the paper. I have known him for over sixty years and he was such a sweet guy!
~ Anne Brannan
---