Barbara Jane Martin Rieman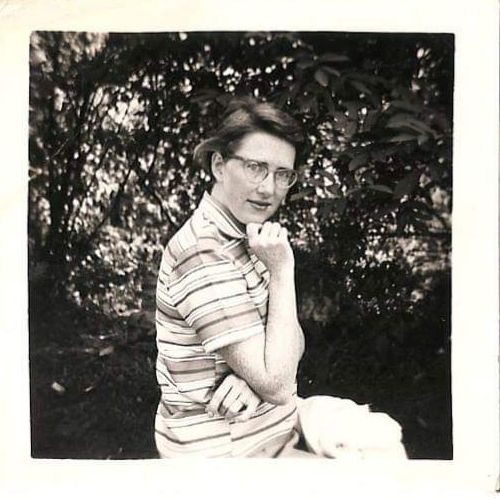 Barbara Jane Martin Rieman was born to Rowland J. Martin and Dorothy M. Lea on July 6, 1927 in St. Ignatius, Montana. She was pretty proud of this but we don't know why.
Mom went to 5 different K-8 schools and 5 different high schools in New England, Montana, Palm Springs, moving mostly to escape learning fractions in math.  Unfortunately she learned that the Civil War was still being fought when she graduated from Central High in Memphis.
Following the tradition started by her parents, she graduated from the University of Washington and then became an occupational therapist via the College of Puget Sound.
Desperate for a good man, she joined the Seattle Mountaineers in the early 50s and met her future husband John D. Rieman, who made her an honest woman on June 22, 1956.  Actually he really wanted her 4 digit REI number.
Three kids followed, Ilsa Birmingham (David), Peter Rieman (Jackie) and Emily McLaughlin (Mark), eventually followed by 2 stupendously wonderful grandsons Shamus Nolan and Nicholas Rieman.
Mom paid the bills by working for the Seattle School District as a classroom instructional assistant until retirement, when she tried to flee the US numerous times, traveling to many countries including Nepal, Egypt, Burma, and Cuba (can't arrest her now!). She also loved visiting places at their worst, volunteering with the Red Cross for over 15 years, helping people in need after floods and hurricanes and other disasters, including Ground Zero.
When friends asked her to come with them for an adventure or at the very least coffee, she'd say yes before even knowing where.  She often said she was the luckiest person, and so did her friends, sharing the joy of just being together.  She gave her time selflessly, spreading comfort and joy.  She died on November 27, 2019, at her home in Seattle, of complications from ovarian cancer.  Mom's love of people of all walks of life will be missed bigly!
If so moved, donations in her name can be made to the  University United Methodist Church Thrift Store,  which provides food and clothing for those in need, or to a charity of your choice.
---
Comments
I saw your very humorous obituary in the paper this morning. I'm so sorry for your loss. My name
is Christine Lea Chevalier. Barbara was my cousin and I have very fond memories of her and John.
Christine Lea Chevalier
---
Thank you for sharing your memories of your mother.
She and your dad John made quite the pair.
I hope that they are now having a nice reunion!
Noel Miller
Mountaineer and choral singing friend
Seattle, WA
---