Martha was born November 8, 1940 and died November 16, 2014.
We will remember Martha with a service of music and stories celebrating her life Saturday January 24th, 2015 at 1:00 PM at Immanuel Lutheran Church 1215 Thomas Street Seattle.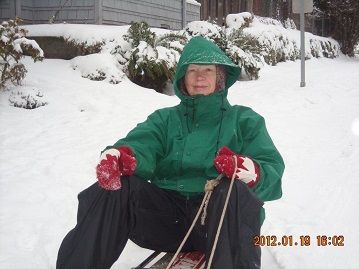 Martha Marie Stoa Bakke died at noon on 16 November 2014 in the 74th year of her life.
She slipped away, as they say.
She was released from her prison, as my brother Phil said.
No matter how grateful we are that her acute suffering through ten years of Alzheimers is over, the fact of her death is, nevertheless, a great sorrow and a great loss.
A world without her in it is unthinkable.
Martha was born to Martha and Norris Stoa in 1940 in Minot, North Dakota, their second child, after Miriam in 1937.  Her father was pastor in Parshall from 1934 until 1944 when the family moved to Morris, Illinois. Two more children were born before the family moved to Seattle where Norris Stoa became pastor at Denny Park Lutheran Church in 1955.
Martha was a graduate of the nursing program at Pacific Lutheran University (College, as it was then). In 1966, after several years of nursing in Minneapolis, she signed a five-year commitment with the Lutheran Church in America (LCA) to nurse in India in an area where leprosy was prevalent. At her commissioning service she said:  Don't think I'm heroic. This is an adventure as well as a way of 'giving back. She didn't want to teach or preach; she wanted to be a nurse. A favorite photograph of Martha in India is one taken of her with her dachshund, sitting in a cart pulled by a team of oxen. It sounds like a scene from a hundred years ago, but the photo was taken in 1969.
The volunteers going to India were sent to the University of Chicago for an intensive course in Telagu in the summer of 1966. Years later, Martha realized that they had been living very near the family home of someone called Michelle Obama.
Martha and Harold were married on January 2, 1972. On her wedding day, Martha's hair was long and as beautifully auburn as it was until the day she died – a color that her daughter and two granddaughters have inherited.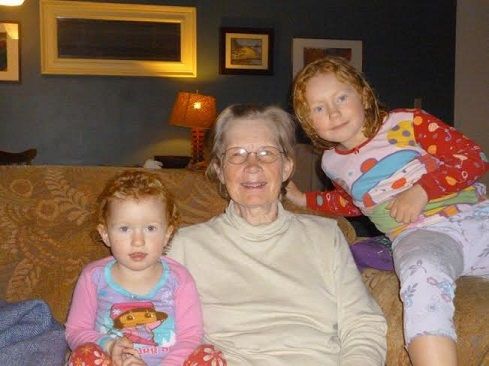 The year after their marriage, Martha and Harold traveled around the US and Canada in their VW bus. They brought back stories of Cezar Chavez and the National Farm Workers Association in CA, stories about the Koinonia pecan cooperative in Georgia, as well as stories about Maine where Harold had worked with Vista.
Martha and Harold have been members of Immanuel Lutheran Church in Seattle's downtown from the time of their marriage – a church where acts of imagination have put 'love your neighbor' into practice. For a time, Martha was parish nurse at the church, until she herself needed the help that she had once given to others.
Martha came of age in the sixties – which of course means that she observed the vibrant issues of the 60's: the Viet Nam war, Civil Rights, the Women's Movement – all of which demonstrated the necessity for individuals to become informed, to think, to debate, to take a stand. She was a voracious reader and in fact ordered subscriptions for herself and others as soon as Ms magazine began.  Her two favorite poets were May Sarton and Denise Levertov. If she came to visit you, she was easy to please: she wanted to sit by the fire and read. Her books always contained a scrap of paper on which she had written notes. She attended graduations for her nieces and nephew, having been brought up in a home where a college degree was considered as much a sacrament as baptism. She had a mother whose seven brothers and sisters went through church colleges in the midwest (Luther and Concordia) during the years of the depression, each one financially assisting the next – a model that Martha and her siblings were invited to follow.
These are the words we heard Dad say so often, and now we say them for you, Martha:
The Lord Bless you and keep you, Martha/ The Lord make His face to shine upon you/
The Lord lift us His countenance upon you/ And give you peace, Martha Marie,  
Wife of Harold
Mother of Lisa and Ellen
Grandmother of Aurora and Iris
Aunt of Sarah and Emily, Michelle and Jeremy
Sister of Phil and Sister-in-Law of Kristi
Sister-in-Law of Chris and Sister of mine for 70 of your 74 years
Daughter of Norris Stoa and Martha Marie Jordahl Stoa
Grand-daughter of Martha Marie Wangen Jordahl
Great-grand-daughter of Martha Marie Winjum Wangen
The Lord watch between Me and Thee while we are absent one from the other.
Eunice Victoria Stoa Scarfe
Edmonton, Alberta
---
Comments

I am so sorry to learn of Martha's death. I was a member of DPk back in the mid 50's and arrived there from MN soon after Pastor Stoa began his ministry, so I was well acquainted with the whole family. My husband, Vernon Erickson, was a pall bearer at Miriam's funeral. We were part of the large youth group at DPk at that time; Martha was just a 'little girl' to us. Please offer my sympathy to all her family. --Liz (Slen Erickson) Hammill
 
---
Dear Harold, Ellen, Lisa, Phil and Eunice and extended families. I'm so happy we had time with Martha 5 yrs.ago when we visited Seattle and she could still visit even if occasionally stuck for a word or thought. She still had her peaceful smile ready for us and she helped to show us the sights of Seattle along with Harold. Many were the times we cousins shared such fun and built memories forever during the summers you all visited 'the farm' back in North Dakota! I loved those occasions and it forged our relationships with our cousins and aunts/uncles forever! Your parents were my Godparents at Baptism and always remembered to call me on my birthday in our later years to tell me the story of my birth! (Long after my parents were gone so it meant a lot to me) I have appreciated these notes about Martha's life. Thank you..with love to all, Mazie Thoreson Niebeling --Mazie Thoreson Niebeling
---
Our deepest condolences to the whole family. We are glad we got to meet Martha and see what a special lady she surely was. May God heal your broken hearts and restore your spirits until you meet again. --Byron and Pam
---
I loved her. She was a gift to this world and to me. She was a fantastic friend and co-worker and the very embodiment of compassion. --Deborah Ruth (Taylor)
---