Carol Bridges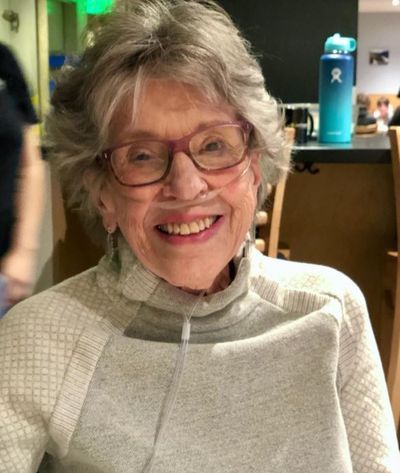 Carol Bridges died at home on April 26 in Seattle, Washington, after living bravely with heart and lung disease for the last several years. She was 83 years old.  She is survived by her wife Rochelle, brother Alan (Nicki),children Ann (former son-in-law Mark), Judy (Kimberlee), and Bruce (Leonora), grandchildren Connor, Mika  (Sage), Rowan, and Max, godchildren Sam and Talia, numerous nieces and nephews, and her beloved pups Kobi and Kati.
Carol earned her bachelor's degree from UC Berkeley and obtained a teaching certificate. She taught 4th and 6th graders before starting a family.  She raised her family in Thousand Oaks and Pasadena, California. She served as a Camp Fire leader and trainer for 15 years and chaired the Ventura County Leaders Association. She later studied public administration and non-profit management in a master's program at University of San Francisco. Carol's passion for agencies committed to challenging inequities through direct service fueled her professional and volunteer life. Carol was Executive Director of Camp Fire Boys and Girls of The Foothills and of the Pasadena YWCA in California, where she met her future wife.
A life-long Lutheran, Carol sang in the choir, taught Sunday School, was a Sunday School Superintendent, and helped with the youth group at Redeemer Lutheran in Thousand Oaks. She joined University Lutheran Church in Seattle after she and Rochelle moved to the city in 1992 to be closer to family. At ULC, she took on a variety of volunteer roles as well as sitting on the Ministerial Search Committee. Professionally, Carol continued her work with non-profits at United Way of King County and King County Crisis Clinic. She also served on numerous boards, including PSKS a program for homeless youth. She was a founding board member of Elizabeth Gregory Home, transitional housing for homeless women.
Carol and her wife Rochelle were together for 31 years and officially married in a surprise wedding service at home on Christmas Eve six years ago. Jon Luopa, from Rochelle's church, University Unitarian, presided over the vows, with family and friends in attendance.  Carol and Rochelle enjoyed special times with grandchildren and godchildren, 4th of July trips to Yachats, Oregon, visits with family and friends in other states, and attending Seattle Storm games.  Large holiday gatherings provided rituals to mark each year's passing. Carol's family and friends will fondly remember backyard picnics, her Halloween costumes, and raucous Christmas Eve games.​
Carol's incredible optimism, her kindness and compassion for others, her graciousness, and her quick wit will be missed by many. At her 80th birthday party, friends and family from all over gathered to celebrate her life with photos and tributes. She felt loved and appreciated. Carol provided a grounded space for many.
Many thanks to her compassionate medical team, including Dr Robert Kitchell and Dr Jad Swingle, who cared for her in these last few years with kindness and understanding. 
A celebration of life will be announced later. Memorials may be made in honor of Carol to Elizabeth Gregory Home in Seattle, WA.
---
Comments
I met Carol mid 1990's when she was working at UWKC, she monitored PSKS partnership and mentor me as a founding Executive Director of PSKS. She was a founding board member of PSKS and our friendship grew over the years. Thanks Carol for your compassion.
- Elaine Simons
---
Best mom ever!
Bruce K Bridges
---