Preston Singletary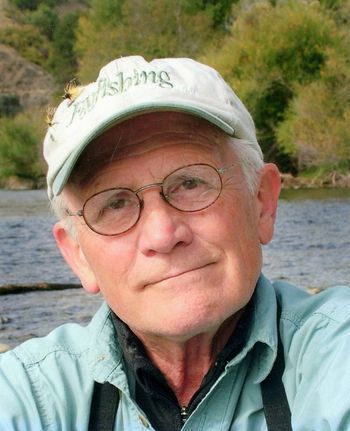 Preston Singletary, 80 of Seattle, Washington died on November 4, 2020 in Seattle. Preston was born on February 27, 1940 in Ryderwood, Washington to Clifton and Marie Singletary. 
Preston was an avid outdoorsman, a voracious reader and music lover who enjoyed many hobbies and interests over the course of his life including fly fishing, camping, cross country and telemark skiing, hiking, mountain climbing and running marathons.
He retired from Boeing where he was a draftsman and designer for more than 30 years. He enjoyed his retirement working as a writer for various fly fishing publications, fishing and camping as much as possible and spreading his prolific knowledge of fly tying and fly fishing in general.
Survived by his son Preston L. Singletary and his wife Åsa Sandlund, daughter Rachel Singletary Kopel and her husband Josh Kopel, grandchildren Sienna Weaver, Orlo Singletary and Lydia Singletary. He is preceded in death by his brother Clifton Singletary, sister Sharon Smith and both of his parents. 
The family will be having a private celebration of his life and plan to have a larger celebration in 2021 when it is safe to gather in large groups again.
You may email replanting.oysters@gmail.com if you want to reach out to the family and be informed about the future gathering.
---
Comments
Wishing you and your family love and peace during this transition.
- Susanne Lambert
---
Uncle Preston, I had wished to have seen you to tell you Thank you. Also, something my Mom had said, Great- Grandma Susie liked you (my Dad & Uncle Larry, too). Safe journey
    
Lisa Nault
---
Preston was a perennial gentleman. He was always willing to share his encyclopedic knowledge of the outdoors life, and the fish and fishing, with anyone who was sincerely interested. Anytime Preston was talking, I listened. He was one of those people who always made me want to try harder to be a better man.
    
Bob Triggs
---
Preston was an incredibly gifted teacher and friend to those who love the outdoors. Rest in peace.
- Len Zickler
---
I will miss Preston. He was more than a fishing partner. I will always remember him as the only person I have ever known who tried to talk to Oystercatchers on the beach. I let him drive my car once and I found out how high the rpm's could go before being shifted. He showed me asparagus growing wild along the banks of the Yakima River. I found that whenever I was with him, the best thing I could do was to shut up and listen . . . Goodbye Preston.
- Leland Miyawaki
---
Preston was a wonderful man and good friend during our days with the WFFC. We loved to share stories about our freelance writing experiences with different editors and publishers. He was a master at cutthroat fly fishing and taught many anglers his craft. We had many wonderful discussions about one of his favorite flies, the "reverse spider." We will all miss his smile, honesty, and friendliness. My best to his wonderful family.
- Jack Berryman
---
RIP my friend!We will miss you at WFFC when and if we are allowed to meet again!
- David Hawkinson
---
A true gentleman, my times with Preston, will fill me with many memories. One time at Lincoln Park on a foggy morning I thought I saw a whale in the fog, Preston was fishing with his over lined four weight. He quickly retrieved his life. Saying to me he might be outdone by it. That old four weight had once caught a big king, a younger woman proposed to him on the spot. His humor, love of nature and history. Will always be with me.
Jim Koolick
---
I only met Preston one time on the Stilly with Dov Young and a few times at Orvis! Always a pleasure and I feel lucky to have met him. I feel like i knew him through Leland Miyawaki and others and loved his writings! Rest in Peace Preston! Best fishes!
Bill Zytkowicz
---
I met Preston when we started Jr High in West Seattle and shared many common interests throughout our lives. His passing is not emptiness but full of memories of the years of our friendship.
Larry Lang
---
I do not know this man, but after reading these condolences above, I wish I had. Sleep in peace always sir.

T.M.
---