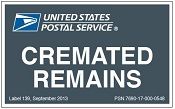 At the end of 2013, the Post Office suddenly changed its policy regarding the shipping of cremated remains.
The United States Post Office is the only service that will carry cremated remains. UPS and FedEx refuse. Prior to the change, one could ship cremated remains via Registered Mail or Express Mail. Registered Mail was cheaper, slower, but had special handling and was insured. Express Mail was faster but much more expensive.
At the end of last year, the Postal Service stopped taking cremated remains via Registered Mail. The only way to ship an urn was using Express Mail.
Initially we were indignant at the change. Thoughts went to that carriers where icked out handling a package with cremated human remains. Express Mail, being the most expensive option, would take a further financial toll on our clients who needed an urn shipped. Another way to balance the Post Office's budget on the backs of grieving families that now officially have no other choice unless they want to employ cargo shipping on an airline.
Then again, a major downside of Registered Mail was that all seams on the package needed to be sealed with paper packaging tape. Since this isn't a usual office product people have, it was a great hassle for most families so they would pay the funeral home to package and ship the urn for them. Sending Registered Mail at the post office was an exercise in patience. Think of how long you normally wait for service at the post office, multiply by 17, that's sending Registered Mail.
Enter the Flat Rate Shipping Box.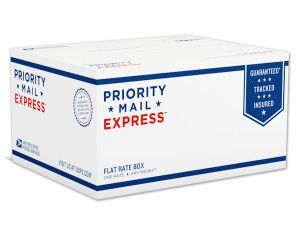 This could now be an advertisement for the United States Postal Service, but I guarantee it is not. Just the very rare, thrilled USPS customer. Can you Yelp review the Post Office? I'm just talking about the entity, not the corner office which I now get to avoid entirely. The Post Office on Broadway? 1 star. Except for Aileen, Aileen is the only good thing about that place. I'm going to miss Aileen. She could process and stamp the bejeezus out of a Registered Mail package like a cartoon cheetah.
Anyway, back to the Flat Rate Shipping Box.
The boxes are free. We can buy and print the labels and postage at USPS.com. Our wonderful mail carrier, Benito, picks up the boxes from our office.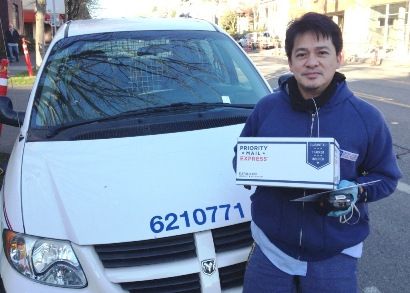 We love Benito
This change makes shipping urns easier for us, and more importantly, much easier and cheaper for families to ship urns themselves.
In the end, making things easier on the family is our prime objective.
Good riddance to Registered Mail.
UPDATE April 3, 2014:
USPS now has a brochure outlining how to ship cremated remains.
UPDATE January 17, 2016
USPS no longer has a flat-rate Express Mail service. You can still only send cremated remains via USPS Express Mail service, but the cost depends on the size and weight of the package and the zone it is being sent to.
RIP USPS Flat Rate Express Mail Shipping box...
Nora Menkin is the Managing Funeral Director at The Co-op Funeral Home. She has been a funeral director since 2007.
---
Comments:
Jeff J
Posted January 24, 2014 at 4:57 pm
Hooray for the USPS! People are often so down on them, but I have to say – they are spectacular at what they do and I think that they have a thankless job. People like Benito are fabulous, and this post does a great job highlighting a great new change! Thanks Nora!!
Comments are closed