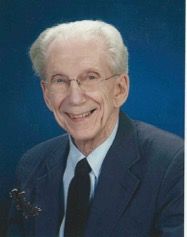 Reverend Dr. Roland F. Schlueter, 95, of Seattle, died peacefully on December 4, 2014.  Born in Iron River, Wisconsin, on November 12, 1919, he was the son of Reverend Franklin and Lena Schlueter.  He was the loving husband of the late Frances Kaub Schlueter, whom he married in Denver, Colorado on September 5, 1943.  She died in 1993.
Reverend Schlueter received a Bachelor Degree from Yale University in 1940, a Master of Divinity Degree from Union Seminary in 1943, and a PhD. from the University of Edinburgh, Scotland in 1955.  He served in the U.S. Army as a Chaplain stationed in Manila, Philippines from 1945-1946. 
He was an ordained minister in the Congregational United Church of Christ for 71 years, serving 7 churches in the Washington-North Idaho Conference from 1943 to 1984.  He also spent four years as Director of Continuing Education at Lancaster Theological Seminary in Lancaster, Pennsylvania.  Following retirement, Reverend Schlueter served as guest pastor for numerous congregations.  He was an active member of Plymouth Congregational Church, Seattle for the past 30 years.
A skilled musician and vocalist, Reverend Schlueter was a longtime member of the Seattle Symphony Chorale and often provided pre-symphony concert lectures.  He was also a member of the Seattle Recorder Society and sang in the Seattle Bach Choir until age 90. 
He loved travel, and enjoyed trips to multiple locations in Europe, Asia and the Middle East, as well as countless explorations to 49 of the 50 states.  He was also fluent in German and could read and understand several other languages.
Surviving are daughters Rebecca Deryckx of Mt. Vernon, Washington, Cynthia Dustrude (Steve) of Springfield, Oregon, sons Jonathan Schlueter (Pam), of Beaverton, Oregon, and Christopher Schlueter (Laurie) of Tbilisi, Republic of Georgia, as well as 8 grandchildren, 3 great-grandsons, 2 nephews and 1 niece.  In addition to his wife and parents, he was preceded in death by one brother, Oliver Schlueter.
Relatives and friends are respectfully invited to attend a memorial service at Plymouth Congregational Church, 6th and University, on Saturday, January 3 at 2 PM.  In lieu of flowers, memorial contributions in Reverend Schlueter's name may be directed to:

•           Plymouth Congregational Church, 1217 6th Avenue, Seattle, WA 98101
•           Horizon House Residents' Assistance Fund, 900 University, Seattle, WA 98101
•           Seattle Bach Choir, 3704 38th Avenue South, Seattle, WA 98144
---
Comments
---