William Vannoy Hayes IV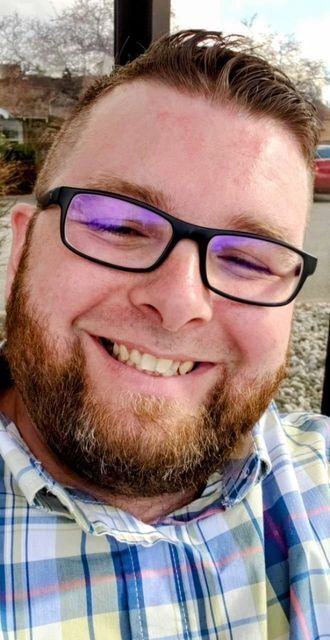 William Vannoy Hayes IV, also known as Will or Billy, passed peacefully in his home in Renton, Washington, at the age of 37 on February 7, 2023. 
He was born in Sacramento, CA, on August 22, 1985, and passed after a four-year battle with cancer. 
He is survived by his Mothers-Ivy and Penny Conrad-Elliott; his Maternal Grandmothers Evelyn Spray and Ellen Jorgensen; Sisters-Karolyne Daniel, Ashley Leontescu, and Angelica Conrad, Maternal Aunt-Honey Thomas, Uncle-James Kirby, Aunt-Jennifer Jorgensen, Uncle Thomas Jorgensen, his Partners-Anthony Kelly and Joshua Graham, and many Cousins, Nieces and Nephews.
He was preceded in death by his Maternal Aunt-Renee (Tina) Gleason, Maternal Grandfathers-Robert Spray and Rick Jorgensen.
William was a brilliant, gentle soul. He was always willing to lend an ear and whatever else he could spare, whether he had known you a moment or a lifetime. He knew how to enjoy the bounties of nature, and he enjoyed camping with friends and gardening at home. His easygoing spirit made him a joy to be around and a natural center of attention. He attended the Charter College Program for Medical Assistance, which he graduated with honors in 2017, he was happy to share his medical knowledge with anyone who needed it. 
He was many things: Son, Friend, Brother, Uncle, Nephew, Grandson and Partner. But above all else, he was loved, and he is missed.
---
Comments
Will, I will miss you terribly. You were such a shining light and inspiration to others. With your kind soul and beautiful smile. Even when you were at your lowest, you would do anything you could to help someone else. It didn't matter who they were, stranger, friend, rich, poor or homeless, you always were so kind to them.

I remember going out for Chinese food and we had a bunch of leftovers. We went to Walmart afterwords and as we were pulling out of the Walmart parking lot, there was a homeless man across the street with a sign, you said, "I would like to give that man my leftovers". So we gave him all our leftovers. The man was so grateful, he couldn't believe someone would do that for him. The man started crying and you stood out there with him on that sidewalk and took the time to talk with him.

I am so proud to have been your mom and proud to tell others that you were my son. I'm so sad that your time on earth was cut short, but you definitely made an impact on a lot of people's lives.

I love you with all my heart, Will. Love Mom 
Ivy Conrad-Elliott
---
I was so proud to tell others about you. You showed us how to look at life differently. You always seen the good in others and always positive. Your smile lit up a room. You were a fighter through it all. I will always remember the last time we talked. It was a deep and loving conversation. You made a major difference in the short time you were here on earth. Please watch over us and we will try to keep your legacy going. You are deeply missed. I love you so much son.
Love mom Penny
Penny Conrad-Elliott
---
William was the Nerdiest gentlest soul on the planet we didn't deserve my cousin. He never made an enemy and always made friends. I love and miss till we meet again cuzzo.
Antonio Rodriguez
---
Grandma is going to miss the good times with my Grandson and when you came to stay here. I had a great time visiting. Will Miss You God Bless!!!!!!!!
Ellen Jorgensen
---