Leslie Reitz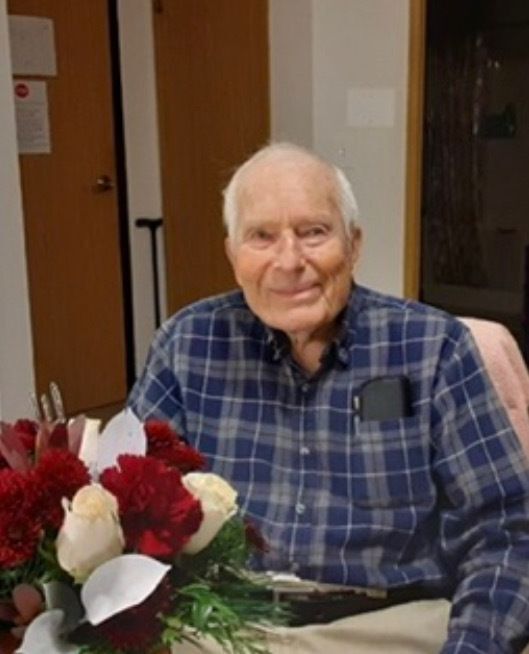 On December 25, 1923, Leslie E. Reitz was a Christmas gift to his parents, Emil and Mary Reitz. Born in Seattle, he joined sister Mabel and later became big brother to Edward and Evelyn. He passed away at Eden's Villa North in Seattle on December 3, 2022, at the age of 98.

Les attended Seattle schools, graduating from Roosevelt High School, where he mostly enjoyed art-related activities. He went to work for Pacific Northwest Bell, at that time known as "the telephone company."

Drafted into the U.S. Army Signal Service Corps in WW2, Les served in England and France. His unit provided communications between headquarters in London and the front lines. Les achieved the rank of Staff Sergeant as a young man of 20 leading his group. He earned a bronze star as they kept communications open almost all the time, being involved in a number of campaigns including Normandy. After D-Day he worked on the Eiffel Tower, and had harrowing stories to tell about that experience. The Lord protected him in a special way, answering his prayer that he would never have to kill anyone. Les claimed it was unusual for the army to place new soldiers in a field in which they had experience, but they did so in his case. He thoroughly enjoyed an "Honor Flight" trip in 2019 as he was flown to Washington, D.C., to visit all the war memorials with other veterans.

Returning from the war in late 1945, he married Jane Alice Young in 1947. They had met at Hope Gospel Hall. Les felt that his sister Mabel may have urged Jane to ride in his car on a group ski trip, thus playing matchmaker. Les and Jane had three girls, Barbara (Marvin) Pfeif, Beverly (Darrell) Lehman, and Marlene
(David) Olmsted. Les and Jane were happily married for almost 70 years until Jane passed away at the age of 92.

During those years, Les continued work at the phone company, becoming an engineer though he had not graduated from college. He was definitely a "do-it-yourself" kind of man, building his own brick house, heading up construction of the initial Lakeside Bible Camp buildings, fixing whatever needed fixing, remodeling
some spaces, and aiding others in many ways. He helped keep things running at Lakeside and Shiloh Bible Camps for a number of years. He was good at bargaining to get needs taken care of at a good price, wanting to use the Lord's money judiciously. Building the lighthouse on the island at LBC was one of his projects. Supporting the work of Northgate Gospel Chapel was close to his heart, and he attended there for about 70 years.

Before he retired from the phone company a bit early, in his 50s, he worked with them in Iran for a little over a year. He was instrumental in helping get their employees out of the country as things heated up right before the Shah was deposed in 1979.

Les is survived by his two younger siblings, his three daughters and their husbands, seven grandchildren, and 14 great grandchildren. He leaves them a treasured legacy of love for the Lord Jesus Christ his Savior and service in His name.

A memorial service to remember Les will be held January 7, 2023, 2 p.m., at Northgate Gospel Chapel. The address is 14330 15th Avenue NE, Seattle, Washington, 98125.

Remembrances are suggested to Shiloh Bible Camp in Cosmopolis, WA, or to Voice of Christ Media, a ministry reaching out primarily to Muslims.
---
Comments
---