Michael William "Mike" Slota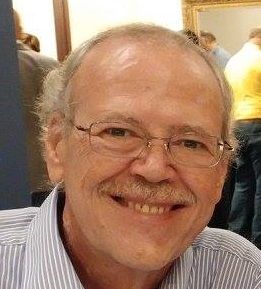 Michael William Slota, 59, beloved husband, brother, father, grandfather, mentor and friend, passed away peacefully on April 12, 2018, at Virginia Mason Medical Center in Seattle after a year-long struggle with cancer.  He will be greatly missed.
Mike was born on September 27, 1958, to William and Patricia Slota in Edgewater, Colorado. Mike was the second eldest of six children. From the time he took apart his desk in his kindergarten classroom, he developed a keen, lifelong interest in how to build things and make them work. He was a lifelong student of science and technology, and could build or fix just about anything. He loved to share his knowledge with others. 
At Neosho High School in Neosho, Missouri, Mike competed in the state wrestling tournament. Mike attended college at Rockford College in Rockford, Illinois, as a pre-med major. During college, he bought a Volkswagen Baja bug and rebuilt the engine for off-road racing. 
Mike met the light of his life, Diane, at Rockford College. They married in Diane's hometown of Chesterland, Ohio. With Meredith, their first child, they moved from Bristol, Vermont, to the Seattle area in 1980. Their second child Kevin was born soon after. The family made their home in Kirkland. Mike proved to be an excellent father and mentor to their children. Mike and Diane celebrated their 25th wedding anniversary with a trip to Europe.
Mike was born to design and develop and invent. Early in his career, Mike worked as a model shop machinist and manufacturing engineer at Heart Technology for ten years, helping design the Rotablator cardiac device, from early prototype through the clinical trial version, to the final stage of market release. Mike was named in several US patents.
With Diane's help, Mike founded and operated his own machine shop, 4-D Precision Manufacturing, creating notable projects such as a five-finned prototype of the RAM accelerator projectile at University of Washington Aerospace Lab, and the development and production of a heart model to train cardiologists how to use the Rotablator. 
Mike worked as senior manufacturing engineer for CombiMatrix Corporation, designing and developing machines to automate DNA microarray synthesis for medical diagnostics and for drug discovery. Mike mentored fellow junior engineers, and was named in several US patents. Mike made several trips to Germany and Japan to meet with clients on behalf of CombiMatrix. 
Mike founded a consulting business, Slota Design, LLC. He consulted for three years, including prototype design of a mammography machine using PET scan technology for University of Washington Medical Center. 
The culmination of Mike's career was at Kymeta Corporation, designing and developing a mobile flat-panel satellite antenna. Mike's influence helped shape Kymeta's engineering culture and meet several key design milestones. Once again Mike mentored fellow junior engineers, was named on several US patents, and travelled to China to meet with vendors. When Kymeta was named as one of the top ten technology development firms in the Puget Sound region by Geekwire.com, Mike and Diane attended the gala celebration at the Museum of History and Industry, only to find that the Rotablator was featured in the Northwest Innovations exhibit at MOHAI. It was a double honor that evening! 
In his leisure time, Mike loved fishing and crabbing on the beautiful waters of Puget Sound, and loved nothing better than to share his love with friends and family members. He also loved spending time with family and friends by camping and travelling around the northwest, target shooting, walking his dog at Marymoor dog park, and participating in the Men's Group and other activities at Northlake Unitarian Universalist Church. 
Mike is survived by his wife of 38 years, Diane, daughter Meredith and son Kevin both of Seattle, sisters Barbara Longstreet of Gastonia, North Carolina, Robin Winkle of Monticello, Indiana, and Valerie Lyford of Roscoe, Illinois, brothers Mark Slota of Cedar Park, Texas, and Will Slota of Gig Harbor, his parents Bill and Pat Slota of Montague, Michigan, and many nieces and nephews. He was so proud to be the grandfather of two granddaughters, Madeline and Eileen. 
Mike's ashes are interred at Kirkland Cemetery. There will be a memorial service to celebrate Mike's life on Saturday, May 12, at 10:30 a.m. at Northlake Unitarian Universalist Church in Kirkland, with the Rev. Jim VanderWeele as celebrant. In lieu of flowers, donations may be made to S.O.D.A. Serve Our Dog Areas or to EvergreenHealth Foundation Hospice Services fund.
---
Comments
My deepest condolences to Mike's family. Mike was a great guy and will be deeply missed. He has left many wonderful memories to treasure. May those memories be a source of comfort and peace as the days and years pass by. May God be with you to help you through this grievous time. Loving thoughts and prayers to all of you. Isaiah 41:10,13; John 6:40. Resting in peace. Gone but never forgotten.
Sharon Allen
---
Mike was a dear friend and mentor, whom I had the pleasure of working with. His intellect was only surpassed by his generosity.
You will be greatly missed old friend.
Colin Gilchrist
---
It's hard to know what to say during sad times like this. Just know that the Slota family has been in our prayers.
Kirk Greenwood & Pam Adair
---
It is always hard to lose family members, and siblings can be one of the hardest. May God's grace & peace envelope you all, and in time, may all your memories be only the Best Ones!
Paulette & Maury Waymouth
---
On behalf of all the members of S.O.D.A. (Serve Our Dog Areas) who love Marymoor Dog Park, I would like to express our sadness upon hearing about the passing of Mike Slota. The Slota's have been S.O.D.A. members and dog park supporters since 2004. It warms our hearts to know that walking the dog park trails with Max was one of Mike's favorite things to do and brought so much joy to his life. Our condolences to Diane and the rest of the Slota Family.
Judy Trockel, S.O.D.A. (Serve Our dog Areas)
---
My condolences to the Slota family. I'm proud to say that Mike was both a co-worker and friend to me over the past 5 years, and I will miss our conversations. His expertise in machining and manufacturing consistently made our designs better, cost less, and more viable. Mike's advice, both personal and professional, was always right on as well. And, of course, I'll always remember his diligence in leaving work every day to take his dog for a walk, come rain, sleet or snow! RIP Mike.
    
Joe Connell
---
I worked at BSC/Heart Technology shortly after Mike had already moved on from there. But his legacy was that the Rotablator device was an amazing invention and product and saved many people's lives. I finally had the pleasure of meeting and working with Mike at Kymeta. He was one of the best engineers I've ever met. There wasn't a tool, or machine that Mike did not know how to use well. He was an encyclopedia of knowledge about materials, processes and all things engineering. He was truely a master craftsman and engineer. He was always willing to help and pitch in. He made parts for me when I was in a crisis several times. I'm so glad I got to work with and learn from him. I enjoyed target shooting with him in 2015. He will be missed, both as a friend and collegue. Mike was one of a kind.
Bob Morey
---
I worked with Mike at CombiMatrix what a kind, gifted and brilliant man he was. I miss him very much and wish his family condolences for their loss.
Dominic Suciu
---
Diane ...
Thanks so much for sharing Mike's CaringBridge site, his Memorial video, and the link to this very nice Obituary. It was also very nice to have a long phone conversation with you recently, regarding the wonderful Mike ... that I had the privilege of working with Mike at Heart Technology and CombiMatrix. Mike was AMAZING as a professional coworker and a friend. He was a really great innovator, designer, machinist ... and a very interesting person to talk with. My sincere condolences go to you, Meredith, Kevin, Will, and other family and friends. Thanks again, take care, and keep in-touch.
- C. Schell
---