Hortence "Horty" Ruth (Garza) Slate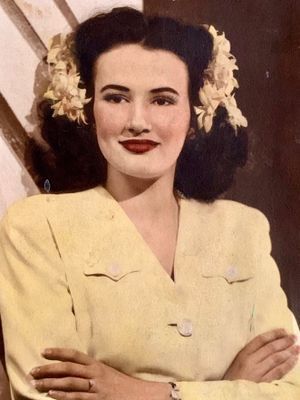 March 31st, 1926, Austin, Texas - January 4, 2022, Seattle, Washington
Hortense Ruth (Garza) Slate of the Maple Leaf area in northeast Seattle passed away peacefully on January 4, 2022 at the age of 95.  She was born on March 31st, 1926 in Austin, Texas, the second of 9 children.  Her parents were of modest means with her dad working a variety of jobs and her mother a nurse.  Horty always said that some of her spunky-ness came from growing up with 7 brothers!!  From the stories she has told, she and her sister could defend themselves well and find their own fun!  The values of hard work and generosity towards others that she learned from her parents and siblings would stay with her the rest of her life.  And, likewise, she demonstrated a life-long interest and pride in her heritages Latino (from her dad) and Alsace-Lorraine (from her mom) and an acceptance of people of all ethnicities. Growing up near a school for the deaf, she also was very including of people of all abilities. 
As a young girl, however, Horty was hospitalized with a ruptured appendix and for several years had to wear an ostomy bag; (it was later repaired).  Her parents sent her to Catholic school where they felt the nuns would protect her more from teasing (and boys).  But by high school when she would be interested in boys, all the young men went off to war.  After graduating, ever-friendly Horty began attending USO dances for servicemen from Lackland Air Force Base.  It was at one of these events where she met her dashing future husband, First Lieutenant Robert Slate of Seattle.  With his good looks and her movie-star glamor, they made a beautiful couple and were married in 1958 and lived for several years on the east coast where she worked as a secretary and they enjoyed traveling.  She also grew her passion for gardening and flowers, filling the yard wherever they lived with flowers. 
They eventually returned to Seattle when Bob's parents began to decline and here Horty was introduced to a higher social class than she had been raised in.  Over the years she collected all of the beautiful things that she always filled their house with.  They also acquired the home that Bob's father had built and with Bob's help, Horty began filling that large yard with flowers as well.  They became members of both the Rose Society and the Dahlia Society.  Bob attended the University of Washington for a degree in Engineering and began working for the Boeing Company as one of their very first Computer Scientists.  He frequently travelled across the US & even to Europe for his work and Horty would often accompany him.  While she was the gardener, he was the tinkerer and they helped each other in these endeavors, building an urban oasis in their backyard that was filled with roses, dahlias, plus both a greenhouse and intricate gazebo that they built themselves.
Throughout their marriage both had an avid interest in politics and civic activities; they worked to protect Discovery Park and were instrumental in saving the trees in front of the old Waldo Hospital...the very ones in front of Horty's final home at Aegis-Ravenna.  Throughout her life Horty had an extreme interest and inquisitiveness about others that sometimes bordered on being "nosey" but it also helped her develop a large collection of good friends who loved her dearly.  They were supportive when, in later life, she battled and beat adenoid cystic carcinoma (cancer of her salivary gland) and as she lovingly cared for Bob as he declined with dementia and then was in a nursing home after a stroke.  She visited him there every single day for nearly 2 years. 
Horty had a special kind of connection with beauty.  She was physically beautiful all of her life in an easy kind of way...but she also cultivated beauty around her and made it happen with her taste for fine things and her love of plants and flowers.  Yet the distinguishing characteristic of Horty was how generous she was, especially with her friendship.  She cultivated friendships with any and all around her and made others feel good about themselves.  That has been evidenced by the many, many family and friends who have called and come by to visit her in her final days, often saying, "She was the first to welcome me here!"  It doesn't seem that Horty ever made a single enemy.  The world needs more people like Horty!  We will all miss her so!!  A private memorial service will be held this spring when flowers are in full bloom.
---
Comments
I met Horty while visiting my mother at their residence at Aegis. She was always quite friendly and charming and it saddens my wife and I to hear that she has passed. May her soul Rest In Peace.

Jay Richards
---