Martha Nance Howell
October 1, 1950 - June 23, 2023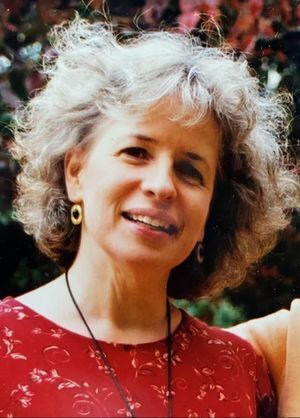 Martha Nance Howell, 72, passed away peacefully on June 23, 2023, after being diagnosed with cancer in April. She was a positive, loving and warm presence and never lost her strong spirit, always insisting that "what you need is there for you." Even in her final days she continued to say "all is well" when asked how she was.
Martha was born October 1, 1950, to Sara and James Dallas Howell Jr. in Tallahassee, Fla. She moved to North Carolina as a young girl, first to Charlotte and then the family settled in Jamestown, where she attended Ragsdale High School. She was an excellent student, graduating sixth in her class and named "Most Likely to Succeed." She went on to receive a bachelor's degree in psychology from Southwestern College (now Rhodes College) in Memphis, Tenn. She maintained friendships with many beloved friends from high school and college. 
In Memphis, she met and married Charles Sneed, father of her beloved children Caroline, Rachel and Adam. Together with a group of fellow Southwestern graduates, teachers and community members, Martha and Charlie founded A Learning Place (ALP) in Memphis in 1973. It took enormous personal courage to launch this radical educational experiment in such a conservative culture. ALP challenged the meaning of school and impacted the lives of its students and their families during its five years existence and in the decades since. Martha and Charlie moved in 1978 to Hendersonville, N.C., where their three children were born and raised. 
As a young woman, she loved painting, weaving and basket making and taught Bradley childbirth classes. Near age 40, she had several major health "adventures," leaving her hemiparetic, but still working full time and raising her young children. 
Martha had a long and treasured tenure at Blue Ridge Community College as the director of community enrichment. She absolutely loved her job and programming arts and culture events for the community, such as Music by the Lake, Arida Arts Symposium, Celebration of Women in the Arts and many more. She was a very active member of St. James Episcopal Church in Hendersonville for decades, teaching Sunday School to the little ones and serving on the vestry.
She so loved her home and garden in Hendersonville and the wonderful community of friends she built there over four decades. In 2017, in light of her increasing health needs, she moved to Seattle to be close to all three of her children and her only grandchild. It was difficult for her to say goodbye to Hendersonville but she quickly grew to love her Seattle life and found a church home at St. Clement's Episcopal Church.
She is preceded in death by her father and mother, her sister Sara, brother Jim and nephew Bud. She is survived by her three children and their partners — Caroline (Dan), Rachel (Matt), Adam (Carah) and her grandchild William.
Martha supported all kinds of arts and environmental organizations. In lieu of flowers, the family requests that donations in her memory be sent to an organization that is meaningful to the giver. Some of her favorites were Heifer Project, Sierra Club, and local art and theater organizations. 
The family is eternally grateful to her caregivers, Sigge and Hilda, whose devoted and loving care surrounded Martha until her final breath, and also her children as they spent her final months at her bedside. 
The family will hold a private memorial celebration this summer to scatter her remains from a sailboat per her wishes.
---
Comments
Martha was someone who loved life! She was thankful for each day and the blessings she would encounter. I know she will leave a hole in Caroline's, Rachael's and Adam's heart and her friends. Martha…you will be missed.

Darlene Tribby
---
That wonderful picture is how I'll always remember Martha. She was one of the kindest and most optimistic people I've ever known. I taught many creative writing classes at Blue Ridge and loved working with Martha there. My deep sympathy goes out to her three children. God bless you.

Susan Snowden
---
What a beautiful tribute to your mom. She had a life full of wonderful memories and accomplishments, most importantly her three children that loved and cared for her so dearly. She was truly rich and blessed. Our condolences and love and hugs to you and your family at this time.

Jenn Van Harmelen
---
Martha was a beautiful and caring co worker while we were both at BRCC. I will cherish our time together.

Marie
---
Martha was a beloved part of Saint Clement's Church and brightened up the room when she entered. Her faith, sense of humor and caring personality were both genuine and from the heart. We will offer a Mass for the repose of her soul next month.

Rest in peace, Martha, and may light perpetual shine upon you.
Amen.

Father Kevin Corbin Smith, Rector, Saint Clement's Church
---
I am so sorry to hear the sad news Martha was my neighbor who has been greatly missed

Kristie Ogletree
---
Yes, Martha was surely a courageous person in many ways. She loved her children and grandchild so much. I was happy she had her kids by her side in the last days. Anne Nulsen
---
I have such fond memories of Martha from when we both worked at Blue Ridge Community College. I will remember her as always so cheerful and caring. What a loving legacy you've left, Martha . . .
Patty MacDuff
---
I worked at Blue Ridge Community College in Purchasing. Martha was such wonderful lady and a dear friend to me. We had long conversations about our "single girl lives". Prayers for her family l know you will always miss her. God Bless each of you.
Beverly Ward
---
Martha was a real sweetheart to work with - she gave he all to any project she was involved in. Every time I talked with her, she filled me in on the kid's activities and accomplishments - she was a very proud mom. Sad to lose her. but she ovecame her challenges to leave her mark on the world.
Bill Curtis
---
Amen to Fr. Kevin's comment and prayer. Martha was a treasured member of St Clement's.

Amy Sparks
---
Such a special loving person. I'm so glad she was with her children Loved her dearly.

Loyd Kinnett
---
No matter what was going on in her life, Martha was always smiling. I have such warm memories of her as we worked together at BRCC and traded stories about our lives. I am certain that her memory will bring blessing to everyone who knew her. My deepest condolences to her family. I know she will be deeply missed.
Caren Kessler
---
I enjoyed working with Martha at BRCC and enjoyed when she was on a committee with me, our interactions, and many of the events she organized. Family was important to Martha and she always wanted to know what my daughter was working on and enjoyed talking about her children -- her face would light up. My sincere sympathies to her family. Martha's kind and gentle nature will be missed on this earth.
Marcia Stoneman
---
The first word that comes to mind when thinking of Martha is lovely. She was such a lovely person, in mind, body and soul. We worked at the same time at BRCC for many years, and also had kids in school together so we always had those in common. But we also shared many other interests and had many wonderful interactions. My heart goes out to her family and many friends, and hope they can take comfort in knowing how much she was loved and admired.

Laurel Krautwurst
---
A beautiful person that brightened everyone's day that she came in contact with at BRCC. You will always be missed by those who
knew you. Farewell my friend! May God forever hold you in the palm of his hands. Until we meet again.
Lauren Yoder
---
Martha and I were young mother's together.We were students and teachers of Childbirth Education. We enjoyed many trips to Asheville to see dance performances. She was a beloved and treasured friend. Martha was stalwart and determined to live, grow, share and enrich her community . She met her challenging times with grace and courage. Martha was so delightful in her love for children. Her own children were her Crown Jewels. Prayers and love go with her on her soul's journey. Comfort and peace to Caroline, Rachael and Adam and all who loved Martha.
Janice Mewborne
---