John M. (Mike) Johnson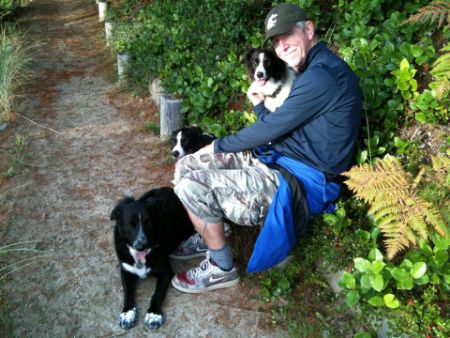 John M. (Mike) Johnson, 68, died peacefully in his own bed, at home in Seattle with his wife beside him on December 28th, 2018, of Alzheimer's disease.
Mike was a quintessential self-made man. He was born in Wenatchee, Washington, raised in the Seattle area, and attended Franklin High School, Washington State University, and Seattle Colleges. While still a teenager, he became a manager at Dag's Drive In. From there he went to the Olympic Foundry, where he first became fascinated by the overhead cranes that transported the kettles of red-hot steel to the molds that formed many of our city's iconic manhole covers. He set about learning the enigmatic secrets of crane operators and became so proficient that he was hired by Ederer, Inc., a Seattle manufacturer of overhead cranes, as an expert trouble shooter for the company's crane systems worldwide.
At the same time, Mike received his Bachelor of Science degree in Electrical Engineering from Western Washington University in Bellingham, where he met his first wife., Colleen Shields Johnson, the mother of his beloved son Clint Johnson. The desire to settle down led Mike to the Boeing Company, where he worked as a Crane Engineer until he became ill in 2015.
Mike was a popular employee with a lively sense of humor, an agile intellect, and an abundance of practical expertise in his field. He received many commendations and awards for the masterful equipment designs he produced to accommodate Boeing's increasing production of 737 models at the Renton plant.
Mike was an avid golfer, fisherman, boater, and cribbage player. He was also a natural entertainer – singer, guitar player, and story teller, never without a quip to crack you up.
Mike is survived by his wife, Shary Flenniken; son Clint (wife Ashley) Johnson; brothers David (wife Barbara) and Terry Cassell; sisters Janet (husband Ronnie) Sluyter and Ellen (husband Ken) Medley; and grandchildren Kira and Wesley Johnson. Mike's family extends warm thanks to the Boeing SPEEA union, Full Life Care Ravenna, Evergreen Hospice, People's Memorial Association, and Queen Anne Manor's Respite Care. A celebration of Mike's life for family and friends is planned for this spring.
---
Comments
First time I remember Mike was sometime in probably '87. We worked together well and I respected his opinions. We worked very closely again in the 90's designing and installing a new crane system. He was very conscious of the operators opinions and worked with the supplier to integrate changes that were possible. He also listened to the maintenance guys who wanted special requests to make maintenance easier and quicker.
Our golf games were monumental, far exceeding any Masters playoffs. After work at local courses or 3 days in Pahrump enjoying sunshine and good Scotch.
When he got sick we didn't communicate much, he had trouble remembering and would sometimes hang up or even forget to hang up after saying goodbye. He would appreciate a good chuckle out of that!!
You'll be missed Johnson, I loved ya like that redheads stepchild
Terry
---
Mike, We will miss you on your daily walk with Sherry and the Dog. You always seemed so happy and kind. I'm sure you'll be missed by all of the friends you made in your travels.
- Tom & Barbara Thommen
---
I was happy to know Mike over the many years we worked together at Boeing in Renton. We worked on numerous projects and he was such a tremendous asset with his vast knowledge of crane systems. A true engineer and able to tackle any challenge at work or at his houses. But it was the human side of Mike that I loved the most. He was so outgoing and friendly to everyone. He shared stories of his life, could talk to anyone and make you feel like a close friend. He loved his family dearly and cherished his dogs. Always smiling and able to lighten the mood with funny stories and corny jokes. He was my golfing buddy and it was all the rounds that we played together that I loved the most. No matter how badly we played it was always great fun. I miss you, Mike.
- Mike Sullivan
---
It was a true pleasure to have known and worked with Mike. Mike was an unassuming big man with even bigger heart. When Mike would speak with me, he was always kind, respectful and with humor many times. He had magical ways of making people feel warm and accepted, no matter the circumstances. Mike was a kind, loving, compassionate, sensitive old soul. Since I've retiring from The Boeing Co, I miss may coworkers. Now I miss Mike eternally. God's rest to you Mike, RIP
Jerry André
---