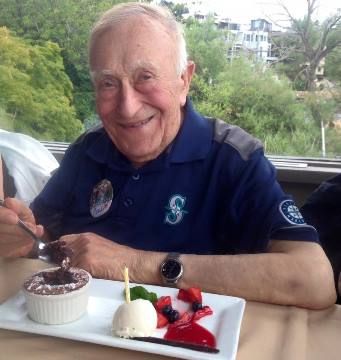 PAUL MARTIN POLIAK
August 8, 1920 – September 11, 2015
Paul Martin Poliak passed away peacefully at the age of 95 on September 11, 2015 after a short illness.  Paul was a funny, wise, kind, generous, and humble man and a great friend, husband, father, brother, uncle, and grandfather.  Paul had a lifetime of extraordinary adventures but always saved his most precious time for the people he loved.  He will be deeply missed by his family, his friends and all who were lucky enough to spend any time with him. 
Paul was born in Monaca, PA, in 1920, one of seven children and the son of John and Eva Poliak, who emigrated to the U.S. from Slovakia.  In 1941, he entered the U.S. Merchant Marine Academy at Kings Point, NY, where he graduated in 1944.  During World War II, he served on ships that patrolled the waters between Washington and Alaska and earned an endorsement as Pilot for the Inland Waters of Alaska.   He was commissioned an Ensign in the U.S. Naval Reserve and obtained his Unlimited Mates License that allowed him to sail on any ocean with any tonnage.  Immediately after the war, Paul served as an officer on a variety of commercial vessels that traveled up and down the West Coast as well as a marine cargo surveyor.
In 1948, Paul moved to San Francisco where he studied at the University of California, Berkeley, and received his law degree from the University of California, Hastings School of Law.  Paul parlayed his naval experience and love of the sea into a career as a maritime lawyer in Seattle, where he practiced for over 50 years.  He worked at a number of law firms and became a founding partner of Madden, Poliak, MacDougall and Williamson.   He was a member of the Washington and California Bar Associations, a former President of the Yukon Club and the Port of Seattle Propeller Club, a subscribing member of the British Average Adjustors Association and a longtime member of the Maritime Law Association (MLA) where he served as chairman of a number of its committees.
Paul was an adventurer and loved to travel, visiting all seven continents.   He was a season ticket holder for the Seattle Mariners and a charter season ticket holder for the Seahawks, raising the flag for the team as the 12th man on 12-12-12 and attending the Super Bowl this year in Phoenix.  He was an enthusiastic theatergoer and a long time subscriber to the Seattle Repertory Theater.  He had an insatiable curiosity, a wide variety of intellectual interests and an ongoing love of reading and learning about new things.  Paul was a gregarious and unpretentious man who could talk to anyone and had a lifetime full of diverse and wonderful friends from all over the world and from all walks of life.  
He is survived by his beloved wife of 59 years, Joan Poliak, whom he married in 1956, his three children Elizabeth Dimarco (Mike), Sally Poliak (Nance Tourigny) and Daniel Poliak, his two grandchildren Joseph Dimarco and Madeleine Dimarco, his younger sister Dorothy Gallihugh and numerous nieces and nephews.
Memorial contributions made be made to the Puget Sound Maritime Historical Society, PO Box 81142, Seattle, WA  98108.
A memorial service for Paul will be held on Sunday, October 4th, at 3PM at the Seattle Yacht Club, 1807 E. Hamlin Street, Seattle 98112.   
*UPDATE*Montlake Bridge will be closed. If necessary, please find alternate routes.
---
Comments
---