Sharon Gowdey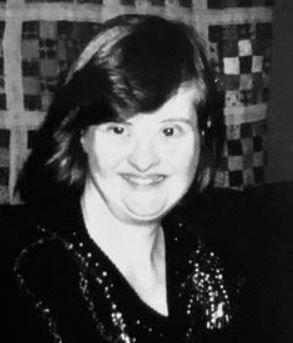 Sharon was born January 19th, 1963 in Seattle, Washington.  She passed away from Coronavirus on April 29th, 2020.  She was 57. Sharon is survived by her sister, Kathy Hesseltine, her niece, Ami McCuaig and her grand nephew, Malachi Simpson.
These are the basic facts of my sister's life and death, but they don't begin to tell the story of an extraordinary life and the impact she made on family and friends.
Sharon was born Down syndrome , ( She would want me to point out she was a Mosaic Down syndrome with some normal chromosomes), at a time when parents were advised to place their child in an institution.  Instead, our parents brought her home.
Sharon grew up experiencing many of the same activities as her two older sisters, including the mandatory piano lessons.  She joined Camp Fire, took dance lessons when she was younger, and she has always loved to dance! She enjoyed books & reading her movie magazines, going camping, and being on the Seattle Park's softball, bowling, basketball, and track & field teams.
Sharon loved family, friends, YMCA, ( where she volunteered for years), music, attending stage plays, walking on the beach, Wonder Woman, Buffy the Vampire Slayer, Donnie & Marie Osmond, Michael Jackson, Special Olympics, Seattle Parks & Camp Long, her favorite daytime show, One Life To Live, Margaritas and the staff and roommates at Meridian House.
Sharon has performed with her school dance team at the Opera House. She gave a speech following speeches from former Governor Dan Evans and then mayor, Ron Sims at the presentation of the book "Becoming Citizens" at the University of Washington.
Sharon earned her social security on her own work record.  She worked  part & full time at Pasta & Co., a dental office, King County District Court and Skills Inc.
On Friday April 17th Sharon and I visited in the backyard of her house, eating take out ( at a distance), and filling out a questionnaire for an upcoming meeting.
Question: What makes me happy?
Sharon's answer: Sunshine
         Doing things for my roommates
         Enjoying Life….and she did!
---
Comments
I remember Sharon always had a sparkle in her eye, she was so full of life! I was honored when she would remember me even if it had been a long time. Creativity runs high in the Gowdy family, Sharon was no exception. She was sure blessed with a full life in every way. I also honor her parents, sisters and other family and friends who embraced Sharon to live a full life! In remembering Sharon I will always think of her beautiful smile.
    
Jane Reynolds
---
Sharon was always so full of joy and really did love life. I will miss her. She was a great dancer and sure loved her birthday margaritas. So sorry for your loss.
Love, Kathy
---
Sharon was a ray of sunshine and could move her feet like they had a mind of their own on the dance floor! I will truly miss her smile, her giggle, and her willingness to help others.
Heaven has received a beautiful and loving angel who will be missed here on earth.
Rest well in heaven Sharon!
    
Venus Vitti-Saputra
---
Let think what words to say . It is so magical even I stopped at manage the Meridian for 6 years and Sharon still remember my name .Any time I go to Meridian she will yell my name Daniel how are you .she never forgets in my name .She is going to be miss .Rest In Peace Sharon.
    
Daniel Machar
---
Sharon had Spirit whether it was for camping, Special Olympics, One Life To Live on tv, her movie stars magazines, having lunch with her sister Kathy or any other of her favorite things in life. Losing her to Coronavirus is devastating on so many levels. She was happy and more involved in life than most of us. I will miss her but can clearly picture her dancing and singing with her Mother, Father and sister.
    
Nancy Raume Carr
---
Life well lived, dear Sharon. Your life has been an inspiration for all of us who had the privilege to know you. I remember the day you were born. Chris and Kathy were SO excited to have a baby sister!!
We will always remember your amazing hugs, brilliant smile and your devotion to living life to its fullest. Lots of love to you Sharon.
    
Carol Taylor Cann and Park Cann
---
Sharing an office with Sharon the last year and a half while working at the Y was truly my biggest highlight working there. Sharon and I had our regular conversations twice a week, where we talked and got to know one another, I learned all about the special Olympics, her family, and movie plots from all of her favorites. I feel so lucky to have called Sharon a friend, and will miss her dearly.
- Emily T.
---
This is a nice tribute to the happy, productive and active person Sharon was. Although I didn't see her very often due to living in different parts of the country, whenever I did see her she was always so happy to see me and of course remembered that I was her cousin Diana. I'm just so grateful she was so loved and given every opportunity for a full and active life. I bet you're still smiling, laughing and dancing Sharon!
- Diana (Gowdey) Hendry
---
What a wonderful tribute to an amazing woman! I wish I had gotten to know her better. But, when me and my family saw her on holidays with her grandnephew, Malachi, she was a light at the party. She was always loving and caring and full of fun. She will be missed by so many who loved her and enjoyed her company. I am so sorry for your loss
- Michele Simpson
---
The few times that I met Sharon she was so welcoming and sweet . She definitely had determination and loved to laugh .
Barbara Chapman
---
Sharon was such a good friend and co-worker always gave hugs. Miss working with her
- Karen
---
I will miss Sharon's wonderful giggle. This was so unexpected . It just broke my heart. She was such an amazing person. I loved reading about all her accomplishments. She was a force to be reckoned with. I hope she's dancing in heaven...with a big smile on her face.
-Anjela Hall
---
Live on, Angel. She will be missed.
- Jen Boafoh
---
Precious Sharon always had a smile and a big hug to greet you. She embraced life and lived it to the fullest. She was an inspiration to all of us! It was an honor to know her and she will be greatly missed.
- Kathy Fletcher
---
I knew Sharon through stories her sister Chris would tell us about her. I am sorry I never got to meet her however her spirit is in my life as the book becoming citizens is displayed prominently on my bookshelf. This is a wonderful tribute and I wish her family and friends peace and serenity.
    
Ryan Warner
---
I remember her by playing basketball many years ago in Special Olympics when I lived in Seattle and I was on the Eagles and she was on the Seattle Parks team and no matter what team you were on she was always there to say hi to you and she was one of a kind person and I was shocked when I heard about her passing and thank you Sharon for all the memories you have given you family and friends over the years and I currently live in Bismarck North Dakota with my wife and my family moved away from Seattle in 1999 and God Speed until we meet again Sharon
From The Schmidt family
Larry and Sarah Schmidt
Russell and Jackie Schmidt
Delynn
---
We miss you Sharon. I enjoy reading all of these beautiful comments about my aunt. She really did leave an impression. My aunt Sharon was loving & caring to me the minute I was born. I cannot remember a time that she didn't give me a big hug when she saw me and would smile. She loved when others were happy & really did want the best for everyone. Sharon could be pretty funny too. A few times she surprised me with a quick, amusing joke & we would both crack up laughing. That is something I always loved to see; Sharon's smile & her fantastic, true & contagious laugh. Even as a little kid I remember doing "shows" for her- she would laugh & clap. We had lots of fun together. Sharon was liked & loved by many people because she truly loved them & wanted every single person to be happy & healthy. In a world full of chaos, there was a true heart that shined bright- full of love & affection...her name was Sharon Gowdey.
Ami McCuaig
---
Sharon's sister Chris, was my friend, and through her I got to meet and know Sharon. I first met Sharon when she was just about 3 years old. I even remember when she said her first sentence, which was about a black cat. We were so excited for her. So many years ago.
 
Deb Breazeale
---
Happy Birthday Sharon. Sharon and I spent several birthdays together while her parents went to Mexico. Mine is the day after so we are birthday buddies. She visited me in Portland on her 30th . I still have a pucture of her holding my little girl. Miss you Sharon. You still put a smile on my face.
Kathy Shannon..friend and coach
---