Niina Rebassoo
(1922-2020)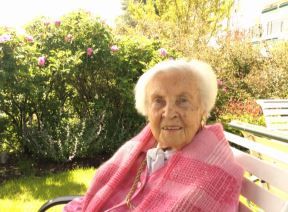 Niina Rebassoo passed away peacefully on Saturday morning, January 11.
She was born as Niina Juhanson in Tallinn in 1922. Her parents Aadu and Elisabeth had met and married in St. Petersburg and her older sister died there from malnutrition during the hard times in the wake of the revolution.
She grew up in Tallinn, Estonia. There she attended the Tallinn Girl's Gymnasium (High School). She had applied, tested and was admitted there before telling her parents. In order to meet the modest tuition, her mom opened a small store.
In 1943, she married Herbert Rebassoo, who was Minister of Education at the time. When Soviet bombing started in 1944, she managed to get to Jena, Germany, where she gave birth to Peep, and was joined by her husband when Tallinn fell to the Russians. They fled from Jena on a refugee train as the Soviets advanced, and ended up in the Estonian Laager (Dispaced Persons Camp). Her son Vaho was born there in 1947. In 1949 the family was sponsored for immigration by the American Lutheran Church and ended up in Decorah, Iowa, where Herbert was fortunate enough to get a math professor appointment at Luther College instead of the custodial position in central Iowa that had been promised by the church.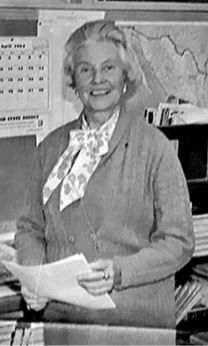 In Decorah, Niina gave birth to Arvi in 1950. She went on to get her BA in German from Luther College and started the German curriculum at Decorah High School, where she taught for 25 years, and studied in the evenings to get her Master's Degree in German from Northern Iowa University. She enjoyed traveling abroad; first to Germany and Austria to study and visit, and then to other European countries, and China and Egypt.
After retirement she moved to Seattle. There she was a member of the Estonian Community and sang in the Women's Choir. She particularly enjoyed ballroom dancing, knitting and weaving, and traveling into the mountains and woods. She was engaged in the lives of Vaho, his wife Maura, and their children, Finn and Liisa, becoming renowned in the family for her Estonian pancakes. 
In addition to her three sons, Niina is survived by Peep's children, Lehho, Laine, and Valev, Arvi's wife, Ilonka; Finn, his wife Tiffany and daughter Sunie; Liisa, her husband Matt and children Jude and Bodhin; and Laine's husband Dan and children Magnus and Skye.
---
Comments
---