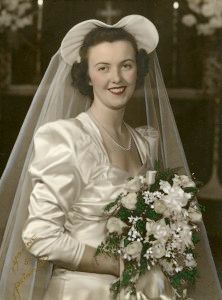 Bea Langsted passed away on May 10th at age 91. She lived in her Bellevue home until the last few months when she lived in a lovely Family Adult Home that was only a block away. Bea enjoyed life and all the variety that it brought her.
Beatrice Adelaide Snow was born in Seattle's Swedish Hospital on December 15, 1922 to Addie and Wilber Snow. All Bea's children were born in Swedish Hospital as well. Bea and her sister Betty Jane grew up together in the University District on Latona Avenue in the house her father built. The Latona house is still there and Bea used to drive by occasionally and reminisce about her childhood. The family developed property on Harstine Island with family friends and spent extended periods camping there in the summer. Bea attended Roosevelt High School and graduated just in time to get married.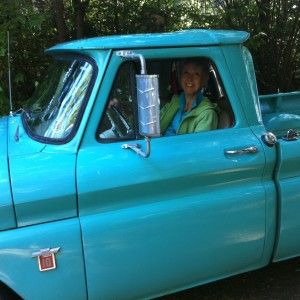 Bea met Ole Langsted on a blind date in 1940 and they married on September 16, 1941, two and a half months before the US entered World War II. They lived in a houseboat on Portage Bay in Seattle. In 1942 Ole enlisted in the US Navy and Bea became one of the war brides to work while their husband was off in the Service. Bea worked at Seattle City Light and went to visit Ole whenever his ship was in San Diego for repairs. After the war, Bea and Ole continued to live in the houseboat with their beloved dog "Twiggy" until 1952.
Bea and Ole moved to a dry-land house in Ballard on West 97th. Son Jimmy was born soon after. In 1958 the family was again expanding and Ole's bread route was on the East Side of Lake Washington, so Bea and Ole moved to a newly built house in Bellevue. Soon after son Fred came into the family and then daughter Barbie. Bea lived in the Bellevue house for over 50 years.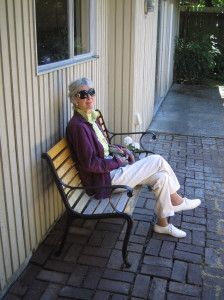 Bea enjoyed a wide variety of activities that kept her busy as she raised the family. She enjoyed skiing. Bea and Ole would go skiing every Wednesday in the winter, enjoying the midweek crowds. They joined Snoqualmie Pass Volunteer Ski Patrol in 1968 patrolled for more than 20 years. Bea enjoyed sewing, being a Mom, exploring and trying new things; traveling, and animals. Bea loved her pets and through the years had a variety of dogs and cats that lived with her. She often had two dogs that would travel with her in the car and a cat at home minding the house. She took in strays and loved to walk her dogs at the local parks. She enjoyed upholstery, could park a car anywhere, was great at wrapping presents perfectly, she was organized, cheerful, liked to be well-dressed; loved volunteering for the Bellevue Arts and Crafts Fair; dabbled in calligraphy, jewelry making, and working with leather. She loved being a ballet mom, and taking her kids to Harstine Island. In later years, she loved to go to Harstine with her pets and stay in her trailer for extended stays.
Bea stayed in her house as long as she could and enjoyed life to the end.
A celebration of Bea's life will be held on June 11th, from 7:30pm – 9:00pm at the Robinswood House, 2430 148 AVE SE, Bellevue.
In lieu of flowers, please consider a contribution in Bea's honor to KCTS TV 9, The Humane Society, or Smile Train.
---
Comments
Bonnie Stoecklin
Posted May 31, 2014 at 7:11 am
What a beautiful tribute to Beatrice! Thoughts & prayers t the Langsted family.
Sharron Quinn
Posted June 3, 2014 at 7:23 pm
Aunt Bea was such a classy , lovely, gracious lady, yet so down to earth. So glad I could spend time with her at family reunions.
Shirley Cummings
Posted June 5, 2014 at 11:39 am
I knew Bea & Ole for at least 20 years. Bea volunteered with me for "Skiers Too", the first-ever in the US ski school for special needs kids. We had great fun every winter Wednesday for several years with other patrollers from all over our region. It was a special time. Bea was a great lady, welcoming to everyone and fun to be with. I have fond memories of our times together.
---