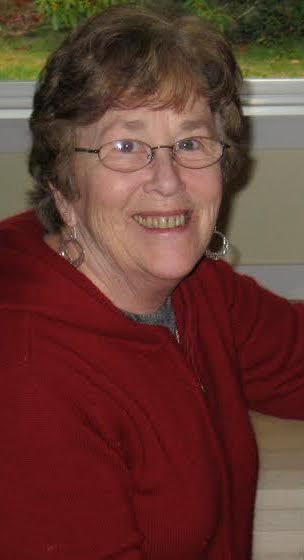 Mary Theresa Doiron passed away on July 9, 2015 in Seattle Washington supported by the love and kindness of her bi-coastal family, friends and care team. Born in Lawrence Massachusetts in 1943, Mary was raised by Bernard and Katherine Kiernan, along with her sister Kathy and her brothers Bill and Bernie. Her passion for teaching was nurtured by her parents who were also teachers; Mary taught first grade and reading to hundreds of students in Danielson CT, at Killingly Memorial School. 
High-school sweethearts, Mary and Will were married for nearly 50 years. They lived in Danielson for more than 40 years, where she and Will pursued careers and raised their children - Kathy, Marc and Michelle. Her circle of friends was expansive.Summers were spent camping and at the New Hampshire coast, sunbathing on the beach in front of Hampton Beach Trailer Park. For the last decade they spent half years in their Seattle "condo," their west coast home where they embraced the mantles of "Nana" and "Papa" for Livia and Trae. Mary was also a beloved "Auntie" to her many nieces and nephews, nurturing a unique and close relationship with each of them through her life. 
Mary was a master teacher, recognized by formal awards and the gratitude of children and parents alike. She completed her Masters Degree in Reading, and continued through her career to seek creative approaches to reading instruction. She was a trusted advisor to peers, and when she retired, collaborated to develop PACT, Parents and Children Together, a program that synthesized their collective wisdom into an easy to use program for families to work together supporting children learning to read.
Mary was also well known for her hospitality, her cooking and baking talent, her appreciation for friends and family gathering around good food to share stories. She continued to learn in retirement as she took up new hobbies like knitting and African drumming. Her circle of friends was large and committed, spanning east and west coasts. Known by all for her generosity, even after death, she has donated her corneas which has already given 2 blind people the blessing of sight. 
Through her life Mary faced challenges and hard times with dignity and hope, courage and perseverance. With this strength she continued to create memories with all of us even as she fought cancer. Rather than flowers we invite you to please honor her with donations to one of the following: Seattle Cancer Care Alliance, Dana Farber Cancer Institute, "Hole in the Wall Gang" camp for kids or the Connecticut Humanities Foundation Book Voyager program. 
A memorial service will be held on Saturday, August 15 at St. James Church in Danielson, CT at 10:00am.
LINKS: 
https://cthumanities.org/
http://www.seattlecca.org/
http://www.dana-farber.org/
http://www.holeinthewallgang.org/
---
Comments
Mary is a gift that keeps on giving. Her journey of life was one of love and optimism. Such a lovely lady. Her life was a beautiful "ride" enjoying the sights, the sounds, the smells, the tasting, the colors.
Now I lay me down to sleep I know the lord her soul to keep.I know the Lord her soul will take. God Bless, Mary.
Love Nancy.
---
My sincere condolences to Wilfred & Family.
Thoughts & prayers go out to you.
- Georgette Tremblay Pappalardo
---