Robert Michael Mooney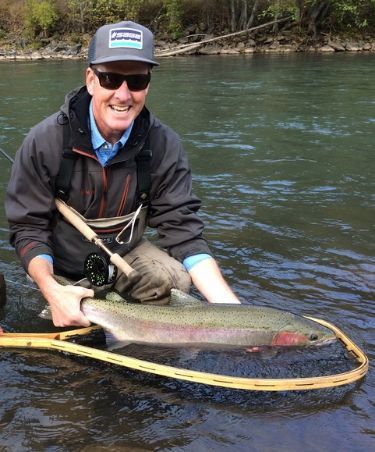 An extended community of family and friends mourn the death of Robert "Bob" Mooney, age 58.  Bob died with grace, bravery, and a full heart on September 20th, at his home, surrounded by those he loved most: his wife, Nicole, and their three sons, Tyler, Bryce, and Jack.
Bob was born in Seattle, WA, on November 8, 1960, to Charles Robert and Irma Mooney.  Bob grew up in Bellevue, WA, along with his sisters Karen and Laura. Bob attended Interlake High School and graduated from the UW in 1983, where he was a proud member of Alpha Delta Phi fraternity.  Soon after college, Bob married Kelly Mooney.  They had two children, Tyler, born in 1992, and Bryce, born in 1994.  After several years of being single, and under the guise of needing to discuss her law firm's lease, Bob met Nicole in 2005.  Two years later, they married. By marriage, Bob gained a third son, Jack (Shephard), born in 1998.  Bob and Nicole raised their sons in the Madison Park and Laurelhurst neighborhoods of Seattle.
After beginning his career as an accountant for Boeing, Bob was recruited by Steven C. Johnson to join his commercial real estate company in 1985.  After a brief stop at Leibsohn & Company, Bob joined Teutsch Partners in 1991.  It was there he met his future partners with whom he established the Northwest office for The Staubach Company in 1999.  After running the region for nearly 10 years, the company sold to JLL in 2008.  Bob finally joined Flinn Ferguson in 2013, and was never happier at work. 
Over a career spanning 35 years, Bob came to be widely regarded as one of the most successful tenant rep brokers in the Seattle area.  He established the region's preeminent life sciences real estate practice. Bob was especially proud of the unique relationship of trust and dedication with his partner of nearly 25 years, Hans Kemp, and the meaningful relationships he forged with his clients and colleagues.
Bob was an avid outdoorsman, and his life was his bucket-list.  He summited volcanoes, explored the ocean floor, shredded the finest powder on Earth, attacked world class single track mountain bike terrain, pulled trout from almost every creek and river in the Pacific Northwest, and was never skunked on a hunting expedition.  Through his entire life adventure, Bob boasted a big smile, reflecting his appreciation for the camaraderie he enjoyed with his friends and family.
In January 2019, Bob was diagnosed with Glioblastoma Multiforme.  Bob faced his terminal illness with bravery and grace.  Not once did he display anger or resentment, rather he embraced his diagnosis as a last lesson to his sons.  He was determined to live each day to the fullest, open his heart, and accept the love and support flooding his way.  As a result, his heart grew large and full, taking every moment possible to remind his family, dear friends, and beloved colleagues of Flinn Ferguson how much he loved and appreciated them.   
Bob is survived by his wife, Nicole Chicoine Mooney, and their three sons, Tyler Mooney, Bryce Mooney, and Jack Shephard; parents, C. Robert and Irma Mooney; sisters, Karen Mooney and Laura Bates; father-in-law, Robert Chicoine; sisters-in-law Jamie Chicoine Chartier, Bridgette Chicoine Helms, and Heidi Chicoine; brothers-in-law, Christopher Chicoine, Craig Chartier, and Peter Helms; and many nieces and nephews: Kate May (Trevor May), Sarah Borgnes, Jessica Bates, Sean Bates, Ryan Dorland, Emily Helms, Haley Helms, Alexa Helms, Cash Chicoine, Dax Chicoine, Miles Chartier, and Charlie Chartier. Last, but not least, survived by many loving, wonderful friends, and colleagues.
Bob's family would like to thank Dr. Tresa McGranahan, UW Alvord Brain Tumor Center; Dr. Rich Ellenbogen, Chairman of UW Neurosurgery; and the compassionate caregivers of Kline Galland Hospice for their exceptional care of him.
A Memorial Service will be held on Thursday, October 10, at 2pm at the Plymouth Church, United Church of Christ at 1217 6th Avenue, Seattle, with a celebration to follow until 5:30 pm at the Catherine Mayer Art Foundation Studio at 88 Vine Street, Seattle.  In lieu of flowers, contributions in Bob's name may be made to The Catherine Mayer Art Foundation at www.thecatherinemayerfoundation.org; Northwest Avalanche Center "NWAC" at www.nwac.us; or Global Health Teams supporting Haiti medical mission trips at www.globalhealthteam.org. 
---
Comments
---