Eric Gladsjo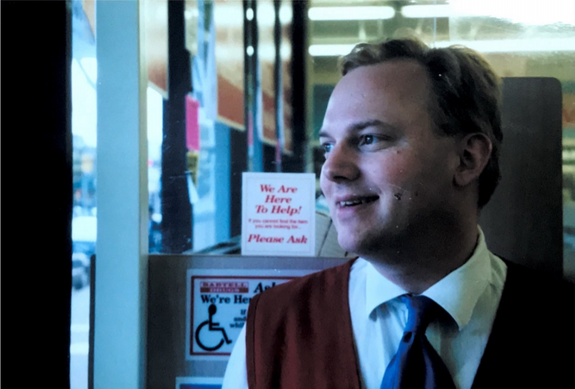 Eric Gladsjo, 56, of Seattle, WA, passed away unexpectedly on May 6, 2021 at his home.

He was born in Seattle on March 23, 1965, son of the late Ted and Jessie Gladsjo. He is survived by his sister Gail Amole and Gail's grown children.

Eric attended Roosevelt High School and graduated from Western Washington University in Bellingham, having earned a degree in Communications.

He dedicated his professional life to customer service jobs, including many years with Safeway and Fred Meyer, which appealed to him because he loved connecting with people.

Eric also loved nostalgia. He appreciated—and often collected—things from the past: movies, fashion, furniture, architecture, and classic cars.

He was a voracious reader of biographies, especially those of Hollywood stars. He was a big fan of Barbara Stanwyck and Joan Crawford (whose birthday he shared).

Eric was also a performer and appeared in several avant-garde films and local cabaret productions. He is remembered for his fearless characterizations and strong work ethic.

Eric leaves behind many friends and will be sorely missed.

A memorial gathering will be held at 11AM on Saturday, July 17 at Magnolia Park, 1461 Magnolia Blvd W in Seattle. Family, friends, and co-workers are welcome to attend and reminisce.
---
---
Comments
I don't even have the words to describe how heartbroken I am that I'll never hear your beautiful voice, or see your sweet face again. I still keep wanting to call you, then realize you're not there. You were the best big-brother-figure and Friend that I could ever ask for. The one I called for a *hug through the phone*, a plethora of excellent advice, to vent, laugh...we had endless late-night conversations, on a multitude of subjects. I feel so honored that you let me into your life, and am truly blessed to have had you as one of my closest Friends. You had such a wealth of intriguing knowledge, on so many topics (classic cars and 60s music being some favorites), with a flawless memory! I'm sitting here, listening to your favorite songs by, The Mamas and The Papas, and can't help but be so incredibly thankful that I've known you for the last 21 years. You've taught me so much, and I'll forever treasure all of the amazing times we had together. I'm so sad that we won't be able to grow old together, like we planned. Until we meet again, my dearest Friend, I love you & farewell.
- Nikki Robinson
---
We knew Eric as a kind and generous person, one you could say was a really nice man . We always enjoyed his company, and were shocked to hear he had died, shocked and saddened. We will miss him.
Bill and Hallie Appel
---
Eric truly cared about his fellow human being in a way that is unique. He was interested in people. A solid friend, he was genuinely concerned about other people's problems and unusually sympathetic to them. We are also grateful to him because he happened to be the reason we met. We will miss our friend very much.

George and Hoa Appel
---
So many memories working together & seeing each other around Issaquah going to definitely be missed by many people this is for sure. I'll never forget Eric.
- Angelina E.
---
We knew Eric as a customer service rep at Safeway in Issaquah, WA. We always looked forward to seeing him there and enjoyed our chats with him. He was always so friendly and caring. The place feels empty now without him. We miss him.

Mike and Linda Harrington
---
Oh sweet Eric. This just breaks my heart.
I was looking to reconnect after the years of distance from our growing up as teens and youngsters, now I just find you've gone.
Such a big loss for us, and a shining light to the heavens. I am so sad.
Thank you for bringing your kind heart for all of us to share. We will never forget you. Rest well. Bring us another rainbow someday.
 
~Sean McDonald
---
I've been looking for you at work and finally today I asked where you were. I really am going to miss you. I really enjoyed getting to know you over the years. You are really sweet and we will miss you very much.
 
Ben and Jenn Stieglitz
---
Well, I now know why you haven't responded to me for some time now. I didn't even want to look up your name but finally had to do it, and the outcome is my worst fear. You're gone and so are the times we still had to get together and be who we are and have a blast doing it. I've never and will never feel as comfortable with another person as I was with you. You wrapped me up in warmth almost any time I asked you to and you let me enjoy your hospitality as long as I wanted. I know I will never find another Eric, and that's ok. You were one of a kind my friend.

Stephen Mullins
---