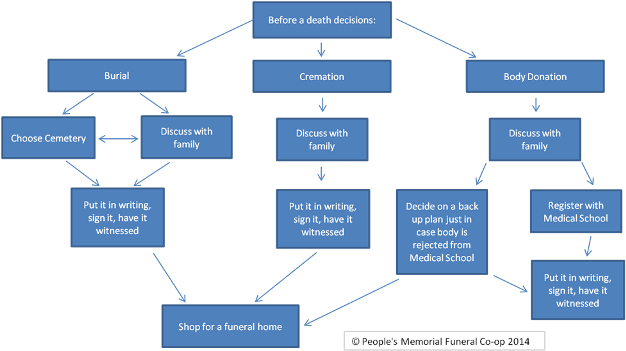 Making decisions when you're not under pressure and taking the time to fill out your funeral planning forms can save your family a tremendous amount of stress and assure that your wishes are honored when the time comes. The following forms are provided by the People's Memorial Association and can be downloaded to make it easy for you to be organized and prepared.
Disposition Authorization/ Vital Statistics
The Disposition Authorization allows you to authorize your choice of cremation or burial as well as where you choose as your final resting place. Complete the form online, print, sign and keep with your important papers. Be sure to discuss your wishes with your survivors and let them know where your original documents are filed so they can present them to the funeral home at time of death. This can only be signed by you. A Power of Attorney or Spouse cannot sign this form.

Vital Statistics contains all the death certificate info needed. It asks for birth and family background information that your survivors may not readily know the answers to. Before any cremation or burial can take place, a death certificate must be filed with the county.
You can click to download the Disposition Authorization and Vital Statistics form here.
Designated Agent
A Designated Agent is like a power of attorney for funeral arrangements. You name a specific person to direct your funeral arrangements. This form may be particularly important if you have no living blood relatives. It will be useful to designate an agent if you feel that your next-of-kin may not honor your wishes or you anticipate there may be family conflict over your choice of final arrangements. You can click here to download the designated agent form.