James G. Bond, PhD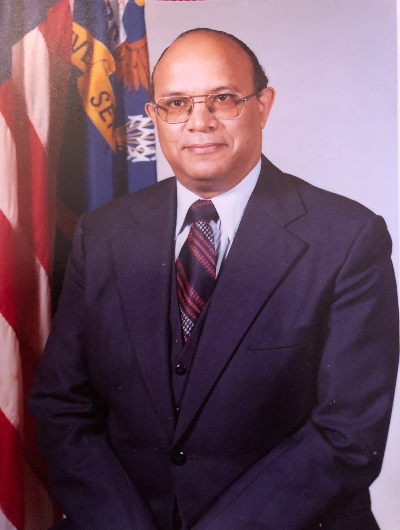 James G. Bond, PhD, former University President, Carter appointee, and Mayor, passed away after a long struggle with Alzheimer's Disease, on January 16, 2019. He died peacefully in his sleep, at 94, in Seattle, Washington, with family members by his side. Jim was the third of five children of Silas G. Monroe Bond, a truck driver, and Coloma Russell Walker Bond, a homemaker. He was born April 17, 1924 in Lorain, Ohio, and raised in the steel town on Lake Erie. He graduated from Lorain High School, running on the track team and playing tympani in both the orchestra and band.
After a year at Wilberforce University, Jim joined the Army during WWII, serving in the Infantry during the liberation of Italy, and attaining the rank of First Sargent. He spent six additional months in Italy after the war at the University of Florence studying opera on a music scholarship. A civilian again, Jim finished his Bachelor's degree at Baldwin-Wallace College (now University), majoring in Psychology. He continued singing through participation in the school's Acapella Choir and by soloing in church programs throughout the Cleveland, Ohio area.
In 1950 Jim married his hometown sweetheart, Lois Leach, and they had three children between 1951 and 1958. During the kids' childhoods the family spent every summer camping, fishing, canoeing, and hiking while visiting state, national, and provincial parks all over the United States and Canada. They added museums, rodeos, festivals, and expositions everywhere they stopped. Jim and Lois wanted their children to see and be familiar with the whole United States (and Canada too!) and to be comfortable around all kinds of people.  A very friendly man, Jim typically struck-up conversations with total strangers while waiting in queue lines at the store, DMV, etc.
Jim received a Master's Degree from Bowling Green State University, followed by his Ph.D. in Clinical Psychology from New York University in 1954. Dr. Bond spent the next thirteen years as Chief Psychologist at the Toledo State and Receiving Hospital in Toledo, Ohio. From 1967-1972 he served as Vice-President of Student Affairs at Bowling Green State University in Ohio, where he also taught Psychology and directed the Psychology Clinic.
In 1972 Dr. Bond was named the President of California State University, Sacramento, serving in that position until 1978. This made him the first African American president of a large university serving a predominantly white population "West of the Rockies." In 1974 he led a group of college presidents from around the United States on a month-long cultural exchange and educational research trip to several provinces in China just after Nixon's efforts made travel there possible again.
In 1979 Jim was appointed by President Jimmy Carter to be Deputy Director and Acting Director of the Selective Service System. He served in that capacity until 1982, restoring the nation's ability to meet military manpower needs with an equitable and just system replacing the previously existing draft. After his time in the Carter administration, Jim spent the next two years as a management consultant and Interim President of Southwestern University in Washington, D.C. He also served as a management consultant from 1984-87 for a number of colleges, universities, the U.S. government, and even had a one-year stint with the restaurant chain Red Lobster.
In 1985 Jim's wife Lois passed away after a battle with cancer, leaving him a widower at age 60. He headed for the place he and Lois had always wanted to retire – the Pacific Northwest. He settled in Manzanita, Oregon in 1987 and did anything but retire. Jim was elected to the city council and then became a two-term major of the city, helping to oversee a number of award-winning local programs during his tenure. He continued to sing at weddings and funerals around Manzanita while he lived in the city, until the mid-1990's. During this period he also served on the Tribal Council of the Notoweega Nation, of which he was a member.
When he finally retired fully in the mid-1990's Jim went to live with his youngest son, Tim, and his family – finally getting to do the "Grandpa thing" for his youngest grandchildren – first in Ashland, OR, then in Syracuse, NY. He adored spending daily time with several of his grandchildren. Eventually they all landed in Seattle, WA. Jim is survived by his three sons Silas Crowfoot (Kathy, Portland, OR), Michael (Sacramento, CA), and Timothy (Nancy, Seattle, WA); his brother Bruce (Mona); grandchildren Elan, Travis, and Marcea; and numerous nieces and nephews. He was predeceased by his parents Coloma and Monroe, his wife Lois, his sister Lucy, and his brothers Monroe ("Bud") and Richard. Father, brother, husband, grandfather, uncle, friend, and teacher, Jim will be dearly missed by his family and friends.
We are having a memorial service in Lorain Ohio at the Pavillion at Lakeview Park in Lorain Ohio on Monday July 29th at 10:30 am.

There will be a graveside funeral at noon on the 29th at Elmwood Cemetery in Lorain Ohio. Family and friends are welcome!
The family suggests that remembrances be made to:
Providence Hospice of Seattle Foundation
2811 S. 102nd Street
Suite 200
Tukwila, WA 98168
(206) 320 - 7188
---
Comments
What an amazing impact Jim made on his family, community and country! Jim was a second cousin that sadly I didn't know very well. We were a few years apart and our lives took differing paths. I am none the less saddened by his passing and wish I'd known how close we lived in his last days.
I know Jim will be greatly missed and that his contributions and legacy will live on for a very long time. God bless and comfort family and friends in this time of loss.
Jamie Walker
---
My condolences to Jim's family. I first met him and his brother, Monroe, when we all carried mail in Lorain during Christmas and college vacations. Our paths crossed numerous times in the following years, and in many different ways in Bowling Green and Toledo. He remained the same, unassuming individual through it all, and we often joked about both of us being "a bad penny" that kept popping up. I lost track of him, sadly, after he left the Toledo area. My dad, a Lorain letter carrier, said Jim and Monroe had the best work ethic of any of the "kids" who did vacation work at the Post office.
Please know you are in my prayers as you mourn his passing, while, at the same time, celebrate a remarkable life which left an indelible impact on so many people.
Gordon ""Skip"" Ward, Sylvania, Oh
---
Just learned of Dr. Bond's passing through my family sending the Sacramento Bee obituary to me. I'm saddened and my thoughts are with his family. As someone who came to know the Bonds early in my life my appreciation has only grown for the kindness, patience, humor and intelligence in how I was treated. I truely was a piece of work. My friendship with Tim and acceptance by Dr. Bond, his beautiful wife, Lois and Tim's siblings helped shape my life (continues to do so today) in such a positive way. The lessons I learned and kindness I received from the Bonds took awhile to kick in for me and to appreciate. They still resonate today for me. I smile every time I tell a story or think of the Bonds. My condolences and deep regard for you, Tim, your family and your siblings. What an accomplished man your father was. Keep the faith!
    
Jay T. Hinde
---
I was a new attorney in Toledo and a special counsel for the Ohio Attorney General Bill Saxbe.I represented Jim and Dr.Duty in about 1966 where they had been sued by a litigious paranoid attorney for millions of dollars.The case went to the US Supreme Court.We prevailed.Very interesting case.

John C Wasserman
---