Patricia E. Almquist
May 09, 1939--November 24, 2019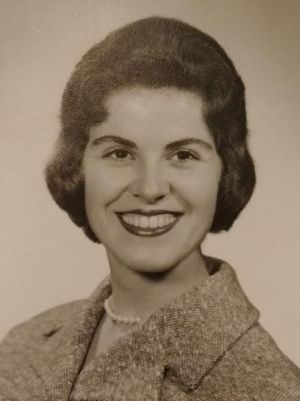 Patty passed away peacefully at her home on Lake Burien with her husband Jon by her side.  She was preceded in death by her parents, Dr. John H. and Eloise V. McClain.  Patty is survived by her husband of 56 years, Dr. Jon R. Almquist; her son, Jon Jr. (Janine) and her sister, Kathy McClain (Chuck).
Born in Seattle at Ballard Hospital, Patty grew up on Sunset Hill and Blue Ridge. She attended Forest Ridge then Ballard High School where she became Girls Club President, received other academic honors and met her husband, Jon (Dick) who was President of the Senior Class and received academic honors before attended Yale.  Patty graduated valedictorian in 1957. She attended Seattle University with the dream of becoming an R. N. like her grandmother. Shortly before receiving her cap, she changed her major to Zoology, did a 5th year and graduated summa cum laude receiving the Presidents Cup in 1962.  Patty then received a Fellowship to the University of Rhode Island where she continued her academics eventually moving to New Haven to be with Jon. She began working in the Pharmacology Department of Yale School of Medicine where she did cancer research. Patty and Jon married in 1963 and welcomed their son, Jon Jr. in late March of 1965. After Jon completed Medical School, they returned to Seattle with their newborn in tow for Jon's residency in Pediatrics at the U.W. Patty loved being a mother.  
Her life changed abruptly in October of 1966 during a trip to British Columbia. Patty suffered a neck injury in an auto accident leaving her tetraplegic.  She was brought to the University Hospital where she spent the next year of her life. Patty then came home to her husband and son and began their life's journey together while Jon finished his residency and began private practice. The extreme challenges in maintaining their loving and productive life would not have been possible without Patty's acute sense of medicine, the will to continue to experience life with her husband and her son and especially her husband's formidable loyalty, unwavering commitment and relentless work ethic in giving Patty a life with every opportunity to participate in family gatherings, social events, dinners, theatre and the movies. She received the best medical care the community had to offer along with her husband's medical expertise. Patty carefully chose attendants who could serve as her companion and care provider. These individuals were wonderful and an integral part of the family. The care she received allowed Patty to live and function, surrounded by love, much longer than she, her husband and medicine ever thought possible.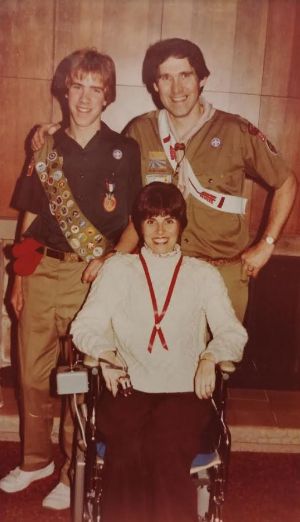 Patty loved reading, music (former piano player), PBS, being with friends and family and especially being a mother. She enjoyed helping others in ways she could and served on the Advisory Board of KCTS, the Consumer Advisory Council for the Research and Training Center at the U.W. Department of Rehabilitation Medicine and served on the adult education committee for her church. Patty will forever be celebrated for her grace, beauty, kindness and her devotion to others. 
Her life was enriched by her friendships with family and friends and the lifelong love and support of her sister, Kathy.  She appreciated and respected the fabulous medical care and help she received by outstanding physicians and nurses including Dr. Walter Stolov, Dr. Lucy Sutphen, Dr. Christopher Knight, Dr. Joshua Benditt, Dr. Maria Reyes, Dr. Ravi Moonka, Dr. Ken Jaffe and Vi Ost, R.N.
Patty radiated love, joy, compassion and understanding. There truly was, and never will be, another quite like her. Patty and Jon's legacy is their life lived, as no other. Words cannot begin to explain her life, nor her husband's, but she will forever be loved and celebrated every day, and then some.  
In lieu of flowers, donations in Patty's honor may be made to Planned Parenthood, NARAL, the U.W. School of Medicine Department of Rehabilitation or a charity of your choice.

A celebration of Patty's life will be held at a later date.
---
Comments
Dearest Dr Almquist, my most sincere condolences for your loss of Patti. May God bless you and your family in your time of grief. Donna and Steve Chapman
---
We were saddened to read about Patty's passing. What an amazing woman.
We want to take this opportunity to thank you Dr. Almquist for all you did for our daughters Stina and Sarah. Both are doing real well. Sarah is now a PA in CleElum enjoying helping people. You were an outstanding example.
Thanks again for all you did and our condolences for your loss, especially at this time of year.
    
Ed & Ulla McConkey
---
Our condolences, our hearts go out to "Doc" and family and the Troop 360 family.
John and Penny Hickman
---
Dick and Jon....
My heart aches....our Beloved Patty is gone! Oh, how I enjoyed her company and caring for her...she was such a delight! The short years we spent together daily were precious to me! It was an honor to be at her side, assisting her. I learned many things from Patty. I can still hear her voice and laugh.
Thanks for making me part of the family....You are all forever in my heart!
My heart is overwhelmed... Love you Guys... Susan (Byykkonen) Bradbury I'll be in touch!
---
So sad to hear of your loss John. I have been out of touch since I moved to California. She was a lovely, gracious person and the entire episode must have been horrific, for all concerned.
God be with you and your Son and I shall keep you in my heart and prayers.
Elissa Pallas Jacobs
---
Jon, our hearts are breaking for you with the news of Patty's death. We remember with deep fondness our brief times to be with her. She was indeed a light to her family, friends and community. We will be with you in every way we can.
    
Lew and Gloria Hinshaw
---
Dick, I am so saddened to hear of Patty's passing which I just now learned of. I was kept aware of your lives together over the years by Marjie & Doug Gustafson and I have much admiration for your loving commitment to and care of one another and your son Jon.
I remember with much joy, the fun and happiness we shared being part of the Ballard High Girls Club officers with her...all the hilarious times we enjoyed in our planning meetings and execution of activities.
May you and your family and all the lives Patty touched find much comfort in all the wonderful memories. God bless you with his love upholding you as you grieve and heal.
- Viola (Vi) Eckland Tradal (BHS class of '57)
---
I worked for the Almquist's for many years starting in 1996 as Patty's live-in care attendant. I had just moved to Seattle from the Midwest and knew only 4 people in the area. She was a great friend and I learned a lot from her. After a year I moved out, but filled in for a decade after. I always enjoyed catching up with her. She was always so cheerful and encouraging.
I applied for a higher-up position once that I really wanted and used her as a reference. They told me it was her recommendation alone, and the things she said that landed me the job. I have much appreciation for Dick and Patty for helping me start my new life in Seattle. My life was positively influenced by her friendship, grace and strength.
Jill Williamson-Rogers
---