Ann A. Shaw
August 9, 1924 - December 2, 2022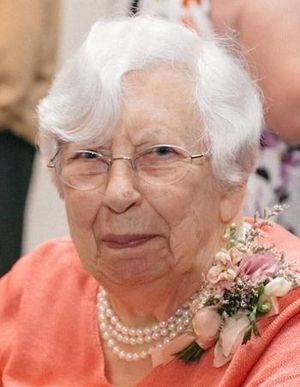 Ann Axness Shaw, age 98, of Mercer Island, Washington was born in Ashland Wisconsin on August 9, 1924. She spent her early years in Mason Wisconsin. She was preceded in death by her parents Henry and Mayme (Moen) Axness, her brother Richard "Dick" Axness and her husband John LaMotte Shaw. She is survived by her sons John (Kathy) Shaw, Renton WA and Brian Shaw, Seattle WA, her daughters Jocelyn (Mike) Shuman, Westerville OH and Sarah (Sean) Newsum, Bellevue WA, her beloved nine grandchildren, eight great grandchildren and three great great grandchildren.
Ann attended the University of Wisconsin where she met her husband of 65 years, moving thirteen times as John's career advanced with the Navy and International Nickel Company. She made each city feel like home. She was very proud of her family and enjoyed making lasting friendships, travel, reading, knitting and crafts.
A Celebration of Life service for Ann is Saturday, February 25th at 11:00am at Saint Andrew's Lutheran Church, 2650 148th Ave. SE, Bellevue WA 98007. Reception to follow at the church. Ann will join her husband John at Tahoma National Cemetery in Kent, WA.
In lieu of flowers, donations in Ann's memory can be made to the Pastor Homer W. Berner Memorial Scholarship Fund at Saint Andrew's Lutheran Church.
---
Comments
Brian, I and so many of your classmates from Huntington, WV, would love to hear from you! I have such fond memories of you turning up at Gallaher Elementary from far-off, foreign country, Canada! We have missed you at our HEHS reunions.
Condolences on the death of your Mother. 98 years-- that's a long life!

Anita Gardner Farrell, anitalee143@msn.com
---
Brian, I am sorry to learn of your mother's death. No matter the age, it is hard to lose a parent! Sending you prayers of comfort,
Roberta Patrick Capen
HEHS Class of 1967
---
I would like to extend my condolences to all the family, especially Brian, my old classmate.

Cindy Post
---
God bless you all, Brian

debby johnson harvey
---
Sorry to hear of your mother's passing, Brian. Condolences to your family.

Mike, RuthAnn Lynch
---
John, Brian, Joce, and Sarah and families,
The news of the passing of Aunt Ann was especially hard for she is the last of that generation in our family to pass. Even though it has been many years since I have seen your mom, I have sweet memories of her, and your dad when we were able to have family visits.

You are all in my thoughts and prayers.

Peace,
Your youngest (Shaw) cousin
Lolly
---
Jack, Brian, Joce, and Sarah,

I cherish my memories of your Mom and family. I remember my mom helping out with Sarah, when your Mom got sick shortly after having her, and the school, church and family activities we shared. Our Mom,s really enjoyed their garden club membership.

When your family moved from Huntington, we all looked forward to the Shaw Family Christmas Card in Verse of your family adventures. So sorry we lost touch.
June Eiselstein
---
We are very sorry to learn of Ann's passing. She was a wonderful and special lady. She was always supportive of her adventurous husband, family and friends. She and John have left us with many wonderful and history making achievements and memories. Thank you and take care Jack, Brian, Joce and Sarah. Aloha, Jack, Matt, and Rian
Jack Huizingh
---