Gretchen Smith Jolly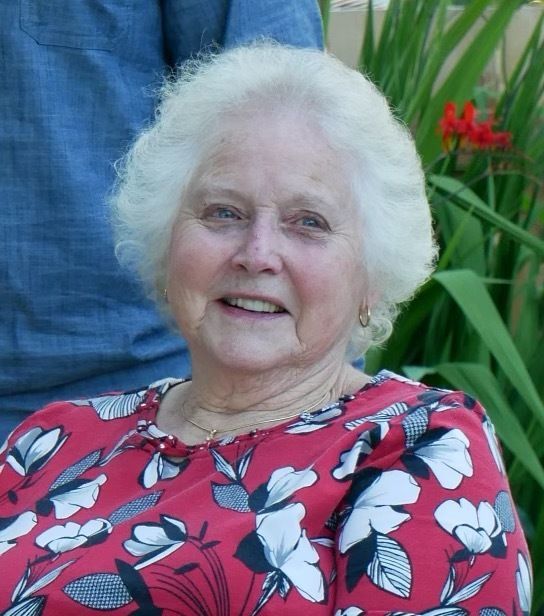 On Thursday April 22nd, Gretchen S. Jolly, loving wife, mother, grandmother, and great grandmother passed away at her home in Shoreline, WA at the age of 83. She was born October 7, 1937, in Spokane, Washington, the daughter of Ford and Chata (Elsa Osborne) Smith. She spent her early years in Spokane until the family moved to Seattle where the family eventually settled on Capitol Hill. She was a 1956 graduate of Garfield High School and attended Washington State University, where she was a member of Alpha Zeta.
Gretchen married Pierre Jolly on September 19, 1959, at St. Mark's Cathedral in Seattle.   Following the birth of their two children, Geoffrey and Tracy, she began a lifelong commitment to service and helping others. She was active in supporting Seattle Children's Hospital through fundraisers, Junior League of Seattle at the Thrift Store, Wise Penny, and Guatemala Friendship School.  Always helping her children with sports and social activities such as Camp Fire Girls, Boy Scouts, gymnastics, football, soccer, and swim team.  Later in life, she became a member of P.E.O. (Philanthropic Education Organization) where she worked both locally and at the state level to support fundraising for women in education.  She was an active and respected member, providing leadership within the organization at several diverse levels for close to two decades.  She will be missed by her sisterhood at P.E.O.
Gretchen and Pierre moved to Crista Senior Living of Shoreline in 2017.  Here they became incredibly involved in their new community at the Garden Residence of Crista. Gretchen held many positions, so many that there will be several volunteers needed to fill her shoes. She was known as the Matriarch of the Garden Residence. A few of her current rolls included Garden Resident Council President, Library Assistant, Mail Delivery to the Royal Residence, supporter to Crista staff for community events, proofreader for newsletters and calendars and an advocate to help others in need.
Gretchen was known by many as having a drive and energy to work hard and make sure any task she worked on was done well. She cared deeply for many causes throughout her life and for each of those she gave all of herself. Many have benefitted from her commitments to these causes. Her greatest joys were her family, and she was especially proud of becoming a great-grandmother in 2020, she happily shared photos and stories of her great-grandson with all.
She is survived by her husband, Pierre; sister, Kerry Thompson of Seattle, children, Geoff (LaDonna) Jolly, of Edmonds and Tracy Jolly (Mike Koski-Harja), of Seattle, two grandchildren, Justin (Payton) Jolly and Megan Jolly, and a great grandson, Hendrix Jolly. Gretchen's wish for donations be made to Children's Hospital in lieu of flowers.

Due to current circumstances, the service will have limited seating, we would love for you to join the service on Saturday, June 12th at 1 PM via Livestream from Saint Mark's Episcopal Cathedral  https://saintmarks.org/worship/live-stream/  or https://vimeo.com/event/961734
---
Comments
To the Jolly family I wish to share my warmest thoughts for comfort and peace. Gretchen worked hard to show support to her friends, family, and neighbors. She could not do anything without being fully involved and committed. I will miss her silly sense of humor, her passion for serving others, and the way she loved people.

Julie Currie, Crista Senior Living Life Enrichment Coordinator
---
I grew up down the street from the Jolly's but lost contact after they moved away. I was happy to be reconnected to Mrs. Jolly when I worked at Crista and with Geoff at the YMCA. I could tell she was living her best life at Crista, serving fellow residents as well as the staff, like me, in administration. Prayers for comfort and peace to the family.
- Sheila Okamoto Omoto
---
I was a member off a Children's Guild and worked with her as a fellow officer, she had a real passion for helping Children's and was full of ideas for fund raising. She will be missed by the many who knew her.
- Mildred Babcock
---
Dear Pierre, please know that we are thinking of you and looking back with much love for Gretchen and you. The Smith family is the oldest relationship for the Foss family and goes from Ford being my Scout Master to Herb being a valued and loved friend. Gretchen would always check in to catch up with the two families. Herb's artwork is displayed in our home. Gretchen's smile will be displayed as well. Love you. Robert and Crispina Foss foss3d@gmail.com
- Robert and Crispina Foss
---
I met Gretchen through PEO, an organization promoting education for women. The structure was a little confusing and Gretchen was an incredible and willing source of support. She was gracious in sharing her knowledge and energy. I found her to be funny, willing and full of opinions (as am I) and over the years she became more than a PEO sister, she became my friend. I will miss her greatly.
- Sheila Quentin
---
Gretchen's family and my family were friends. after my w edding in 53 Chata asked if Gretchen could borrow my dress of course I said yes .It was latter worn by both my daughter's .Over the years at the League's Wise Penny we worked together. My daughter Katherine and i ran into Gretchen working at a craft store in Edmond'sa few years back. I think she an Pierre were still in their home. I also think my son and Geoff knew each other from football. Tom was at Roosevelt. It is a small world. Her picture is perfect So happy.my love to you all .Ruth-Ellen Sullivan Elliott.
---
Dear Family and Friends, You have been blessed by Gretchen's presence in your lives. Obviously, my tiny experience of Gretchen's warmth and energy was multiplied many times over. Though we were never close, Gretchen was one of the amazing, incredibly active women in the Seward Elementary PTA in the 1960s and 70s. Those Moms (with kids, Dads and others roped in for All School Events) made it a special place for everyone - students, faculty and staff. In the early 1990s, while catching up during a chance meeting, I told Gretchen that Tom and I were heading to Guatemala to do volunteer health work. She immediately insisted we contact Chata, her mother, who was the Guatemalan Counsel in Seattle. Who knew? Certainly not me! Of course, I followed her advice. We met Chata and she issued our visas before we left for a memory-filled two months living in San Lucas Toliman. May love and cherished memories surround you in the days ahead.
-Anna Rudd
---