Ann Masuko Inouye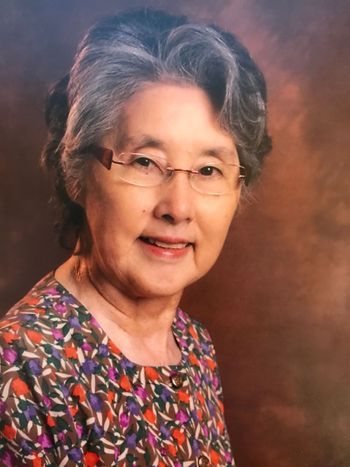 Ann Masuko Inouye (nee Yamazaki) was born on May 20, 1926 in Tokyo, Japan. She went home to the Lord on January 1, 2020 at the age of 93. She joins her husband of 64 years, Paul, who predeceased her in 2015.
She was the eldest daughter of Masuyoshi and Kimie Yamazaki and grew up in the Ginza area of Tokyo. There, she met and married Paul on February 15, 1951.  In the course of their lives, they lived and traveled in Taiwan, Europe, the Middle East, Australia, New Zealand, and Africa, as well as various parts of the United States. 
She was devoted to her family and provided self sacrificing support for her husband and family, and an exceptional education for their children. Even through numerous military transfers in Asia and Europe, she always provided a warm and welcoming home. She ensured her children took advantage of living in foreign countries as well as making certain they were active in Scouts, Brownies, band, piano, and ballet.  Together with Paul, they worked hard to raise their family, including working on their rental properties which funded their children's education and graduation from the University of Washington School of Medicine and Seattle University School of Law.  
In retirement, she and Paul were active with Whitney United Methodist Church, where they traveled to the Holy Land with other church members and Ann sang in the choir.  They traveled, built, and lived in 3 custom homes in Steilacoom, WA, where Ann taught various Japanese arts. They particularly enjoyed taking their grandsons to Long Beach and touring with them as part of the Tacoma Youth Choir.
Ann was a talented artist.  She was a certificated instructor of Ikebana, Japanese flower arranging (Ohara School), and Chado, Japanese tea ceremony (Urasenke School).  She was a founding member of the Puget Sound Sumi Association and her work won many awards.
She is survived and lovingly remembered by her son, Ted (Colleen), daughter Margaret, grandsons Phillip, Curtis (Emilee) and great grandchildren, Bridger and Adelynn.
A memorial service will be held at Blaine Memorial United Methodist Church, 3001 - 24th Ave. S., Seattle on February 1, 2020 at 1:00 p.m.  A celebration of life reception will immediately follow at the same location. Her ashes will be interred at the National Memorial Cemetery of the Pacific (Punchbowl) in Honolulu, where her husband already rests.
In lieu of flowers, remembrances may be made to Blaine Memorial United Methodist Church.
---
Comments
---