Aaron Lee Ball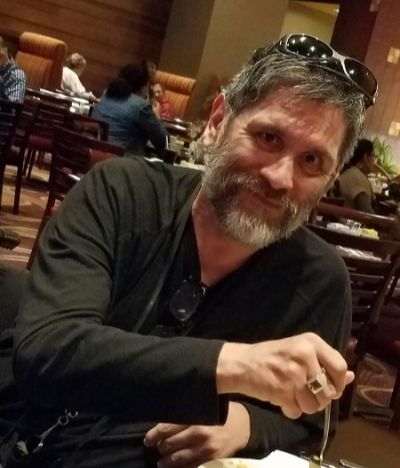 Beloved son, brother, Uncle
July 16th, 1965 – May 30th, 2019
It is with great sadness we announce that Aaron passed this realm and went on to his next journey, Thursday May 30th, 2019.
Aaron's last place of residence was Everett, Washington.  Aaron was born in Mountlake Terrace, July 16th of 1965, fourth and baby in line of siblings.  Aaron spent a lot of his years in Mountlake Terrace, and Edmonds.  Aaron traveled much, and was always trying to find "his home."
Aaron was best known for his gentle spirit, kind heart, love for art, (inherited from his Granma Winifred, and mother Wanda).. Fashion, music, and to dance, oh how he loved to dance!!!  His love for all things beautiful and his laugh!
What is the definition of family? Not always blood….
Aaron is survived by his closest of friends, who supported him, loved him as Aaron.
Aaron is survived by his blood family, his "loving mama" Wanda Ball, and family that also loved and supported him thru many struggles and health issues. Left behind on this earth, his bossy sis, Wyona Moody, his brothers David and Jonathan Ball, sister-in-law Teresa Ball.  Multiple Cousins from moms side of family; Aunt Louise, and Uncle Warren, Aaron's beloved niece, more like a sister, Joy Strand, brother-in-law Travis Strand, beloved nephew Ryan Moody, nephew Jeremy Ball, nieces Sarah Johnson, Rachael Ball, and a whole bunch of fun loving, full of life nieces and nephews, great niece and nephew, with special mention to Ravyn Moody, Angela Moody, and Reba Strand.
Proceeding Aaron, his father Capron L. Ball, multiple Uncles from the Hood and Ball families, Aarons beloved Granpa and Granma, Oliver and Winifred Messinger, his dear sidekick Aunt GG.
Aaron would love if you reached out to do something in love for those suffering from mental illness. The world needs solutions in this area!
Many thanks to all Aaron's medical staff at the UW of Washington, multiple departments, and staff at Northwest Hospital, Harborview Medical Center, and COMPASS Health.
---
Comments
---
BE FREE MY BABY BROTHER!!!
DANCE ON!!!
Your BBS....Big bossy sis!!
Wyona Moody
---
Aaron was my closest friend for years. Even though we didn't see each other that much we always picked up right where we left off. I'm going to miss him,as I already did. I wish I had been there more for him. He was so much fun growing up, even though our parents didn't agree with us hanging out together. we loved each other as best friends. I'll see ya sometime again my friend.
Jessica Lee Mcalpin Moore
---
Soar high to the music!! You were so loved by your sweet family. Hope you are laughing and dancing with the angels. Save us a dance!
Laura Muai
---
I will never forget Aaron's ability to turn a negative into a positive or at the least find the humor in even the darkest moments. I'm so sorry we fell out of touch but the love and bond as strong as family was and always will be there. That laugh!! He was a shining light of happiness for anyone who was lucky enough to meet him. Aaron will always hold a special place in my heart.
Love you all so much, I wish I could be there for you right now. I will save my hugs for all of you.
Much much love and aloha xoxo

Leah Mandell
---
You always shined brighter then everybody else and a bit more attitude in your walk. It was confidence, grace... just the way you looked at the word different. Bursting with color, light, song and dance. I loved it all and I loved being around you so much. I'm so sorry I haven't seen you in so long. I just thought I'd looked you up and I'm so sad right now. You changed my life. You brought me to my first gay pride and showed me how to relax and enjoy life. You were an amazing, thoughtful, most fashionable person I've ever met (Even camping he looked amazing!! I think about all the crazy things we did years ago (Over 20 yrs ago!) Wow.... You made my life so much better and brighter! Thank you so much!!!! Great big Hugs! I'll also never forget your wonderful laughs and smiles... I know your dancing right now!! :) I love you so much! I never danced so hard as when I danced with you... haha Like your Sis said " DANCE ON!!!" 
Giant Hugs Forever!!
- Steve R Porter
---
WOW, I could write a book about my friendship with Aaron. Starting back in Elementary school up to now. LOL He integrated into my whole family. One of the last gifts that Aaron gave me was my cousin back. My cousin and I had a falling out do to misunderstanding and lack of communication. Aaron friended my cousin at a homeless shelter in Bellingham. He spent time with him and talked my cousin into getting ahold of me and talking with me. I am so Happy that he did. I still have art work somewhere in a keepsake box and other things that Aaron was constantly giving me. He may have mad some bad choices in his lifetime but he was a good person always. I will never be able to say enough about how he impacted my family.
Luv U More Aaron Always in My Heart and on My Mind. Karen
    
Karen Akre
---
Happy Birthday my friend! I Think about you every day. Big Hugs forever!
    
-Steve Porter
---