Edward Peter Javorski
May 21, 1930 - March 4, 2023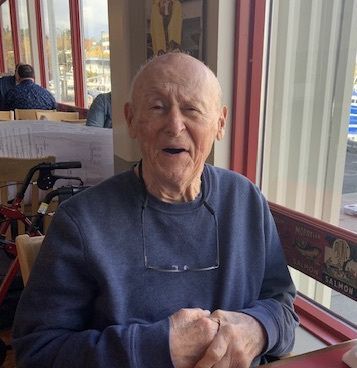 Edward Peter Javorski, uncle, and friend to many passed away on March 4, 2023, at the age of 92. Ed
was born May 21, 1930, in Saint Paul Minnesota and spent his time there growing up with his two
siblings. Ed graduated from Mechanic Arts High School in Saint Paul and in 1951 enlisted in the Navy.
After his honorable service, Ed looked to the airline industry where he wanted to become a pilot to see
the world. His eyesight kept him from captaining the plane, so he pivoted and became a flight
attendant working for Northwest Airlines. This is where Ed gained lifelong friends. When Ed was not
flying with these friends, he was creating memorable parties at his Magnolia bungalow in
Seattle overlooking the waterways to the Ballard Locks.
Ed has fond memories of participating in the 1978 Victoria-Maui Yacht race aboard the "Jeanoyce",
a 50.10' Ketch sailboat. Ed's primary job was none other than in the galley, overseeing feeding the crew
of five, restocking the food supplies as well as grilling up the days catch all the while racing to Maui.
Ed retired after 38 years with Northwest Airlines but continued to travel to many countries
and spending almost every year for a few weeks at his beloved Vallarta Torre timeshare in
Puerto Vallarta. He made several trips to Tarnogora and Zamosc, Poland to visit the family of his Aunt
Tekla. When Ed was not traveling, he could be found working on his bungalow or in his garden or
working on a friend's house or in a friend's garden. Ed was happiest serving others and it showed in his
work, his parties, and his faith. Ed was a devout Catholic attending St Margaret of Scotland
in Magnolia and St James Cathedral in Seattle.
Ed wore his title of Uncle (Unk) very seriously to so many-both related and un-related. Ed rarely missed
a birthday, holiday or family gathering, and he always came with a bounty of gifts and platters of
food. When Ed spent Christmas in Minnesota, he would pack up suitcases full of decorations, presents
and fresh cut evergreen boughs he gathered from…let's just say a few Seattle Parks received an
occasional pruning. He made everything special.
In 2014 Ed moved from his home in Magnolia to Horizon House and he still routinely got together with
his flight attendant friends every Sunday for church, then making their way to The Shanty on Elliott for
Sunday brunch (until it closed) then brunched at Horizon House.
Ed was able to live out his life in Seattle, where he wanted to be, thanks to the loving care and support
of his Seattle family. Ed is survived by many nieces, nephews and cousins in Minnesota, California, and
Poland.
Ed was preceded in death by his father Peter (born Krakow Poland), Mother Helen (born Tarnagora
Poland), brother Stan Javorski, sister Delores Heppner, and nephew Randy Heppner.
A funeral mass will be held at Saint James Cathedral on June 5, 2023, at 12:10pm with a reception at the
Polish Home Society directly after. In lieu of flowers, please donate to the Saint James Cathedral Kitchen,
feeding people in need.
A burial service will be held in late June in Minnesota.
---
Comments
---