The Life of
Susan Carlson Moffett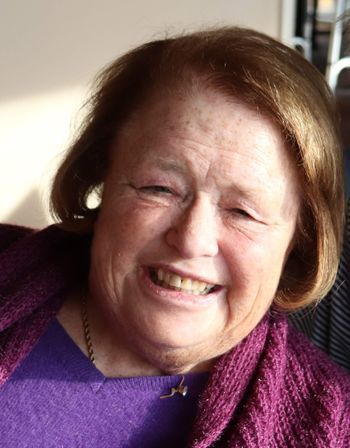 Susan Carlson Moffett died at age 76 of natural causes on April 6, 2020. Susan was born on April 26, 1943, in Chicago, Illinois, just 2 minutes before her twin sister, Sharon. Being the oldest of the five children of Jack and Elise Carlson, Susan was a strong-willed, social, chatty woman – the ultimate people person. She always knew the names and birthdays of all friends and family and had a knack for learning many details about strangers she had just met. She was famous for her detailed memory of conversations and people.  She was open, warm, accepting and treated everyone with the same love. She could be feisty and stubborn, too, and that determined streak served her well.
With the scent of perfume, curly auburn, brown hair that she straightened, sparkling hazel eyes, freckles all over and a warm smile and laugh that lit up a room, Susan was known for many phrases including lucky puppies, heavenly days, baby doll, littlest angel, cheers and hugs and loves. She had a nickname for just about everyone.
Susan was raised in Piedmont and San Marino, California, spending time with her childhood friends and especially her years at Camp Augusta. After graduating from San Marino High School in 1961, Susan and Sharon went to Boston to attend Pine Manor College for two years. Susan and Sharon returned to California, joined the Delta Gamma Sorority, and graduated with a bachelor's degree in history from the University of California at Berkeley in 1965. ("Go Bears" she would always say.) It was in Berkeley that Susan was fixed-up on a blind date with Berkeley graduate student David Moffett ("Muff" or "Baxter").
David and Susan were married on December 18, 1965, at the Piedmont Community Church with a reception at her parent's home in Piedmont. They remained married (for almost 55 years) until her death. Susan loved and unconditionally appreciated her "Saint David" and never had an unkind word to say about him. Their marriage was one in which their strengths complemented each other well.
The newlyweds settled in Berkeley and Susan rejoiced in teaching preschool at the Oakland Children's Center. After a few wonderful years of adventure living in Sydney, Australia, they soon made many life-long friends playing tennis at their home in Orinda, California. In 1980, the Moffetts moved to the Pacific Northwest to run the family business, building a life for their family on Mercer Island, Washington. Though always a "California girl" at heart, Susan was a Mercer Islander for over half of her life.
Susan's life changed upon becoming the mother in 1970 to Kathy Moffett McDonald ("Monkey") and 18 months later to Steve Lloyd-Moffett ("Tigee"). Susan was proud to carry on the family "Elise" name with her daughter Katharine Elise and granddaughter Elise Virginia. She was born Susan Elise and her mother and sister were both Elise Christine. Family was everything to Susan.  Her warm personality extended easily to her children's families including Neil McDonald, Fiona Lloyd-Moffett, and Amy Hart.  All relatives, shirt-tail relatives, and their relatives were warmly welcomed and kept in Susan's world.
An easy-going, but supportive mother, Susan rarely got angry or criticized her children. She offered lots of opinions (first in letters, then phone calls, voicemails and emails), but was a fan of helping her children learn on their own and develop into the best people they could be. With her warm and open personality, Mrs. Moffett was like a second mom to many of her children's high school and college friends.
While raising her children, Susan was a consummate community volunteer, while maintaining a bunch of side jobs (the Welcome Wagon, State Farm Insurance and others).  She was an active participant in the family business running the ski resorts on Snoqualmie Pass. Susan ran the ski shops at all the areas, doing the buying, marking and selling gear at the shops every weekend for 17 years and taught her children how to sell.  She was beloved by many at The Pass and in the ski industry.
Susan enjoyed her free time. She loved to read and was always a member of several book clubs at a time (always cramming to finish a book), loved reading cookbooks, tried her best at knitting, playing tennis, walking with friends, swimming, and playing bridge. She was crafty and artsy, but never a perfectionist. She loved running into friends of all ages as an active member of the Seattle Tennis Club, University Club, and the Mercer Island Presbyterian Church. She met many friends as a long-time volunteer with The Junior League of Seattle. There was never six degrees of separation with Susan – it was often just two or three and she could always find that connection.
Susan was adept at keeping up with friends and family and the first to RSVP to everything. She loved a good party and had unique relationships with friends and family of all ages. She was constantly checking in with emails, calls, and making posts on Facebook. She also loved sending presents, even just to wish her grandchildren a "happy spring" or "happy half-birthday." Maybe because she was a twin, she loved sending matching outfits to her many nieces and nephews and their families. Her emails were long and contained almost no punctuation, just lots of dot, dot, dot or ellipses, to represent the fluid motion of her thoughts and mind.
A consummate hostess for family events and holidays, Susan entertained with ease. She prepped, planned and then enjoyed herself. She never said no to help and could often be found relaxing and laughing with guests at the end of an evening. The food was never too fancy, but always delicious, and through Susan's efforts, everyone had a good time at a Moffett party.
Susan was a spiritual and political being, an avid MSNBC watcher.  She loved to discuss the news, history, and the socials connections of her friends. She had a strong sense of social justice, of right of wrong, of the way things should be and she felt strongly in fairness for all.  Friends would say that telling Susan a story or detail was like uploading it to the "hard drive" because of her steel-trap memory. She was always checking up on family and friends and famous for her lengthy emails and gifts. One of her most beloved roles was as the "American Mother" to the large Suseyi family who arrived on Mercer Island from Iraq over 20 years ago.
Susan loved world cultures and to travel and was lucky enough to make it to most states and to many countries in her lifetime. Her many trips to Maui with her family were the most special. She was always a good shopper on these trips and, frankly, daily. Susan couldn't resist a good deal, though most of her shopping was presents for family or friends. In her later years, her family joked that the website Zulily had a picture of their #1 customer, Susan, on their walls.
Susan really hit her stride when she earned the title of grandmother or YiaYia to Basil Lloyd-Moffett ("B-Man"), Ian McDonald ("I-Mac"), Phineas Lloyd-Moffett ("Phin-Master") and Elise McDonald ("Lisi"). The grandchildren were known as the "B-I-P-E" and especially loved by their YiaYia. Susan had a close, special relationship with each child and in turn each one knew and felt her unconditional acceptance and love. YiaYia was the ultimate cheerleader for her kids and grandkids.
And finally, what must be said is that Susan's favorite game in the world was YAHTZEE. She loved to play it all the time and would sing "I saw my girl on blueberry hill" when she rolled four of the same dice (just before the big YAHTZEE)…. She didn't know why she sang that song, but she just did. Family tournaments were legendary. Susan would love you to play a game in her memory. Her YAHTZEE screams of joy will forever be in the hearts of those who loved this generous, kind, thoughtful, happy woman.
Susan is preceded in death by her parents Jack and Elise Carlson, sisters Christy Carlson Anderson and Sharon Carlson Crandall, and her brother Jay Carlson.  
A grand celebration of Susan's life will be held at the Mercer Island Presbyterian Church later when we are able to congregate in person. Susan and David supported many charities over their lifetime including the Washington State Ski and Snowboard Museum, the Outdoors for All Foundation, Virginia Mason Foundation, Claremont McKenna College, Mercer Island Presbyterian Church, to several charities on Lyme Disease, and many others. The family asks that donations be made in her name to a charity of your choosing.
---
Comments
What a beautiful tribute. My deepest condolences to Dave and the family. I knew Susan from The Pass - having met her when I first interviewed with Dave in the late 80's. My first memory of Susan is how much interest she immediately took in me. She was someone that really wanted to know people and their stories. Eventually, I became very in tune to her feelings around social justice and equality. She really was a generous humanitarian that cared deeply about the people and world around her. She had deep and natural empathy that we could all learn from. Susan was deeply loved by everyone she touched and will be truly missed.
    
John Sutherland
---
What a lovely tribute to an amazing woman. Susan always greeted me warmly and always asked all kinds of details. As a close friend of Kathy's from college, I was so lucky to have known Susan, who always welcomed friends of her kids into her home and heart. Love to the family.
Julia Slatcher
---
In my mind Susan was the perfect combination of Super Kind, Super Smart and especially Super Fun! She graciously passed these traits on to her kids: Steve and Kathy. I feel blessed to have known her and extend my deepest condolences and best wishes to the extended Moffett family. Susan will be truly missed by so many! With Love, John Holtz and family
---
A good way to celebrate Yiayia's life. I will always love her and miss her <3 love you Yiayia
- Elise McDonald
---
Gautam and I will always love and remember Susan's laugh, loving and caring personality and advice on everything! We are lucky to have met Susan and Dave through a mutual friend and to have spent time with both of them. Love to the entire Moffett family and extended family.
- Gautam and Mina Velamoor
---
I loved her voice and her laughter. I knew her at Piedmont and Camp Augusta. She was a wonderful person. My heart goes out to her family. I will miss her.
- Adrienne Dewell Gilmore
---
Suseyi family already missed you so much.
- Amira suseyi
---
I attended high school in San Marino with Susan and Sharon. I was glad to reconnect with Susan when I moved to Ellensburg Washington. She welcomed my husband and I into her home and was glad to have someone from San Marino close who kept in touch with me. She always had a smile on her face and was very proud of her children and grandchildren. She will be missed.
- Judi Corona
---
I was shocked and saddened to hear of Susan's passing. We bought your house in Orinda when you moved to Mercer Island and we are still there! I remember your Mom from Piedmont High and sat with her and your Dad at one of our reunions. I enjoyed keeping up with her on Facebook. My deepest condolences. May she Rest In Peace. Fran Adler Goldman
---
We met Susan years ago through Dave, Doug's Madrona neighbourhood friend since grade school. Susan quickly and easily became our friend too, and we enjoyed immensely our visits from Vancouver to the Moffett home on Mercer Island, filled with good cheer, good conversation, good mutual friends and good food, Susan and Lily shared interests and enjoyed each other's company for hours. Surely, Susan will be a light, a force and giver of love and friendship in her new place in the Sky. We will miss her. Our prayerful sympathy to the Moffett family.
- Doug and Lily Spaeth
---
My twin sister and I met Susan and Sharon at the bus stop in San Marino in 7th grade. We continued to be close friends in San Marino High School and UC Berkeley. We were bridesmaids in Susan and Dave's wedding. When my husband and I moved to Mercer Island, we continued our close friendship and spent many dinners together, Susan was a very special friend and I will always remember the special times we shared together.
    
Janet Primm Rosa
---
I am the shirtiest of shirttail relatives, but Susan didn't let that stop her from including me in so many lovely family events for the last 39 years. I'll never stop being grateful or stop thinking about her on every special day on the calendar. And most of the days in between.......
Margot Marsh
---
My husband, Bob worked for Dave at Snoqualmie Pass. The two of them decided I should work in the ski shop with Susan on Saturdays. I had not met her before and all I knew was that I would be working with "the boss's wife." I showed up on my first day with trepidation and doubt, not knowing what to expect. The minute I walked into the shop, Susan was so welcoming and warm that all my fears evaporated. Her friendly nature and open acceptance of everyone was unparalleled. When our daughter was born, David and Susan even came to the hospital to visit bringing balloons and a teddy bear. Now, my two-year-old granddaughter loves that same bear. I cherish the memories of time spent with Susan and the Moffett family. My sincere condolences to you.
    
Shelby (Henkel) Imholt
---