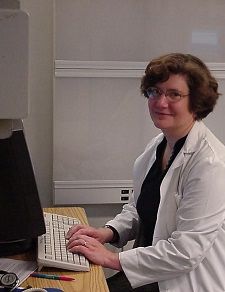 Marguerite passed away peacefully at home on July 2, 2014. She died of complications of a glioblastoma (brain cancer). She was 54 years old.
She was born in New York. Her father was an airline pilot, her mom was a nurse and one of the first flight attendants for Pan Am. As a child, she lived in many places, including New York, Germany, England, North Carolina, California, and Washington. She graduated from Bellevue High School and went to study at Bowdoin College in Maine. After completing her undergraduate work, she earned a master's degree in biologic science at the University of Texas in Houston.
In 1984, she was accepted to the University of Washington Medical School. She excelled as a student and graduated with high honors. During her medical school training, she met her future husband, Dominic. They were married after graduation and moved to California for their residencies in internal medicine together at the UC San Francisco.
After residency, they returned to Seattle, where Marguerite completed a research fellowship in general medicine at the VA. She earned a second master's degree in public health. She was appointed to the faculty of the UW medical school and rose to the rank of Associate Professor. She worked at the Hall Health Center on campus, and later in the UW General Internal Medicine clinic. In addition to her clinical work, she was involved in epidemiologic research related to diabetes and published more than 50 scientific articles. She was an outstanding teacher of medical students and resident physicians and received an award for her excellence in teaching.
Besides her academic and medical careers, Marguerite loved spending time in the garden and was an avid plant collector. She also enjoyed travel, film, photography, music, and spending time with her family and friends. She was preceded in death by her parents Richard and Margret. She is survived by her husband Dom Reilly, her sisters Nancy, Ann Marie, Elizabeth and brothers Richard and Thomas, as well as many nieces and nephews.
If you are interested in making a charitable donation in Marguerite's honor, her favorite charity was the Treehouse Charity for foster children in Seattle.
Memorial Service
There will be a memorial service/celebration of Marguerite's life on Sunday, August 3rd, at 10 AM at the University of Washington Club on the UW campus. All who knew her are welcome to attend.
Directions from I-5
Take the NE 45th St - University exit. Go east on NE 45th. Turn right on 17th Ave NE and enter the campus. Take the first left on to E. Stevens Way. Stay on E. Stevens Way until the first stop sign (Pend Oreille Road). Proceed forward, the club is the third building on the left.
There is a very small parking lot behind the club. There is a large parking lot for those with disabilities immediately across the street (N22). Otherwise, the best place to park is the Padelford Parking Garage to the north of the club. Entry to that lot is off of Pend Oreille Road.
http://www.washington.edu/maps/
---
Comments
I am so sad to hear of Marguerite's passing. I remember her as a dedicated doctor who was incredibly detailed in her care of her patients as well as full of compassion for each person. She had a great sense of humor and a kind heart for everyone. I have thought of her often and will remember her when I work in my garden. Marilee Jensen
---
I am saddened to hear the news of Marguerite's passing. I met her while working at Hall Health - UW. She was caring, approachable, and always willing to answer questions. She will be missed by her patients and co-worker alike. My sympathy to her family at this time.    Molly Morse
---
I am shocked to hear that Marguerite has fallen so young, and to such a terrible disease. She was sweet and beautiful as a med student -- an experience not generally known for bringing out sweetness or beauty in people. Her very successful career in patient care and clinical research is just what I would have expected of her, though I'm sorry to learn of it in this way. Marguerite and Dom were my classmates in med school at UW. They fit well together. My sympathy goes to Dom and her family at this sad time.
Merilee Karr
---
Dear Dominic, Marguerite must have been an amazing person to have married you. Her life story and photo above show just a glimpse of all she was... I send you my condolences and prayer for strength and support to find your way in this next phase of your life. Priscilla, UW Class of '88
- Priscilla Valentine, MD
---
Marguerite was wonderful as a friend and a physician. I thought the world of her. Blessings to you- Maggie
---
I came to know of her passing away only today, almost a year after. I am deeply saddened. Dr. McNeely was my primary care doctor for close to 20 years until she quit her practice. Superb level of care delivered with a healthy dose of humor is how I would describe her gift to me, for which I will forever be indebted to her.
--Thomas Mathai
---