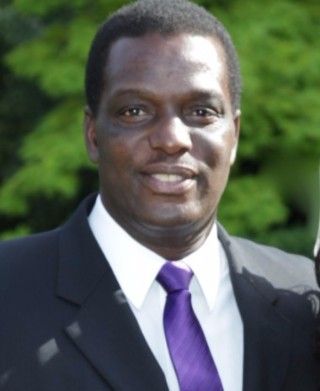 Willie Tyrone Hooks was born August 26, 1955 in Sheffield, Alabama, the 4th of 8 children born to Nell Pritchett (deceased). He moved to Seattle with his mother and 5 sisters: Yvonne, Norah, El-May (Minnie), Deborah (Day-Day), and Nell Elizabeth (dec.). His older brothers Judge and George moved to this area later.

Willie attended Garfield High School where he played basketball with the 1974 "Superdogs" team. His jersey now hangs in the gymnasium in tribute of the perfect season. He continued to maintain an active life, playing basketball for many years, using the Boeing gym and jogging the streets and trails in Renton and south Seattle areas.

Out of high school, Willie worked at a sandwich shop on Capitol Hill; his future wife April worked at another location and they met at a company party. While they were dating, Willie went to the Seed of Abraham Pentecostal Church at the invitation of a friend (so they would to leave him alone) and the pastor turned out to be his former neighbor, Prophetess Mattie J. Bass, whom he knew as a boy. He recalled she was often dressed in white and he frequently asked if he could perform an errand for her. Willie heard the call of Christ that night and told God if He saved him that he would serve Him all of his life, and both God and Willie kept that bargain.

Willie wanted a good paying job before he would ask April to be his wife. A friend who worked at Boeing personnel gave Willie an application and filed it for him; he worked 33 years for Boeing, retiring as a maintenance mechanic early 2014. He told people Boeing was a good company to work for, but some of the employees brought trials his way. In one incident, a fellow employee became enraged and charged at Willie. Willie raised his hands in self defense and when they were parted, the other guy had 2 black eyes. A supervisor fired Willie immediately, but when an investigation revealed the aggression was one-sided, Willie's job was restored. Let God fight your battles, Jesus can work it out!

Willie married April in 1979 and they enjoyed 36 years together. Willie proved to be a faithful husband, an excellent father and doting Papa to his grandchildren. He enjoyed camping and traveling, meeting people and sharing Christ wherever he went.

Willie suffered from high blood pressure and had an enlarged heart, probably from his youth. His condition worsened in the last few years to where he was unable to enjoy his regular exercise routines. Willie underwent heart valve surgery last August. He enjoyed a few months of improved life quality in terms of his energy level and spent much time with his beloved grandchildren, reading God's word and engaging in his "phone ministry". Many people have reported a recent conversation with him where he encouraged them and fed into their spirit.
God showed mercy even as he took Willie from us. Willie often went for a walk with his headset on but he did not carry his identification with him. He did not own a cell phone. He lost consciousness and collapsed while visiting the Renton Community Center restroom and the police identified him from the truck registration. The mercy is evident: Willie did not collapse on the path away from his truck where identification would take longer, he did not feel his head hit the garbage can as he fell, the police did not phone April at work to deliver the news, nor did April discover Willie at home or wait into the night for him to come home. Willie stepped quickly from earth to glory. His wish to pass quickly was granted by our gracious Lord.

Willie is survived by his wife April, children Jeremiah (Michelle), Nehemiah and Genova (Stefan), and 5 grandchildren: Stefan Jr, Jaylen, Xavier, Mia, Cameron.
---
Comments
I grew up knowing Bro. Hooks as a man who never let you go a day without a smile and an encouraging word... I've known him as a kid growing up at the Seed singing "Jesus will work it out" while his wife was my children's choir director. Later in life, we ended up working at the same Boeing plant for a while before he retired. His humor, heart and genuine advice never waivered and he had a a way of making you feel special, especially for me. His presence will definitely be missed but his spirit and words will be forever remembered. --Jovhanna Byers
---
What an awesome man of God!!! Will be greatly missed!!! Fly with the angels!!!!!
-Julie Knight
---
Rest For Awhile
God himself open the windows of heaven, allowing our eyes to see.
A man who's life constantly displayed, what true Holiness was meant to be. 
Blessing us to behold the glory placed in this vessel, this vessel that he loving called his own. 
Clearly seen throughout years of faithful service, until he decided that it was time for him to come home. 
So in this moment of many precious teardrops, God truly gives us a very special reason to smile. 
Knowing that our brother's earthly work has finally been competed, now he can rest for awhile.
Dedicated in loving memory of,
Bro. Willie T Hooks
-Charles Robinson 2
---
Elder Willie Hooks was a dear brother in Christ. He treated me and others with God's love. He was the minister that served as the baptist for candidates that had accepted Jesus and followed though with water baptism. He preached the gospel and was also a good singer of that signature song, Jesus Can Work It Out. He will be greatly missed. Karon Williams, Associate Pastor at Seed Of Abraham Pentecostal Church in Renton,WA 
-Pastor Karon Williams
---
the world has lost a grate man of god we love and miss you so much but god love you more go home my friend we will see one day.ps god bless you.
gloria j smith
---
Elder Willie Hooks what an amazing man of God. My big brother, he always made me smile. I loved as we all did at the Seed to hear him sing Jesus will work it out. He was truly an encourager to all of us and he will be missed.
Linda Manning
---
Brother Willie Hooks was our next door neighbor for over twenty years. He was also a friend. His humor, charm and tender heart, we greatly miss. Willie went out that day and the Lord swooped in and took him to his next great assignment. We pray for his family for his presence they will surely miss, however we know that they are comforted in their faith.
Kay and Kevin Brown
Kay Cole Brown
---
Willie was my uncle that I referred to you as "Uncle Tuttie". I remember him as a positive person that worked hard to provide for his family. May he rest in heavenly peace now with grandma and his baby sister.
Niece LaQuiche Parrott (Griffin)
---
Dear Family, 
I am so sorry to hear of the loss of your dear loved one and send you my sincere condolences. May you find comfort from God's word at Revelation 21:3,4 and John 5:28,29. Heartfelt prayers are with you and your family.
D. Harris
---
Elder Willie Hooks was a dear friend and a faitful brother down through the years. Our family's grow up in Christ at the Seed of Abraham together, having there children about the same age and our daughters were and yet are the best of friends! We have great memories down through the years. Willie and April have shown much love and support to me and my children and I will always be greatfull for that! I will miss my brother dearly, especially saying "Sister B" with so much enthusiasm, like No one else can.See you later my Brother! God has us!!!
Elder Beatrice Leonard aka Sister B!
---
My big brother Hooks has been there through thick and thin with the Smith's as a family and any of individual encouraging word to me and our two daughters. I love the fact that April would back him up on the encoraging love messages sraight from the heart. Thanks Brother Hooks for keeping it 100 every time you come around....God says well done good and faithful servant!
Love Sister LaDina Smith
---
Brother Hooks you have been a true friend and encourage to those that came in your presence. You always find time to keep it real when speaking,teaching,and preaching. We love you and will see you later. Ladina Smith and crew!
---
When i was a little boy, the age 10. My Father, Willie T. Cole told me that i had a brother that lived in Seattle,WA. The love that he had for his Son stayed with me until i became a man to seek my brother. In the year 2015, God spoke to me and made away to visit him. With God's Love, Grace and Mercy for the first time i met my oldest brother and reunited with him and his loving family. I just wanting to say that you spirit will always stay embedded in my soul, because there is nothing in this world can take that away even years, time and space. Love is the key that opens peoples soul. I Love you and will aways vision your smile and love you shared in this world.
Mr.& Mrs. Clinton Cole Sr.
---
Elder Willie T. Hooks Was a Phenomeal Husband, Father, Man of God and life mentor to me. I am who I am because I came through the Seed of Abraham Pentecostal Church and met Willie Hooks. My life is bettered because we connected and he delighted in me. Elder Hooks was a Preaching Machine that man would start testifying and end up being used of The Holy Ghost. He taught me how To deliver the Word With Power. As I grew in life he was always there for me. When I was in High School he missed Friday night services and Dinner with his family to watch me play Football. He was the Greatest Youth Pastor I ever had. He was great because he wasn't just a Church member he was a true brother till the end. As I went to college he supported me by not allowing historical religiosity to stop me from pledging a fraternity. After college graduation he taught me the sacrifices necessary to be a Great Husband, Father & Man of God. As God began to Elevate my Preaching Ministry to travel across the He shared with me how proud he was of me. In marital situations he was there for wisdom. When I came home to Preach at The Seed he told me as I walked through the doors "Bless Me" I took those words to heart and I did my best. When I traveled Apostles, Bishops, and Pastors asked who taught you how to Preach like that my response was Elder Willie Hooks a hidden secret in my Home Church in Seattle WA. Their reply was how can we get him I said call him and y'all gonna have true revival. We talked so much, shared so much, prayed so much, shouted so much, preached so much, rejoiced so much, laughed so much, vision casted so much, encouraged so much, lastly Cried so much. Hooks may never do the Evangelistic crusade where we Preach for TD Jakes and he drives away in the drop to with his blonde riding with him as always but Hooks set a standard for a Holy Life that will be rejoiced upon for the remainder of my life. His vehicle preached "Be Holy" as he sang Jesus will work it out. To sis Hooks sorry I couldn't make the memorial service today. To you Sis April Hooks and your Children Jeremiah, Nehemiah, and Genova thank you for sharing Him with us. I've been sad since his passing 2/29/2016 but in my dream March 9th, 2016 we had our conversation of closure. I asked Him by saying Hooks big bruh you got outta here quick his response was these 10 words "brother Lequinte, The Struggle is Over, I Made It Over" from his life I'm speeding forward With Jesus. Sorry to be so lengthy but Hooks is special to me praying I can be to his sons what he was to me. Saints thanks for listening. Thank you Jesus for my big brother Named Willie T. Hooks. From the Adjutant General of The Full Gospel Associated Churches in Dallas Tx. Trinity Temple Full Gospel Church Elder Lequinte L. Long
Elder Lequinte L. Long
---
I met Willie when I was about 15, long before he became a family man and Elder Hooks. He was my boyfriend for a few years in high school. I lived in Madrona and he lived in on 27th and Alder in the CD. I never met his family but I remember that the family called him Tuttie and they had a boxer dog named Poochie. After we broke up and grew up I didn't see much of Willie. Occasionally I would run into him in one of the stores on the south end. I was so glad to see that he looked good and was doing so well in his life. Many of the men I knew from back in the day succomed to the streets. For fun Willie and I would talk on the phone for hours. We used to catch the # 2 bus downtown and hang out at the Seattle center. One of those times that we were hanging out downtown we bumped into his mom. The only problem was that he was supposed to be in school that day and his mother was not happy to see him downtown skipping school. She had that mama look on her face and Willie was stuttering and stumbling over his words trying to figure out how to get out of trouble. I am sure she handled him when he got home that day! Back in those days Willie smoked Kool cigarettes, played basketball and like a lot of young men thought he was going to be a "playa". When I was about 17 years old I remember him getting me so drunk with MD 20/20 that I couldn't stand the smell of alcohol for many years. The bet was that I told him that I would never get drunk, he said I would. What I didn't know was that he kept refilling my glass when I turned my back and I lost the bet. These memories of a much younger Willie are from over 40 years ago. The young man that I knew was a nice guy even though he and I did some of the foolish things young people do. I know that Willie found the Lord early in life and that he was fully prepared to transition from this life to the next. Condolences to the family.
Rest in Peace Willie.
Gwen Davis
---
Dear April and Family,
We just learned over the weekend that Willie had pasted away. We want all of you to know that you are in our thoughts and prayers. With Kyle and Nehemiah growing up together and are still in contact as adults we have always thought of him as one of our own. Whenever we would be by the house and Willie was there he always had a great smile on his face and was a very friendly soul. I can not imagine the loss you must all feel. We saw Nehemiah in August just before Willie's surgery and let him know all would be fine. Glen had open heart surgery 5 years ago and we were sure all would be fine for Willie. We are so sorry to hear of his passing. You have a wonderful support group in all of your children and grandchildren. You and Willie have wonderful children. We are in the Maple Valley area if you should ever need anything please let us know.
With Love and Sympathy,
The Pleasants
---