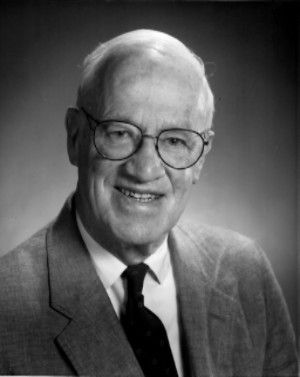 Dr. George H. Allison, known to one and all as "Mike," died on March 19 in Seattle, two months short of his 95th birthday. He passed peacefully in the company of his large, complicated, loving family.
Family was a passion and a priority for this generous, accomplished man, along with psychoanalysis, classical music, and sports (as a participant and fan), among many other interests. He retained his vitality, intellect, and curiosity into his final days.
Born May 24, 1921, Mike was the youngest of the five children of Robert and Evelyn Allison of Yonkers, NY. He attended the University of Rochester from 1939 to 1942, and then, while serving in the US Navy, attended Yale Medical School, graduating in 1945. He married Nancy Hart in 1944.
After a stint at California's Camp Shoemaker Naval Hospital, where dealing with returning WWII veterans stimulated his interest in problems of emotional trauma, Mike was discharged from the navy in 1946 and entered psychiatric training at the renowned Menninger School of Psychiatry in Topeka, KS. He reentered the navy during the Korean War and served as a psychiatrist at Camp Pendleton Naval Hospital in Oceanside, CA.
He and Nancy, with children Tom, Janet, Tony, and Nick, settled in Seattle, where Mike opened a psychoanalytic practice and became a pioneer of the area's psychoanalytic culture and institutions.
Nancy and Mike's marriage ended in 1964. In 1967 Mike married Joan "Jo" Benefiel, the beginning of a 48-year union lasting until his death. He became stepfather to Jo's two daughters, Laura and Alice, and the couple welcomed son Michael in 1968.
Mike served as director of the Seattle Psychoanalytic Institute from 1975 through 1978. He was also very active in the American Psychoanalytic Association, serving in several offices before becoming its president from 1990 through 1992. In those roles he was a successful advocate for opening the association to non-MDs, welcoming more women and gays, and in general broadening its constituency. He also helped develop national standards for quality of psychoanalytic training and practice.
In a clinical practice at Seattle's Blakeley Building spanning more than five decades, he saw, helped, and built relationships with countless patients. Health issues forced him to retire, very reluctantly, at age 91. Mike was also an avid, lifelong teacher of his craft. One of the first credentialed training analysts in the Northwest, he trained and supervised many of the analysts now practicing in Seattle and beyond, and served as an adjunct professor at the University of Washington.
Mike's sporting pursuits included skiing, sailing, basketball, and squash. Well into his 80s he was bicycling to work and competing with—and often beating—family members on the tennis court. He also loved to travel with Jo and other family members; Mike had memorable journeys around the US and to Europe, Russia, the Middle East, South America, and Japan, with overseas trip often built around meetings of the International Psychoanalytic Association.
Mike's intense, multifaceted intellectual curiosity and his personal kindness and warmth were appreciated by those he encountered in his professional and personal life, and are treasured legacies to those who knew and loved him.
Mike was preceded in death by his four siblings, Dorothy, Robert, Evelyn, and Jean; his first wife, Nancy; and his eldest son, Tom. Survivors include his wife, Joan; children and stepchildren Janet, Tony (Nancy), Nick (Nancy), Laura, Alice (David), and Michael (Chie); grandchildren Yuto, RuthMabel, Rebecca, Nora, Thomas, Avi, Katie, George, Anna, and Paul; and numerous nieces and nephews.
Mike's family thanks the staff and other residents at the Laurel Park and Matthews Beach family homes and UW Hospital's Cardiology Intensive Care Unit and Palliative Care Services teams for all they did for Mike, and for us, in the last period of his life.
Remembrances in Mike's name can be made to the charity of your choice.
A memorial service is planned for 11:00 a.m. on Saturday, May 21, at the UW's Center for Urban Horticulture.
---
Comments
Our deepest sympathies to the Allison family. Mike will long be remembered by his multitude of friends, colleagues, patients and admirers. He loved his family first and foremost.
Jan and Gary Box
---
Mike was funny, tenacious, gentlemanly and devoted. One of our favorite things he said at a presentation many years ago about his work was that it wasn't about knowing the answers "but it's always about the questions." He remained curious and interested ---- hallmarks of a good psychoanalyst and a good doctor. He made the world a better place and we will miss him.
Julia S. Putnam
---