Marguerite Marie Langlois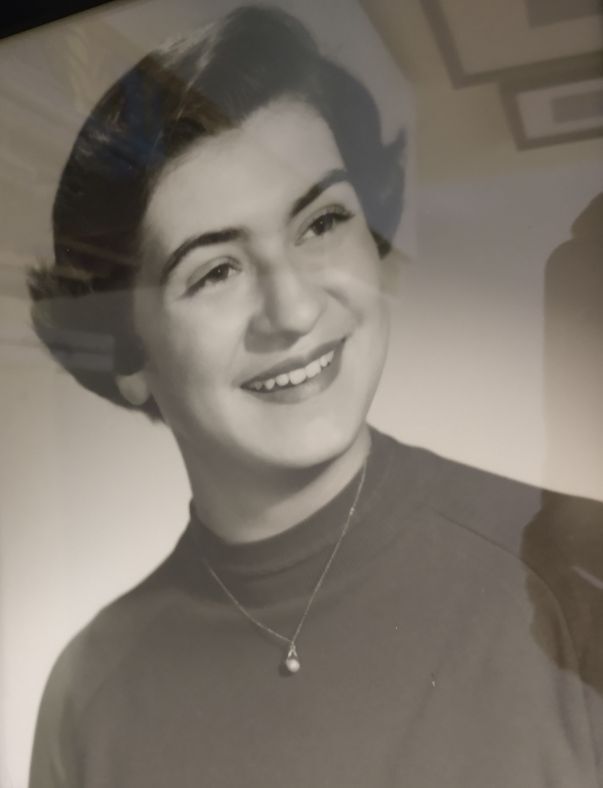 Marguerite Marie Langlois departed this planet on March 10, 2023.Her spirit was released from her worn out shell of a body and is now exploring the universe she spent a lifetime trying to get to know.
She arrived on August 15, 1943 in Utica, New York to Roland and Lorraine Langlois. Rumor has it that her first words were why and how. She had an
inquisitive mind that she sharpened with knowledge and experience throughout her life. As a child fueled by her curiosity she spent summers scouring the beach near her grandmother's beach house finding rocks, glass and other flotsam yielded up by the Atlantic Ocean. She kept these treasures in a box. They often became objects of her art.
Marguerite was a talented artist. Her drawing talent was recognized at an early age and led to her receiving art lessons through grade school and high school. The walls of her home were covered with art, her own as well as many friends who shared her passion. She belonged to an art group who fostered each other's pursuits adjusting to changes in themselves as well as the art community.
Marguerite was a petrofililac-a lover of rocks. She developed a deep attraction to rocks as child. She was still enthralled by stones and rocks saying their weight were like a soul-anchor to the earth. She carried rocks from every encounter of her travels. At times her pockets were weighed down to the point of hampering her return to her car. When she could no longer travel she beseeched her friends to bring her rocks from their travels. She asked for details of the area where each stone was found. She built a special shelf to share these treasures with friends and family. There was concern that one more rock might lead to the collapse of the wall.
Her lifelong love of learning ignited a passion for teaching. She was born to teach, wanting to share what she learned through the years with others of all ages. Marguerite honed her teaching skills in junior high and high school. She was said to have eyes in the back of her head, students amazed at her canny ability to catch them in the act. She taught her way across the country from the "right coast" finally settling in Seattle on the "left coast". These teaching skills were easily translated to the world of corporate training where she designed management training programs as well as project management programs for nurses.
As she grew older she turned her focus to adult learning and became a foundation of senior teaching at the Greenwood Senior Center and the PNA
Village. The people in both these organizations were the family she chose for herself. She is remembered for always having a warm smile and an encouraging word for everyone. She was involved with the Village from the beginning. An intelligent dynamo she would walk into a room assess the situation and organized even the most garrulous groups with a no nonsense smile and get it done attitude.
What she lacked in stature, she compensated with an over-abundance of charisma, charm and feistiness.
Her devout feistiness and stubbornness had served her well throughout her life. And even in her waning months, she was a model of strong will and sheer determination right up until the end of her journey here on earth. She will be greatly missed and fondly remembered by many friends, neighbors, family and fellow rock hounds.
A celebration of life is planned for later this summer at the Greenwood Senior Center. Family and friends are encouraged to post memories and stories of your connection with Marguerite on the People's Memorial Site: Donations in her name can be made to the Greenwood Senior Center or the Phinney Neighborhood Association Village. Please specify either the Greenwood Senior Center or the PNA Village.
---
Comments
I came to know and appreciate Marguerite's spirit and intellect and person after I joined the PNA Village. When I retired I wanted to volunteer and give back and that is how almost seven years ago I met Marguerite. I drove her to numerous medical appointments and quickly realized what a resilient and remarkable woman she was. Her home was filled with books and art which she loved to discuss. I recall one day she unexpectedly called to ask for a ride to the ER. I of course said yes, because it was Marguerite. Covid disrupted our lives but as we returned to gathering I became reacquainted with Marguerite at the Village book group. I saw her spirit glowing through despite her physical disabilities. She loved books about science and women scientists, fiction and nonfiction. I had the honor to drive her to the last book group she attended at Couth Buzzard bookstore. After the meeting we lingered over the books. She of course got a books with essays about women scientists; she also recommended the book I purchased. This month when I will be reviewing that book, I will be thinking about Marguerite. In the short time I knew her she made a lasting impression I will cherish
Elizabeth White
---
Marguerite will be greatly missed in the PNA Village People book group, where she shared her passion for reading with us for many years. I also took various enjoyable classes from her at the Greenwood Senior Center. She was a treasure and an inspiration.

Diane Clifford
---
I has the pleasure of getting to know Marguerite through my work with the PNA Village. She was one of the first people I met in the Village program and she instantly made me feel seen and welcome. She had such a passion for people and community, loved a good potluck, and had a special appreciation for nature and the world around her. I am grateful for having crossed paths with her in this life. She was an inspiring woman, I will miss her.
Riana Nolet
---
Marguerite and I were neighbors for 30+ years. She loved her neighborhood and was always interested in what our children were up to. She avidly attended all block parties, which spoke to her affection for dessert … and community. When my mother-in-law moved in with us, she was welcoming and tried to encourage Mom to be active in the PNA Village. She is missed on 10th NW.
Lindi Wood
---