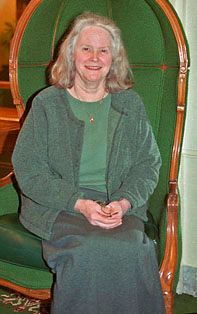 Patricia Purl (Vaughn) Questad, born Oct. 23,1938 in Kansas City, Missouri, passed away at home on Aug. 29, 2015. A resident of the greater east side area since 1963, she received her Bachelor's degree from the University of Washington in Economics. She began her career at the Washington Education Association, worked as a loan officer at Seattle First National Bank (Seafirst), and held a variety of positions at AT&T. Married to Philip Questad on June 30, 1984, they lived in the same home in Kirkland for all 31 years of their happy life together. She volunteered in the King County library system, the Evergreen Hospital in Kirkland and the Seattle Aquarium where she watched over the baby otters. Fond of gardening and animals, she especially loved hummingbirds and penguins.  She also enjoyed hiking and exploring the outdoors with her husband Philip. A gentle, accepting and loving mother and wife, she instilled a sense of independence in her children for which they are forever grateful. Known for being genuine and down-to-earth, she will be missed by her surviving family: her husband, Philip, her children, Trisha Miller and her husband Stephen Miller of North Bend, Paul Segner and his wife Phaedra Singelis of New York, her brother-in-law Kent Questad and his wife Margaret Questad, of Ravenna. She is preceded in death by her parents Ferol and Purl Vaughn and her brother Robert Vaughn. 
A celebration of her life will be held on Monday, Sept. 7, 2015 at 9:30am in Pine Lake Park, 2401 228th Ave SE, Sammamish, WA 98075 
In lieu of flowers, donations can be made to one of her favorite charities, Heifer International.
---
Comments
Trisha & Paul,
We are all very sorry for your loss. I know Grandma Segner kept in touch with your mom through the years. I remember your mother singing in the church choir (red robe). This had to be around 1968, when Grandma & Grandpa Segner and my mother drove up to see you all.
Stay in touch. --Gregg, Cindy & Kaylee Schlein
---
Phil and Pat's family
My condolences to all,Phil has been a faithful member of the Redmond Toastmasters for close to 30 years, and many times we had socials where I had a chance to chat with Pat. Always a very pleasant and interesting time. Life gives us no notice when it is up here on earth. I  plan to come to the memorial on Monday. Very best to all, Jerry Torell
---
My association with Pat was very brief: I was her supervisor for a year or so around 2006 when she was a page at the Kingsgate Library. More than her being a reliable and dedicated worker who frequently came in for substitute shifts on short notice in addition to her regular hours, I remember a soul who was always upbeat and a joy to be around. I wish her family and friends serenity and fond memories. Bless you, Pat. --Rob Bowman
---
Dear Philip and family, So very sorry to hear of your great loss. Our deepest sympathy. We have loving memories of Pat and thinking of all of you at this time. --Love, Eva and John and family
---