Dr. Thomas B. Sanford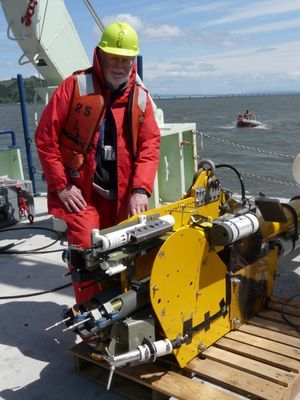 Dr. Thomas B. Sanford, loving husband and father of three children and three grandchildren, passed away in Seattle, WA, on July 12, 2020, at the age of 80, due to heart failure. Tom lived life to the fullest. He was an experienced man of the sea, as a lifelong oceanographer and sailor whose "business trips" were often spent on the high seas for many weeks at a time.
Tom was born in Toledo, Ohio in 1940, to James and Mary (Williams) Sanford. He grew up in Cleveland and Vermilion, Ohio and received a Bachelor's degree in Physics from Oberlin College and a PhD in Oceanography from MIT. 
In 1962, he married Marilyn Wilmore, an Oberlin classmate who had a warm heart, similar politics, and was willing to await his return from a cross-country BMW motorcycle trip. They soon moved from Boston to West Falmouth, MA, where Tom built their first home nearly single handedly and they raised their children, James, Cynthia, and Craig, along with making lifelong friends. From 1967 to 1979, Tom was an oceanographer at the Woods Hole Oceanographic Institution (WHOI), as well as a visiting scientist in Kiel, Germany at the Institut für Meereskunde. 
In 1979, he and the family moved to Seattle, WA to join the faculty at the University of Washington (UW). For more than 40 years, Tom served at UW as a Professor in the School of Oceanography, Principal Oceanographer at the Applied Physics Laboratory, and most recently as a Professor Emeritus. Over the years, he earned many honors including: Fellow, American Geophysical Union; Fellow, American Meteorological Society; Henry Stommel Research Award, American Meteorological Society; Distinguished Technical Achievement Award, IEEE/OES; and Secretary of the Navy/Chief of Naval Operations Chair in Oceans Sciences.
Tom "retired" in 2015, but continued biking to work nearly every day. He submitted his last paper for publication just weeks before his passing and would be proud to know it may be published posthumously. 
Tom cared deeply about his contributions to oceanography. As a professor and ocean-going scientist, Tom mentored more than 23 students in their graduate and post-graduate work, furthering our knowledge about the oceans. During a symposium held in his honor for his 2015 retirement, many of these students spoke about his impact on them and how his legacy continues through their work. Tom consistently expected the highest standards for himself and others, but was always kind and encouraging. 
As a scientist, Tom was innovative, inspiring, and very much "hands on." His pioneering theory of how ocean currents interact with the earth's magnetic field provided a novel way to measure seawater motion. He was especially proud of the instruments that he invented and adapted over the years (called "robo buoys" by his grandson). 
Tom's interest in tinkering with things started at a very young age. As a boy, "Tommy" loved to visit the local dump and pick up broken radios to fix. Marilyn remembers after they married that Tom found a broken television at the dump, fixed it, and made it their first television as a married couple. Throughout his life, Tom would say, "Don't throw that out! I can probably fix it and use it for something!" When the family's dishwasher broke and he couldn't find a replacement part, he purchased an identical used dishwasher, stored it in the garage (much to Marilyn's dismay), and used the parts to fix the dishwasher over many years. 
Tom used these fix-it skills at the Camano Island cottage that he and Marilyn purchased in 1992. Over the years, he enjoyed countless "improvement" projects and made several dear friends while crabbing and doing other projects on the beach. Tom celebrated his family and found many ways to gather with them.  His children and grandchildren have fond memories of visits to Camano, boat trips near and far, and 9 years of Christmas trips with the extended family. 
Tom is preceded in death by his parents and his brother, James R. Sanford. Tom is survived by his wife of 58 years, Marilyn (Wilmore) Sanford, and their children, James, Cynthia (Christopher), and Craig, and three grandchildren, Elliot, Oliver, and Campbell.
A memorial service will be organized later this year when conditions hopefully permit a gathering to celebrate a life well lived.
To Tom: We wish you fair winds and following seas!
---
Comments
Lin and I want to express to Marilyn and the rest of the family our sadness at Tom's passing. He was a wonderful colleague and a superb scientist and I will miss seeing him at meetings and conferences. We are happy that you two shared a full life together and we always think of both of you when we drive by your street in West Falmouth.
- Jack and Lin Whitehead
---
When Tom joined the Ocean Physics Dept. at APL and the Faculty of Oceanography, I knew that he was someone who was an ideal Scientist for my 1967 dream for the OPD. Following that we became colleagues and friends, and I was always impressed by Tom's ability to design instrumentation and high tech experiments that ended up leaving him with a very high level of distinction among Scientists. Whenever I come in to the Lab I always stopped at Tom's office and received a delightful rundown on what he was working on. All of us knew Tom as a gentle man who would help with his time and energy on many different scientific and technical problems. I will certainly miss Tom, and for Marilyn and the kids I'll give all my best thoughts and wishes for them at this tough time.
- Terry Ewart
---
I met Tom as a graduate student at APL/UW, and I am very sorry to hear of his passing. He was always very generous and kind both personally and professionally. I often went to his office for advice or to chat through my latest finding, where he was welcoming (if room could be found on a chair) and full of good ideas, despite the fact he probably was very busy. His contributions to science were both profound and at the individual level, and he will be sorely missed.
- Jody Klymak
---
Marilyn & family - I just learned of Tom's passing today, and am so very sorry. It came as a complete shock, as I had been in touch with him just recently. We at Oberlin were proud of his accomplishments. My deepest condolences to you.
- Alan Goldman
---
Dear Marilyn,
It has been many years since our paths have crossed. I was saddened to read of Tom's death in today's Falmouth Enterprise.
I am writing from my parent's house in West Falmouth, both are gone now too; but I know they would join me and remembering Tom, and you, fondly.
    
Helen Mangelsdorf
---
Dear Marilyn, Cindy and Family,
As a good friend of Tom and a non-native English-speaking colleague, it is extremely difficult for me to find suitable words to express our deepest condolences. My wife Maren and I were totally shocked by the unexpected message of his passing.
Many years ago we played an indirect role in the Sandford's time in Kiel at the "Institut für Meereskunde" (now GEOMAR). At the same time, I had planned to work temporarily at WHOI in Massachusetts. Both families – the Sanfords and the Zenks – needed homes for limited times. We arranged a perfect match, we traded houses. While we enjoyed life in a real American home and environment in West Falmouth the Sanfords had an opportunity to experience everyday life at work and in a German elementary school. Years later when our daughter Cordula grow up and got her first bike we mobilzed Cindy's bike again, a remainder in our cellar from our home exchange time in 1976.
It was always a great joy to meet Tom at various places somewhere in the world or at our home in Kiel.
 We miss him.
Walter Zenk
---
I met Tom when I was at MIT working as the Executive Officer for the Mid-Ocean Dynamics Experiment. He developed an electromagnetic current profiling instrument which worked very well.
When I cam to to Seattle in 1995 I was happy to find Tom here. He said he was still publishing papers
using some of the Mode data.
When Tom retired I attended a wonderful party for him at the Mexican Restaurant on the ship canal.
I am happy that I knew him, especially for all the fun we had during MODE,
Aloha, Dennis Moore
---
Dear Marilyn,
We are saddened to learn about Tom's sudden death. It seems like just a couple of months ago we were sitting around your dining room table, having tea and chatting.
Tom and you were always supportive to us as we settled and grew into our Seattle life. We shared a lot of family stories and we are grateful that we had many opportunities to be with you and Tom.
Our heartfelt sympathies are with you, Cindy, Jim, Craig and their families.
Sincerely,
Carol Chellino and Robert Andrews
---
Dear Marilyn,
I am so saddened to hear of Tom's death. He was a good friend and always a loyal Obie. May he Rest In Peace and rise in glory. He will be missed and remembered.
Holding you and the kids in the light.
    
Rev. Dr. George Procter-Smith
---
from Dave Eberhardt- Oberlin classmate: condolences= I recommend Bach's Cantata 27- one of his most moving, saddest: "We do not know when our end will come"
---
Tom was solid...reliable. I can see him guarding the lacrosse goal during a spring practice at Oberlin: reliable...solid. Good qualities in life and in science. Peace.
- Knut Aagaard
---
Tom will be missed greatly. I planned my summer trips to Camano Island around bike rides on the Centennial Trail and walks along the beach with him. I will never forget him
    
Wayne English
---
Dear Marilyn, Shirley and I were saddened to learn of Tom's passing. We recall fondly times together in Falmouth and our visit many years ago to Seattle. Tom's enthusiasm for his family, for life in general, and for physical oceanography were wonderful to experience. He was a dedicated world citizen. His contributions will live on in many ways. Our wish for you and your family is to cherish the great memories.
- John W Farrington
---
It has been a couple of weeks now and reading about it is like the bomb hit again. I loved working and going to sea with him. He let me own the ship for the night watch and let me be a primary hooker! I will miss him forever.
- Dicky Allison
---
Dear Marilyn,
I was so sorry to hear of Tom's sudden passing. Linda and I valued your company here in Seattle and in Woods Hole so many years ago...there was that New Years Eve party you had at your new house which you built...really built, not just had someone build.
Tom's contributions to oceanography and to UW have been deep and they will last far into the future. He completely covered the territory, from designing a radically new technology... particularly electromagnetic velocity profilers... conceiving of the science they could do, winning funding for their deployment at sea, going to sea, coming home with the data and publishing the science in the company of inspired students. UW's successful oceanography graduate program rests heavily on getting shiny new data from the ocean and immersing students, who got the first look at it and made it their PhDs... more than 100 UW PhDs granted in physical oceanography during the past 3 decades, these former students now are leaders throughout the country. Tom was truly a leader in this story.
One particular high point for me was joining an early R/V Knorr cruise out of Woods Hole, (maybe 1968) for one of the first tests of the profiler. It worked stunningly well and immediately revealed the spiral pattern of ocean velocity that accompanies near-inertial waves darting across and up/down the deep ocean. Just as important to me was watching him interact with the ship's crew, clearly, steadily, communicating in measured tones the next move of the ship in a way that commanded respect, sometimes in difficult waters. That lesson helped me greatly on later research cruises.
The MODE project centered in 1973 was memorable too, with Tom's work a singular part of the large observational project. One can still watch the 'MODE movie', made as a PBS Nova tv program, and see him and many others with their youthful vigor, at the Hot Line Center in Bermuda, embarking on the world's first big collaborative oceanography experiment...an experiment with many new technologies deployed at sea for the first time to chase the elusive swirling ocean eddies. Some of those new instruments worked pretty well. Tom's worked flawlessly. The much larger research community of today is still chasing eddies, but the path was found half a century earlier, with Tom at the forefront.
My condolences and best wishes to you Marilyn, Peter Rhines
---
I don't know Tom personally, but I have been reading his excellent scientific papers for many years. He is certainly one of the few in our field that I respect most. I am saddened to learn of Tom's passing!
    
Zhiyu Liu
---
I am sad to hear of Tom's death. Only a year ago, I visited UW and Tom generously took the time to show this modeler around the instruments in the lab, and we had a long conversation about measuring mixing at the bottom of the ocean. I always learned a lot from his papers on deep overflows.
    
Sonya Legg
---
My first cruise at UW was with Tom as chief scientist, along with a few techs who had moved to UW when Tom did.  It was probably the most well-run cruise I've ever been on.  He had very high expectations—during mobilisation before the cruise we were all expected to be at the ship before breakfast, and he'd arranged that we could have meals onboard.  But he also had a sense of humour—he sent the grad students out to get lidded cups for everyone, which we did, but also brought him a toddler's sippy cup. He laughed and said his grandkids could use it.  When most of cruise prep work finished early (just one 'Absolute Velocity Profiler' not yet working) he sent the grad students off to enjoy ourselves—it was Hawaii, after all.  It's possible the cruise went unusually well: we were able to use both AVPs simultaneously, and ended up running out of weights for them. I mentally refer back to that cruise in particular when prepping for my own. Tom also taught my observational oceanography class, which is where I learned about instruments—and also that "Anything you put over the side is expendable" which are good words to plan cruises by.
Eleanor Frajka-Williams
---